BayCare Closes COVID Drive-Thru Testing Sites, Transitions Access to Urgent Care Clinics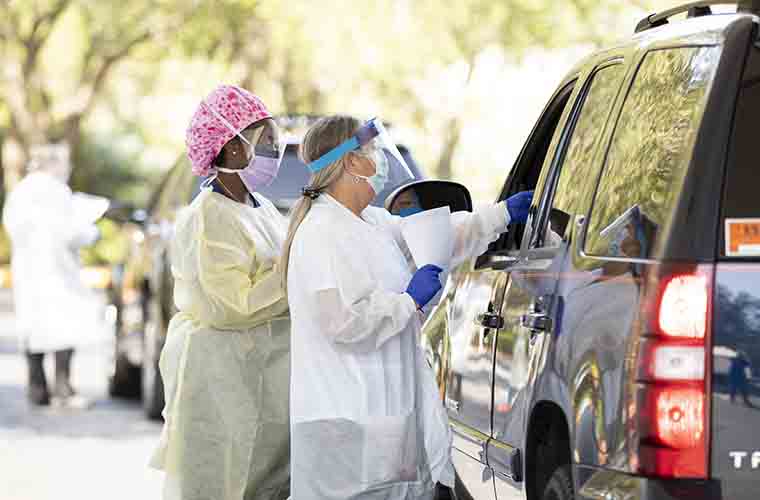 The COVID-19 pandemic is finally turning a corner. COVID cases are dropping and demand for COVID-19 testing is diminishing.
That's why BayCare is ending its drive-thru test collection services after 15 months of providing access to COVID-19 testing at multiple locations throughout the Tampa Bay area.
BayCare's last drive-thru testing site at Gill Jones Center in Winter Haven permanently closed on Wednesday, June 30. The drive-thru testing sites in Pinellas and Pasco counties closed last month.
"We're pleased to finally see the light at the end of the tunnel," said Jim Cote, senior vice president for ambulatory services for BayCare Health System. "Widespread vaccinations have significantly decreased testing volumes, allowing us to end our drive-thru services."
BayCare was the first health care system in the region to provide public access to drive-thru testing sites across the Tampa Bay area. Since March 2020, BayCare has tested more than 109,000 people at its drive-thru sites across Pinellas, Hillsborough, Polk and Pasco counties. BayCare also has performed more than 500,000 tests across its 15 hospitals as it has continued to deliver acute care services to the community throughout the pandemic.
In addition, BayCare has repeatedly partnered with other health care providers and government agencies to ensure testing access, including supporting testing sites at Raymond James Stadium in Tampa, the Tropicana Field in St. Petersburg and the Tampa International Airport.
"From the start, we knew testing played a crucial role in mitigating the spread of the virus," said Donna Lynch, director for BayCare Laboratories, who helped lead drive-thru testing sites on the ground. "We're proud to work together as a team across the system and with local partners to offer this vital service to our community, and we're equally happy to see the need for this service diminish."
Despite significant decrease in volumes, testing remains an important tool for tracking and containing future spikes and outbreaks. To help serve the community's needs, BayCare will continue to provide access to various testing options at BayCare Urgent Care clinics throughout the region.
BayCare Urgent Care offers rapid antigen and traditional PCR testing for patients who are symptomatic. Both tests are offered in conjunction with an urgent care visit and evaluation by a health care provider. The PCR test samples are sent to BayCare Laboratories for processing, and patients can receive results within 12 to 48 hours. The rapid antigen, available to those who develop symptoms within the first 7 days of symptom onset, provides results in 15 minutes.
BayCare also offers an effective and reliable rapid PCR test that can detect COVID-19 in 30 minutes. The test is available by appointment at 13 BayCare Urgent Care locations to asymptomatic people wishing to confirm they are negative before traveling. The test is not billed to insurance but is available as a self-pay service at a cost of $150. See full list of locations here.
"Unfortunately, COVID still remains in our community, and some people will continue to develop symptoms," said Dr. Nathan Keith Waldrep, chief medical officer for BayCare Urgent Care and Occupational Medicine and medical director for BayCare HomeCare and BayCare Telehealth. "That's why we'll continue to provide testing access for those who may contract the virus and need evaluation."
For more information, visit BayCare.org/Coronavirus.