BayCare Makes Changes to Pasco and Pinellas Counties Drive-Thru Testing Sites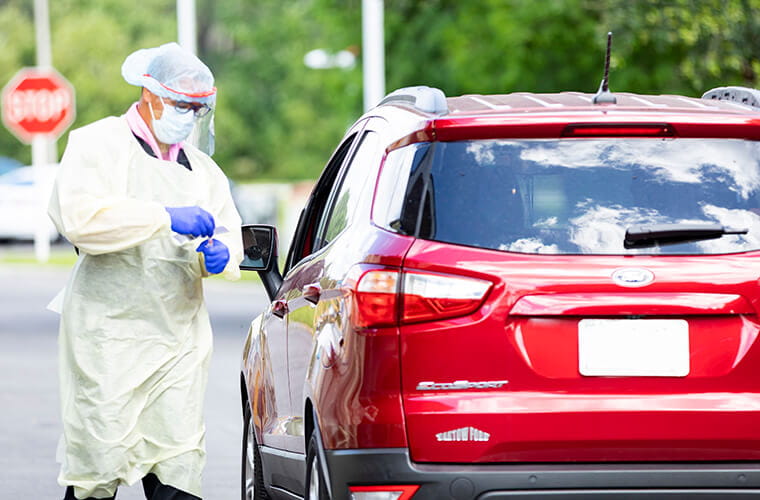 BayCare plans to make service changes to drive-thru testing sites run in collaboration with government partners in Pinellas and Pasco counties to help accommodate current community needs for COVID testing and vaccinations.

Starting Jan. 18, the drive-thru testing site at Ruth Eckerd Hall in Pinellas County located at 1111 McMullen Booth Road in Clearwater will extend its hours of operation, weekdays, 7 to 11 a.m. This adjustment will help meet the current community demand for COVID-19 testing.

Starting Jan. 25, the drive-thru testing site at Gulfview Square Mall in Pasco County located at 9409 U.S. Highway 19 in New Port Richey will reduce its hours of operation to three days per week, Monday, Wednesday and Friday, 8 to 11 a.m. This will allow county partners to shift resources the rest of the week to COVID-vaccinations to meet the needs of the community.

BayCare also helps support the drive-thru testing site at Gil Jones Center in Polk County located at 3425 Lake Alfred Road in Winter Haven. This testing site will continue to operate its normal hours, Monday, Wednesday and Friday, 7 to 11 a.m.

BayCare offers other options for testing. Nine BayCare Urgent Care centers provide an effective and reliable rapid test that can detect COVID-19 in 30 minutes. The test is available on a reservation basis to asymptomatic people wishing to confirm they are negative for COVID-19 before traveling or visiting loved ones.

Travelers can also get tested at Tampa International Airport's testing site operated by BayCare. This site offers PCR and rapid antigen testing to arriving and departing passengers who can show proof of travel.

BayCare launched drive-thru COVID-19 testing sites in March across the region in addition to testing in its hospital facilities. Since then, BayCare has conducted more than 384,000 COVID-19 tests.

"We believe testing plays a crucial role in containing the spread of COVID-19," said Jim Cote, senior vice president for ambulatory services. "We hope these testing options will help reduce the spread of the virus as we continue to fight the pandemic."

For more information and updates on BayCare's testing services, visit BayCare.org/Coronavirus/COVID-19-Testing-Centers.