Celebrating the Holidays Safely During the Pandemic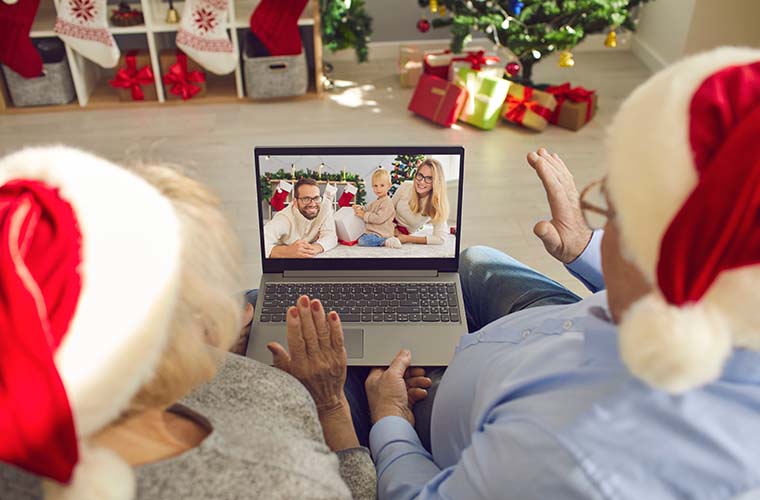 The holiday season can be a time filled with festivities and joyous celebrations for many. But, as COVID-19 continues to spread quickly, holiday events may look different this year.
Health experts like Dr. Nishant Anand, BayCare's chief medical officer, recommend modifying this year's celebrations to help reduce the spread of COVID-19.
"This has been a difficult a year, and everyone would like to get back to normal," Dr. Anand said. "While there's hope in sight with vaccines and promising treatments on the horizon, COVID-19 is still here and continuing to spread. That's why we all need to do our part this holiday season to help keep families, friends and loved ones healthy and safe."
To help navigate through the holiday season in the midst of the pandemic, Dr. Anand shares some helpful tips on how you can celebrate safely.
Avoid Traveling
Traveling to visit family during the holidays can be an exciting annual tradition. However, Dr. Anand says you should reconsider traveling plans, if possible, to reduce the risk of exposure. According to the Centers for Disease Control and Prevention (CDC), airports, bus stations, train stations, and other public transportations can help increase the spread of the virus. "Staying home may be the safest thing to do to protect you and your family," said Dr. Anand.
Host Small Gatherings
While large gatherings for the holidays can be fun, consider hosting a small gathering this year with only people living in your household. According to Dr. Anand, large gatherings with people outside your household, especially family members or relatives returning from college or traveling from another location, could increase the risk of spread. "Keep your gatherings small. Going outside your normal pandemic bubble this year may not be the best option," he said.
Plan Eating Outdoors
If you plan to host a holiday event, Dr. Anand recommends socializing and eating outdoors instead of indoors to reduce the chance of exposure. We live in Florida, and this is a great time to enjoy the cool, winter weather. Indoor gatherings, especially in areas with inadequate ventilation, can increase the risk of getting sick. "You should stay outdoors and practice social distancing during the entire holiday event," said Dr. Anand "You should also wear a mask when you're not eating or drinking."
Consuming Food and Drinks
Remember to always follow food safety practices when attending or hosting a holiday gathering. Sharing food with others or improperly handling food items can help increase the risk of COVID. When you're hosting a holiday party, ask guests to bring their own food and drinks for their household members and avoid potluck-theme parties. Dr. Anand says it's also important that everyone wears a mask, especially those cooking, handling or serving the food. "To avoid the spread of germs, do not pass around food containers, plates and utensils," he says. "Instead, designate a single person to serve the food and other needed items." He also recommends frequent handwashing when cooking and serving meals.

Consider Virtual Celebrations
To help keep everyone safe, host holiday events virtually with family, friends and loved ones. This is a fun, safe way to catch up or eat the holiday meal simultaneously. Enhanced digital video conferencing and wireless networking technology has helped make virtual gatherings much easier. Virtual gatherings can help everyone keep the virus at bay, Dr. Anand said.
Avoid Crowded Malls and Stores
During the holidays, malls and grocery stores are crowded with people. Going shopping in stores filled with people can highly increase the risk of exposure to COVID-19. These environments allow the virus to thrive and spread a lot quicker. Dr. Anand recommends avoiding stores, when possible, during the holidays, especially during busy hours.
Practice Safety Measures
As fatigued as everyone may be, it's important to continue to practice safety measures to help slow the spread of the virus. First and foremost, wear a mask when social distancing is hard to maintain. Practice social distancing by staying at least six feet from those outside your household. Frequently wash your hands. The more frequently you wash your hands, the less likely the virus or other contagions will be able to infect you or others.
When Exposed to COVID-19
If you think you have been exposed to COVID-19, use our checklist to determine if you meet the definition of exposure. If you have symptoms of COVID-19, contact a primary care physician, see a health care provider on BayCareAnywhere or visit one of BayCare Urgent Care clinics. BayCare also offers various screening options including a Nurse Triage phone line (1-800-BayCare) and the Online Screening Tool. If you think you should get tested, learn more about BayCare's various testing options here.
For more information on COVID-19, visit BayCare.org/Coronavirus.