BayCare Medical Group Physicians Use Telehealth to Virtually See Patients During COVID-19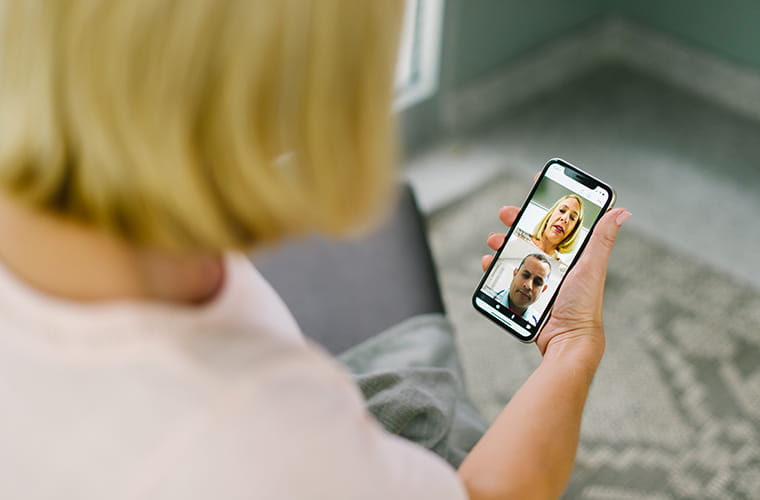 For primary care physicians, caring for patients in-person is part of their daily practice.
That normal routine became a concern when COVID-19 began to spread across the Tampa Bay community.
To help mitigate the spread, BayCare Medical Group (BMG) implemented telehealth technology, virtually seeing patients for their health care needs. BMG introduced to its patients BayCare's popular telehealth platform, BayCareAnywhere, a mobile application accessible through a smartphone or digital device.
Michael Rommel, MD, internal medicine physician at Landmark Primary Care, found this innovative technology valuable during the coronavirus pandemic.
"Telehealth has been a convenient, useful and efficient tool to help me connect with my patients while they were quarantined during stay-at-home orders," said Dr. Rommel. "The tool helped me not only provide care for my patients but also get to know them in a more personal way."
BMG, BayCare's multi-specialty medical group, launched telemedicine as an option for patients on March 23, when Governor Ron DeSantis issued statewide closings and stay-at-home-orders. This platform allowed patients to receive medical care when appropriate without leaving their home.
After the service launched, BMG's 600 providers noticed a quick acceleration of virtual visits. BMG clinics had a total of 31,592 telemedicine visits from March 23 to May 1. More than 68 percent of those visits were primary care, and more than 31 percent were specialty visits.
"As our country was reeling from COVID-19, we made the hard decision to temporarily alter our services and offer virtual care to patients to help reduce risk of exposure," said Andrew Fink, MD, president of BMG. "The implementation of this technology, though by necessity, showed that our physicians and doctors embraced innovation and quickly adapted to change to deliver and receive care."
While this technology is new to primary care, telehealth became a reliable tool – helping physicians deliver care in a new way during a time of crisis. Dr. Rommel, who's seen hundreds of patients virtually during COVID-19, said this tool helped him learn about his patients, their lives and the environment where they live.
"During each virtual visit, patients were candid, relaxed and open, sharing their pets, family members and their homes," said Dr. Rommel. "Getting a better glimpse into their lives, gave me the opportunity to build a stronger relationship with them as well as provide much more informed medical care."
Given its noted success, BMG will survey patients who have experienced a telemedicine visit during COVID-19. Customer experience and perception have always been a cornerstone of health delivery at BayCare. The survey results will help guide how BMG can integrate telemedicine as part of its standard of care.
"The future regulations around telehealth services remain uncertain as many ethical, legal, and financial matters have to be taken into consideration," said Dr. Fink. "However, we are hopeful that telemedicine will become an avenue for patients to receive care long term, when appropriate."
Dr. Rommel agrees. Using telehealth during these challenging times has helped him rethink how he practices medicine. "A combination of telehealth with in-person visits could be an overwhelming positive option for patient care," said Dr. Rommel.
For patients who are interested in telehealth visits,
click here
.