BayCare Brings Health Tech Store into HealthHub Facilities [VIDEO]
Clearwater, Fla., (October 17, 2018) – Fitbits, weight scales, apps and a tech store. That's not what people expect to see in a health care setting. BayCare Health System is transforming patient experience by bringing a "genius bar" like store into its innovative, high-tech health and wellness facilities called HealthHub™.
Watch Video Here.
BayCare is the first health system in the region to introduce TechDeck™, an innovative resource for health and wellness technology. TechDeck provides advanced and high-tech products including weight scales, blood pressure cuffs, wearable technology and various apps that can be connected to personal digital devices.
"BayCare TechDeck™ is designed to help patients engage in their own health through wearable and consumer technology," said Craig Anderson, director of Innovation at BayCare. "This innovative service, which is new to health care, provides cutting-edge technology that is recommended by our physicians."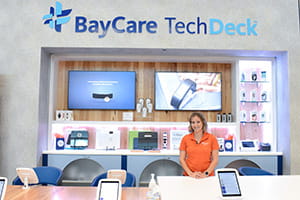 Beth Weiner, Health Tech Coach for TechDeck, BayCare
TechDeck products, which are available to any community members in the Tampa Bay area, allow patients to monitor the status of their health including blood pressure, weight fluctuations and daily steps. Patients have the option to report that health data to their primary care physicians.
"This service provides additional opportunities for physicians and patients to become even better partners in their own health care," said Dr. Jeffrey Held, vice president and chief medical officer for Ambulatory Services at BayCare. "It also allows patients to use technology to increase physical activity and monitor their health outside the doctor's office, encouraging them to be more proactive about their health."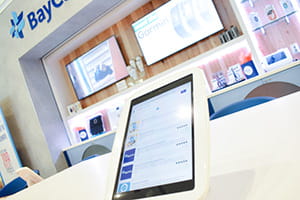 TechDeck is equipped with certified health technology coaches who bring the skills and knowledge to help patients learn how the technology can enhance their overall health and wellness.
The first BayCare TechDeck is open at BayCare HealthHub inside the Zena Lansky Pavilion located at 8787 Bryan Dairy Road in Largo, FL 33777. The second TechDeck is expected to open in March 2019 in the BayCare HealthHub™ at Bloomingdale located at 2470 Bloomingdale Avenue in Valrico, FL 33596.
The hours of operation for BayCare TechDeck are Monday through Friday, 7:30 a.m. to 11:30 a.m. and 12:30 p.m. to 3 p.m..
About BayCare Health System
BayCare is a leading not-for-profit health care system that connects individuals and families to a wide range of services at 15 hospitals and hundreds of other convenient locations throughout the Tampa Bay and central Florida regions. Inpatient and outpatient services include acute care, primary care, imaging, laboratory, behavioral health, home care, and wellness. Our mission is to improve the health of all we serve through community-owned, health care services that set the standard for high-quality, compassionate care. For more information, visit www.BayCare.org.