Spiritual Care at Winter Haven Hospital 
Winter Haven Hospital is devoted to our patients' health and well-being, including spiritual. We incorporate a mission that promotes the BayCare core values and works to preserve the legacy of each hospital. The mission encompasses ethics, faith community nursing, palliative care, and spiritual care.
Visit us at our chapel, call us or let your nurse know you're interested in spiritual care support.
Winter Haven Hospital Chapel
200 Ave. F N.E. | Winter Haven
Chapel is located on the first floor of the Swann building near the south entrance
Office Hours: Monday – Friday, 7:30am to 5pm
Chapel Hours: 24 hours a day, 7 days a week
863-297-1877

For more information on BayCare Spiritual Care, click below: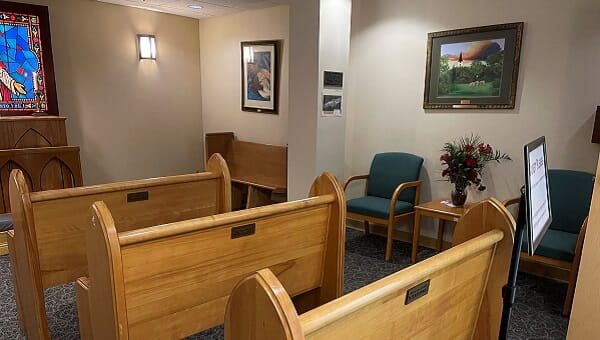 Additional Resources

Healing Garden
Winter Haven Hospital has a healing garden that provides a place of sanctuary and healing for patients, families, and staff.
Chaplains
Chaplains are available at Winter Haven Hospital to assist you during times of illness or crisis with sensitive and caring support. Ask your nurse to contact the chaplain to request a visit. On-call chaplains are available for emergencies after 5:00 p.m. on weekdays and all day on weekends and holidays. If you would like for us to contact your clergy or faith community, please notify the admitting office at the time of your admission.
Spiritual Care Volunteers
Spiritual Care Volunteers visit patients and their loved ones and assist chaplains in providing spiritual support. Please contact us for more information if you are interested in becoming a spiritual care volunteer.
Advance Directives
Appointment of Health Care Surrogate authorizes another person of your choosing to make medical decisions for you when you are not capable of doing so. A Living Will indicates your wishes regarding end of life medical treatment when you are no longer able to make decisions or communicate your wishes. Chaplains are available to discuss these decisions with you and help you complete the documents. For more information about Advance Directives, call Chaplaincy Services at
863-297-1877
.

Faith Community Nursing
Learn about the Faith Community Nursing program.