Robotic Surgery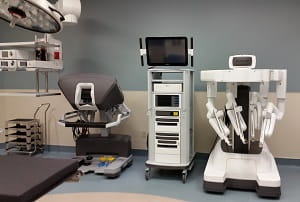 St. Joseph's Hospitals are the region's leaders in performing all types of minimally invasive surgery, including robotic surgery. With three robots and 28 robotic surgeons on staff, we make it easy for you to find a surgeon and hospital near you. Our experienced surgeons have performed thousands of robotic surgeries, so you can rest assured that you are in capable, expert hands.
September 2013: Robotic Colorectal Program Named an Epicenter
St. Joseph's Hospital in Tampa, which features one of the nation's most comprehensive robotic surgery programs, has earned special recognition as the first Epicenter for Robotic Colorectal Surgery in West Central Florida. Surgeons from throughout the nation visited the St. Joseph's Hospital Advanced Center for Robotic Surgery and learned from César Santiago, MD, who is board certified in general and colon and rectal surgery and serves as the Center's Medical Director. He is dedicated to building the entire Robotic Surgery Center and was instrumental in achieving Colorectal Epicenter status.
Only a small percent of surgeons are trained in the latest colorectal robotic techniques, but Dr. Santiago said these advancements are important to him because they help his patients feel better, faster. Visiting surgeons got a first-hand look at how Dr. Santiago utilizes robotic technology to provide the best possible outcomes for his patients.
Robotic Surgery: Benefits for You
Undergoing a robotic surgical procedure offers many benefits to our patients, compared to having a traditional procedure or laparoscopic procedure. You will experience:
Less pain
Minimal blood loss
Less scarring
Fewer complications
Shorter recovery time
A faster return to normal daily activities
Keep in mind that our surgeons have expertise in performing all types of surgery—traditional, laparoscopic and robotic. We always have your best outcome in mind and will choose the surgical approach to best suit your needs.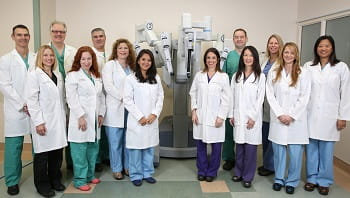 Learn more about:
Robotic Surgery in Tampa, Florida

Patients living in the Tampa area can receive superior medical care and robotic surgical procedures at our affiliate hospitals, including: