BayCare Hospital Wesley Chapel
Wesley Chapel, FL
Find Us
BayCare Hospital Wesley Chapel
4501 Bruce B. Downs Blvd.
Wesley Chapel, FL 33544
(813) 914-1000
Why Choose Us
We're excited to join the neighborhood as Pasco County's newest, state-of-the-art community hospital. Our 86-bed facility provides comprehensive health care services for you and your family. At BayCare Hospital Wesley Chapel, you'll always receive the very best compassionate care, close to home.
Access BayCare
Resources for Patients and Visitors
Free Valet and Parking
BayCare Hospital Wesley Chapel offers free valet and self-parking options to help ensure every patient and guest receives extraordinary care.
Patients and visitors should use the main hospital entrance to access the hospital and medical arts building.
Free self-parking is available to all patients and visitors in the parking lot in front of the hospital, which includes electric vehicle charging stations.
Complimentary valet services are available at the main hospital entrance Monday-Friday from 7am-7pm.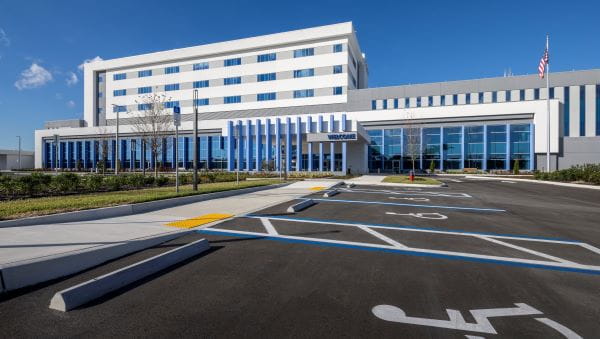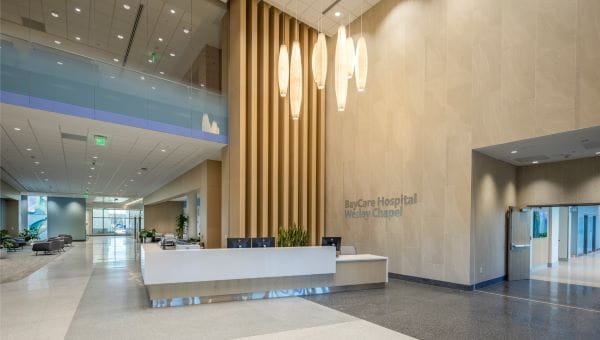 Guest Services
Guest Services is here to help you visit your loved ones, answer questions and connect you to resources. All guests must enter through the main hospital entrance and check in at the Guest Services desk. Visitors 18 years or older must show a government issued ID.
Location:
Main entrance
Hours of operation:
8am-8pm daily

Dining
The cafeteria is located on the first floor and serves breakfast, lunch and dinner with fresh and ready-to-go options. Vending machines are available 24 hours a day, seven days a week.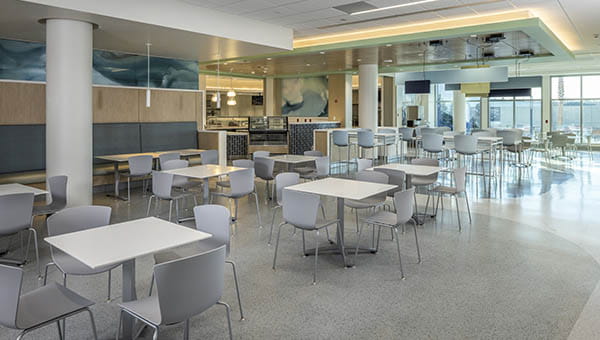 Cafeteria

Waves Café is open daily and serves fresh, made-to-order and pre-packaged meals, snacks and beverages. The cafeteria also rotates bringing in local Wesley Chapel restaurants so you can get a taste of home.

Location:
First floor

Breakfast and lunch served daily.

Vending Machines

For your convenience, vending machines are located throughout the first floor of the hospital, serving grab-and-go meals, snacks and beverages.

Near Waves Café: Just Baked Smart Bistro™, sandwich and beverage vending machines
Emergency waiting room: Snack and beverage vending machine
Gift shop: Beverage vending machine

For more information about dining at BayCare Hospital Wesley Chapel, call (813) 914-1000.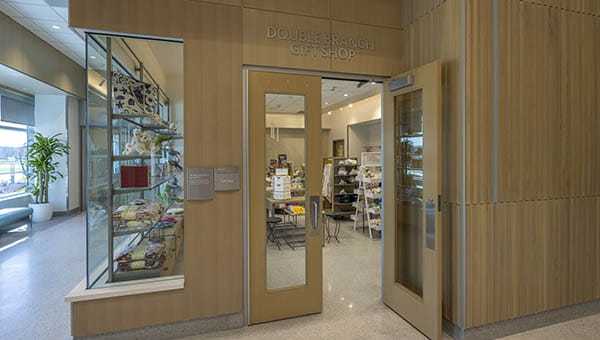 Gift Shop
BayCare Hospital Wesley Chapel's gift shop, Double Branch Gifts, has a little of everything. Find gifts to inspire, uplift and comfort your loved ones in the hospital.
We're always ready with the perfect gift to brighten the day of your favorite patient. Items available may include:

Candy and snacks
Books
Toiletries
Balloons
Puzzles
Plush stuffed animals
Fragrances for men and women
Jewelry
Apparel
Spiritual items
Home and office décor

Can't come in person? Call and have a gift delivered to a patient's room. Our volunteers are ready to help you select the perfect gift! Call (813) 914-1756 and use our free in-hospital delivery service to patients, family and staff.

Can't decide what to purchase? Gift a gift certificate and let their imagination run wild!

Double Branch Gifts is staffed only by BayCare Hospital Wesley Chapel volunteers. All proceeds benefit our patients and their families. Hours of operation may vary.
Spiritual Care
BayCare is committed to providing high-quality and compassionate spiritual care. We offer many resources like advance directives, bereavement support, community education and more.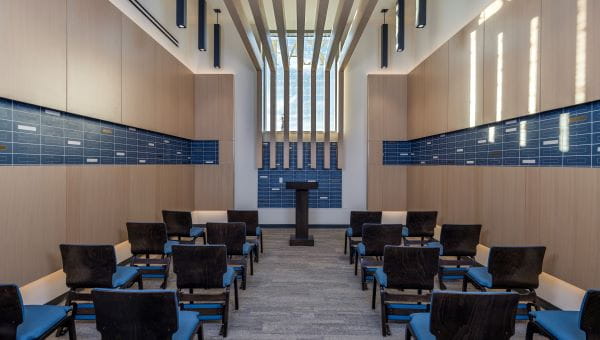 Visit Our Location
BayCare Hospital Wesley Chapel
4501 Bruce B. Downs Blvd.
Wesley Chapel,
FL
33544
Phone: (813) 914-1000