BayCare ePACC™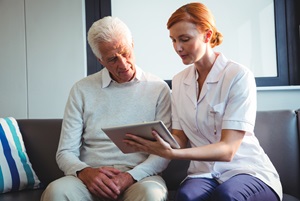 When you or a loved one is in a skilled nursing facility such as a rehabilitation center or nursing home, you need the best care available. If you select a BayCare Performance Network skilled nursing facility, you'll have the added care of our ePACC (Electronic Post-Acute Care Consult) program providing an extra level of support in addition to your facility's bedside care team.
How It Works
With ePACC, you get instant access to a nurse practitioner stationed at ePACC Central, using mobile technology, from 7pm to 7am, seven days a week. If you or your bedside care team has a question about your health or your care plan, or at the first sign of a health care issue, the nurse practitioner is there to help, notifying the medical staff at the skilled nursing facility so they can provide near immediate response. This successfully reduces readmissions and trips to the emergency room. ePACC is provided at no additional cost to patients and their families.
With ePACC, you can have the peace of mind knowing that we take every step to ensure that our patients are getting the medical attention that they deserve with around-the-clock, quality, compassionate care.
View a list of our current BayCare Performance Network Locations.