Using Sunscreen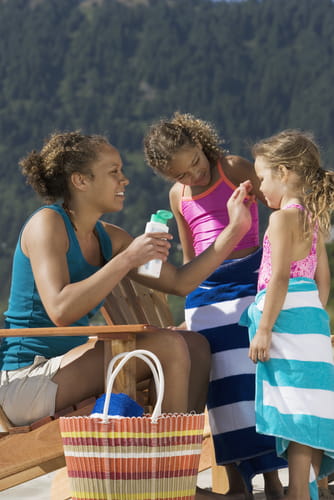 It's summertime in Florida, and though it's hard to avoid the blazing sun, there are several ways you can and should protect your skin – because suntans and sunburns might increase your chance of getting skin cancer.
Seeking shade and limiting your time in the sun is not always possible, so apply sunscreen and select clothing that protects your skin before running errands or taking your family to a theme park or the beach. Remember that the sun's rays are strongest between 10am and 4pm, and they are reflected by sand, water and pavement.
Broad-spectrum sunscreen lotions and sprays – that filter both UVB radiation and UVA radiation – may help prevent some types of skin cancer, including melanoma, when they are used correctly.
Some American adults, particularly women, use sunscreen regularly on their faces because of the anti-aging benefits or because several cosmetic products contain sunscreen, but they often neglect their other exposed skin, according to a recent study by researchers at the Centers for Disease Control and Prevention.
Following these tips can help you in protecting your whole body from the sun's rays:
Use sunscreen products with an SPF (sun protection factor) of at least 15. (However, some physicians encourage you to use products with an SPF of at least 30.) Thirty minutes before going outside, apply the product's recommended amount to uncovered skin. Apply it again every two hours or after sweating or swimming.
To protect the skin around your eyes, wear sunglasses that block UV radiation.
Provide shade to you face, neck and ears by wearing a wide-brim hat. Parts of your skin could be exposed if you wear a baseball cap or sun visor.
Wear long-sleeved shirts and long pants made from tightly woven, dark fabrics.