What Makes A Pediatric Emergency Room Different?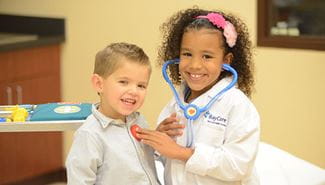 Taking your child to the emergency room (ER) can be a scary situation—not just for your little one, but for you as well. But, did you know that taking your child to a dedicated pediatric emergency room—an ER made just for kids—can go a long way toward getting the best possible care in the least scary environment?
Anatomy of an emergency room
An emergency room sees patients of all ages, and with all manner of illness and injuries. Wait times can sometimes be long, as patients are seen according to how urgent their health care needs are. Waiting rooms are usually large, with little to do, and can often be loud and full of children and adults that need to see medical attention.
What makes a pediatric ER different?
During a visit to a pediatric emergency room, you may notice some differences. Treatment rooms offer a quieter area where kids may have access to crafts, books, coloring books, toys, television and other entertainment devices. Lobby areas may include a special area for children, which could include kid-friendly entertainment.
Specially trained staff
Behind the scenes, you can rely on an entire team of specialists who have dedicated their careers to providing the best possible care to children of all ages, including:
Pediatric emergency doctors and nurses
Pediatric critical care staff
Specially trained transport specialists
Child Life Specialists who help kids learn about their surroundings, diagnoses and procedures without fear
Child-sized care
A small child can't be properly treated using tools and equipment designed for grownups. A pediatric ER will use a child's individual size and weight to determine the right size instrument or equipment to use, as well as amount of medicine to administer. Using the right tools and equipment for kids means that medical staff never have to waste precious minutes searching for the right-sized tools to save your child's life.
Painless whenever possible
A pediatric ER will work to avoid pain whenever possible. That means no needles unless they're truly needed. Medical staff may use numbing gels and nasal sprays to minimize pain. Any measures that can be taken to minimize pain will help provide extra comfort and help parents and kids cope with any invasive procedures that may be necessary.
In short, a good kids' ER will have an entirely different approach to emergency care—treating kids like, well, kids.
Learn more about how our pediatric emergency rooms are designed with your child's health and well-being in mind.