Vaping and E-Cigarette Controversy Grows as Health Groups Investigate Lung Injuries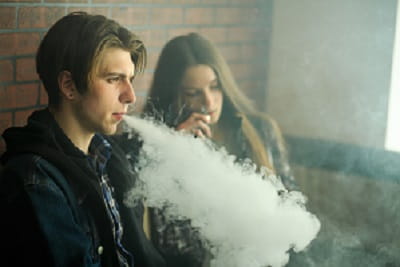 The Centers for Disease Control and Prevention (CDC) recommends individuals stop using vaping or e-cigarette products. Government and public health officials from states and cities across the U.S. are calling for vaping and e-cigarette restrictions and bans.

The controversy with e-cigarettes and vaping, also known as e-hookahs, vape pens and electronic nicotine delivery systems (ENDS), reached a crescendo in the fall of 2019. At that time, the CDC, the Food and Drug Administration, state and local health departments and other clinical and public health organizations announced that they're investigating a multistate outbreak of lung injuries associated with the products.

Early research by the groups showed more than 500 cases of lung injury from 38 states and one U.S. territory. Seven confirmed deaths were part of the study. All reported cases had a history of e-cigarette or vaping use. Sex and age data on the early research showed:
Seventy-two percent of the cases were male
Sixty-seven percent of the cases were between ages 18 and 34
Especially troubling was another study showing the popularity of vaping by young people. In the study, more than one in four youths between the ages of 12 and 17 said they used an e-cigarette. Vaping and e-cigarettes are currently more popular than any traditional tobacco product.
At the center of the controversy is the role of flavored vape products. Flavors called bubble gum, cotton candy, banana split, apple pie, watermelon, mint, coffee and cherry are thought to lure young people into trying vaping. The CDC reported these patient symptoms during the outbreak that led to the study:
Cough, shortness of breath, chest pain
Nausea, vomiting, diarrhea
Fatigue, fever, abdominal pain
Some patients reported that symptoms developed over several days while others reported that symptoms developed over a few weeks. The CDC's early research reported that lung infections didn't appear to be the cause of the symptoms. The CDC recommends that individuals see a health care provider immediately if they experience symptoms like those reported during the outbreak.
Vaping and E-Cigarette Things to Know
Highly-addictive nicotine is still the primary substance in vaping and e-cigarettes.
Vaping and e-cigarettes haven't received FDA approval as a smoking cessation alternative.
Anyone using these products should buy them only from licensed retailers and not off the street. They should also not change or add substances or materials not intended by the manufacturer.
Vaping and e-cigarettes may seem safer than other forms of smoking. Users don't breathe in tobacco or other toxins such as ammonia, arsenic or tar, but users may be exposed to other harmful chemicals and toxins.