Is There Safety in Spray Tans?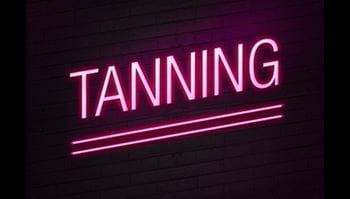 The pursuit of the "perfect tan" causes some people to spend hours outside by the pool, at the beach or inside a tanning bed. Because these activities carry risks, such as premature aging or skin cancer from prolonged exposure to the sun's harmful ultraviolet rays, sunless tanning products, or self-tanners, are seen as a better alternative. But how safe are they?
Whether you purchase sunless tanning products, such as creams, lotions and sprays, or go to a professional spray-on tanning business, it's important that they're applied correctly and carefully, according to the Mayo Clinic. It notes that dihydroxyacetone (DHA), a color additive, is the active ingredient in most sunless tanning products, and when it's applied, DHA temporarily darkens your skin to simulate a tan by reacting with dead cells in the surface of your skin. The "tan" lasts for a few days. Most sunless tanning products don't contain sunscreen, so if you use them, it's vital to use sunscreen (SPF 15 or higher) and protective clothing, according to the Skin Cancer Foundation.
If you use sunless tanning products on your skin as directed, the Mayo Clinic says they're generally considered safe, compared to sunbathing. It adds that the Food and Drug Administration (FDA) has approved DHA for external application to your skin. But the FDA warns people not to inhale DHA or apply it to body parts covered by mucous membranes. These include your nose, lips and area around your eyes.
In addition to the products you apply to your skin, there are sunless tanning pills, which usually contain canthaxanthin, a color additive. The Mayo Clinic says these pills aren't safe because if you take them in large amounts, canthaxanthin can cause your skin to turn brown or orange. It also can cause liver damage, impaired vision and hives.
Talk to your health care provider if you're considering using a sunless tanning product. If you do use it at home, you should carefully follow the directions on the label and avoid getting it in your mouth, nose or eyes. If you go to a professional spray-on tanning business, ask them how they'll protect these areas of your face and keep you from inhaling the spray.
The Mayo Clinic offer these recommendations if you apply sunless tanning lotion at home:
Before you apply the lotion, use a washcloth to exfoliate your skin, including your elbows, knees and ankles, and then dry your skin.
Apply the lotion on sections of your skin – your arms, torso and legs – and use a circular motion. Use soap and water to wash your hands after each section, so your palms won't get discolored.
Dilute the tanning lotion on your joint areas, including your elbows, knees and ankles, with a damp towel. These areas can absorb more of the tanning products.
Wait at least 10 minutes until your skin is dry before you get dressed. Try to avoid sweating and wear loose clothing.