Mark Your Calendar: Post-Discharge Appointments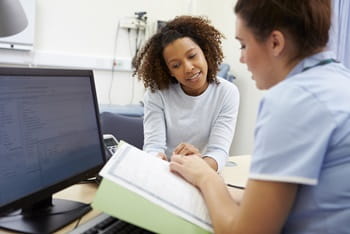 You just gave birth, and you're still adjusting to your new role as mom. While your main focus is making sure your newborn is doing well, it's just as important to monitor your own health and receive the care you need. In the time since you brought your baby home, you might be vulnerable to health risks, such as postpartum depression and high blood pressure, which are treatable, according to the March of Dimes.
The organization, which advocates for the health of mothers and babies, supports the American College of Obstetricians and Gynecologists' (ACOG) new guidelines, released in May 2018, that call for women to receive proper care for preventable conditions after they give birth. ACOG says "postpartum care should become an ongoing process, rather than a single encounter, with services and support tailored to each woman's individual needs." The organization recommends that within the first three weeks after giving birth, all women should visit with their obstetrician/gynecologist or obstetric care provider, and then receive ongoing care as needed.
ACOG notes that no later than 12 weeks after birth, women should have a complete postpartum visit with a full assessment of women's psychological, physical and social well-being. The organization says the topics could include the following:
Infant care and feeding
Emotional well-being and mood
Physical recovery from birth
Sleep and fatigue
Intimacy and birth spacing
Health maintenance
Chronic disease management, such as high blood pressure, diabetes and thyroid disorders
The March of Dimes says ACOG's new guidelines would replace the current recommendation for women to schedule one postpartum visit with their obstetrician/gynecologist sometime within 60 days after giving birth, and both groups note it would require policy changes.
Talk with your health care provider if you have any questions or concerns about your or your baby's health.