A Throne Fit for a Baby: Choosing a High Chair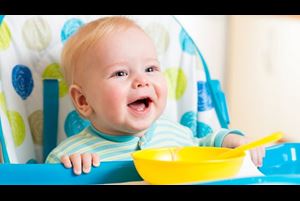 Is your baby ready to join the family at meal times? This can be an exciting time for baby, and quite an entertaining time for the rest of you. But, first things first—you need to do your homework and find a good quality high chair that meets your needs.
Choosing a high chair
There are a number of things to look for when picking out a high chair. You want it to be safe, it needs to be practical as far as usability and cleaning, and it would be nice if the color palette didn't scream "baby colors and prints that don't match anything in my house!"
Styles
You have lots of options as far as types of chairs. If you have limited space, you may want to go with a seat that straps directly to a kitchen chair, or that attaches right on the table. These can be good for traveling, too. If you have the space and the budget, you can go with a full-size high chair with wheels and a tray, which makes mealtime more portable around the house.
Features
Trays
Some of the more basic models don't have trays, so baby needs to eat on the table, while others have a built-in tray, and another that snaps on top that can go in the dishwasher. If the tray is detachable, then you have the best of both worlds, because as baby grows, she can ditch the tray and eat right at the table with everyone else.
Cleanability
This is a critical feature that's often overlooked by new parents. If a high chair has nooks, crannies, crevices, hinges, or a fabric cover or straps, food will find its way in there. If you find too many places that are too small to clean, look for a different model. If the seat or straps are fabric, make sure they're removable and machine washable. As you become a full-on pro mom, you'll probably ditch the pretty cover anyway, as the plastic is much easier to clean.
Adaptability
If you want this chair to last from little baby all the way to big toddler, then you definitely want a chair that has reclining options. The littles ones might like to sit at the table, even before they can eat table food, but they'll need to lay back a bit. As your baby grows, you can adjust the reclining angle as appropriate. Also, look at high chairs that convert to booster seats for the older child, if that's of interest, and make sure the straps have plenty of room to adjust as your baby grows both taller and wider.
Safety
At a minimum, you want your high chair to have a three-point harness and a crotch post, although a five-point harness is best. Some chairs come with both options. The other biggie in the safety department is stability. Make sure the base of the chair is wider than the top (especially free-standing high chairs) and that it doesn't tip if you bump it or trip over it. Remember never to leave your child unattended while in any type of high chair.