How Nuts Are These Health Benefits?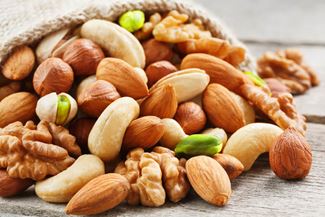 What snack tastes great, is loaded with protein and other nutrients, and offers a ton of other health benefits? Nuts! But not all nuts are created equal. Let's take a look at the top nuts ranked by their superfood superpowers.
Almonds
Topping the list of best-for-you nuts is the almond. Almonds contain fewer calories per ounce than most nuts, but still pack in the protein and fiber to help keep you full. They are also rich in heart-healthy fats, plus other nutrients like vitamin E, magnesium, phosphorus, potassium, calcium and iron. Research suggests that almonds my help lower "bad" LDL cholesterol and blood pressure, too.
Pistachios
Another diet-friendly option, pistachios are a good source of protein, fiber, healthy fats, iron and potassium. They're also packed with cancer-fighting antioxidants and may improve blood pressure and prevent heart disease.
Walnuts
Walnuts might be the heart healthiest of all heart-healthy nuts, with high amounts of an omega-3 fatty acid. Walnuts have been shown to improve heart arrhythmias and reduce both inflammation and oxidation in the arteries.
Cashews
Along with the nutrients to support heart health that you might expect, cashews contain a ton of minerals and antioxidants that help protect the blood, bones, nerves, immune system, eyes and skin!
Pecans and Brazil nuts
Both of these varieties supply nutrients essential for men's health. Pecans are packed with beta-sitosterol, which is a natural plant steroid that can shrink an enlarged prostate. The large Brazil nut is loaded with selenium (a whole day's worth in just one nut!), a mineral that may help prevent prostate cancer.
Honorable mention: Peanuts
Peanuts aren't really nuts, but it's hard to leave them off any list of nut-ritious foods! Chock full of folate, vitamin E, flavonoids and amino acids, peanuts help boost brain development in unborn babies and young people, and they may help prevent declining brain function as we age.
The takeaway
Nuts are good for you. Period. Just remember to eat them in moderation, and opt for raw or dry-roasted nuts rather than their oily, salty, chocolate-covered counterparts.