Bone Up on Brown Bagging It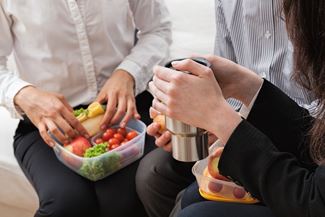 Hey, we get it. You have enough to think about in the morning just to get yourself ready for work, the kids ready for school, and maybe toss something into the slow cooker for dinner. Maybe you manage to pack lunches for your kids, but your own lunch? You'll just grab something when the time comes, right? But think about all the money you'd save, and how much healthier you could be, if you brought your lunch to work every day. Here are some tips to make it doable, even if you don't have time and hate the thought of a sad, lonely desk salad.
Make it efficient
When you go grocery shopping, keep your lunch plan in mind, too, so you don't have to make an extra trip to the store. Make sure you keep backup staples on hand, like cooked chicken, hardboiled eggs, bagged salad and nuts.
Repurpose leftovers
If you're making chicken this week, buy and cook extra to keep on hand to throw on a salad or in a wrap. If you're making pasta, plan for leftover noodles that can be turned into pasta salad with a few added veggies or cubed meat.
If you like salad, make a big batch of greens and toss in different combinations of toppings and dressings each day. Or, make a big batch of soup and freeze into individual lunch portions to be thawed out when needed.
Make it fun
Brown bagging it doesn't necessarily mean you have to buy a big pack of brown paper lunch bags and toss your food in. Pick out a reusable lunch bag and some nice plastic containers, if you're into that sort of thing. Or, you could get some coworkers into the game and plan a weekly potluck-style lunch, where each person brings enough to share.
Make it tasty
Don't pack the lunch you're supposed to pack (leftovers, or the basic sandwich-apple-pretzels thing) if that's not what you want to eat. You know you'll just throw it out and grab a burger when lunch time rolls around. Instead, pack what you actually like to eat!
Make it enough
The best tip for making it through the day without hitting the nearest drive-through or grabbing something dubious from the vending machine is to make sure you pack enough food. Include a dessert and a couple of extra snacks to have later with your afternoon coffee. And don't forget a drink—something less boring than water (think green tea or 100 percent fruit juice) so you aren't tempted to reach for a soda.
Treat yourself
If you really enjoy going out for lunch, then allow yourself to do so. Maybe treat yourself every Friday, but plan for it, so that you're not just grabbing whatever greasy thing might be offered close to your office.
Try Some of These Healthy Recipes