Helping Seniors Stay Connected While Social Distancing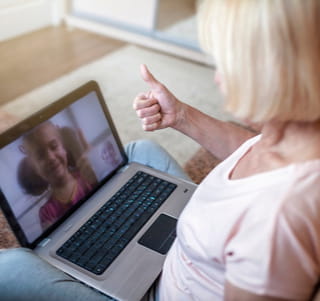 While social distancing is hard for all of us, it can be especially devastating for seniors, who don't always have the means to stay connected with friends and family. Social isolation is a risk factor for a host of poor health outcomes, so now more than ever, it's critical to help the seniors in your life stay connected.
Make a phone call
It sounds simple, but a daily or weekly phone call can make a big difference in our lives when we're feeling alone. You could even make a "date" to watch your favorite TV show together while on the phone.
Help with technology
Find a way to help your friend or family member download and use a video call app. Have them set their phone outside the front door if you have to, and then download, disinfect the phone and leave it there for them.
Eat dinner together
Once they have the video capability, starting a video call at dinner time and then sitting "together" to eat can be surprisingly therapeutic.
Visit through the window
If your favorite senior is in an assisted living home or otherwise shut in their own home, sit outside their window while talking on the phone. It may feel strange at first, but it's almost as good as sitting together in the same room!
Cook together
Even though you may have to avoid direct contact, you could take turns cooking for one another. Today, you cook a meal and leave it on their doorstep. Tomorrow, perhaps they can cook a meal to share and leave it on your doorstep.
These are strange and stressful times, for sure. But with a little creativity and positivity, we can all come together and stay connected—even while social distancing.