Early Detection Matters
There were 88,331 women who had their screening mammogram at BayCare in 2018.
Join them and be a woman who knows firsthand that our breast health is #InOurHands.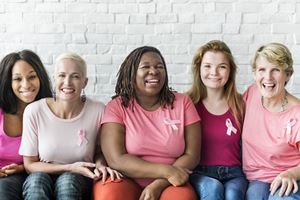 About one out of every eight American women will be diagnosed with breast cancer, with more than 330,000 new diagnoses expected in 2019. It's a scary statistic, but here's a less scary one: between 1989 and 2016, the rate of death from breast cancer fell by 40 percent. Why? Mostly due to women taking control of their own bodies and getting the screenings they need. When breast cancer is detected early, it's easier to defeat. So, when should you be screened?
If you have an average risk…
For about 15 years, the U.S. Preventive Services Task Force (USPSTF—this is the organization that most doctors look to for guidelines) recommended yearly mammograms by age 45, although many women chose to go ahead and get started at age 40. Some doctors then suggested changing to every two years when a woman reached the age of 55, while others recommended continued yearly screenings.
These guidelines were overhauled in 2016, with the official recommendation being biennial (every two years) mammograms for women ages 50 to 74. The thinking was that false positives and overdiagnosis were much more common in women under age 50, which could lead to further invasive testing—and maybe even harsh treatment regimens—that ended up being unnecessary. They also found that yearly mammograms didn't provide any extra benefits over having the screening done every other year. For women between ages 40 and 49, the USPSTF suggests that the decision to begin getting mammograms should be in each woman's hands, once they understand the benefits and risks.
Kind of confusing, isn't it? For that reason, it's a good idea to sit down and have a conversation with your doctor about mammograms, and find out what they recommend—and why.
If you have a higher-than-average risk…
If you have a family history of breast cancer, you should talk to your doctor about starting mammograms at age 40, or 10 years before your family member was diagnosed, whichever is earlier. Your doctor may also recommend additional screening measures, such as a breast ultrasound or an MRI. The USPSTF hasn't made an official recommendation about these extra screenings, because they don't yet have enough evidence to do so.
If you have a family member with a BRCA1 or BRCA2 genetic mutation, you should talk to your doctor about genetic counseling and testing. If you carry one of these genetic mutations, your doctor may recommend mammograms and other screenings earlier and more often.
88,331 Women Know First Hand that It's In Our Hands.
No matter where you are in your pursuit of optimal breast health, our compassionate medical experts and convenient imaging centers are here for you.