Weight Loss Surgery in 6 Steps
Weight loss surgery is a necessary and important tool for many people who are looking for a permanent weight loss solution. At BayCare Health System, we want to ensure that our patients in the Tampa Bay area are completely prepared for bariatric surgery and that they have realistic expectations for how it will change their lives. For that reason, BayCare has developed a comprehensive process that is uniquely designed to promote the best possible outcomes for our patients.
Info Session - The first step toward BayCare weight loss surgery is to attend an information session. You can register to attend one of our convenient in-person information session led by a surgeon or one of our weight loss surgery navigators or you can start right now by the online information session. Here you will learn about your different surgical options as well as be able to choose which bariatric surgeon you prefer for your weight loss surgery.
Initial Consultation - Upon successful completion of a BayCare Information Session, with bariatric insurance benefits confirmed, the next step is to be scheduled for an initial surgical consultation with one of our BayCare Weight Loss Surgery physicians.
Navigator Review - After being deemed a surgical candidate, a BayCare Weight Loss Surgery Program Navigator will review with you 1. Pre-surgery surgeon ordered testing 2. Insurance requirements (if applicable) and 3. Appointment details in preparation for evaluation and education consultations with program registered dietitian, psychologist and fitness specialist.
Surgeon Review - Upon collection of all required clearances and documentation in support of you having surgery, your records will be communicated to your surgeon for review.
Records Submission - Your surgeon's office will handle submission of records to insurance for surgery authorization, scheduling additional pre-surgery surgeon consults (if applicable) and your surgery date.
SUCCESS Program - Making lifestyle changes after your procedure are an important part of the weight loss surgery process. Following your weight loss surgery, you will have access to complimentary support groups that take place in a number of BayCare facilities in your community. BayCare's SUCCESS program offers you a more personalized follow-up after surgery with our multi-disciplinary team.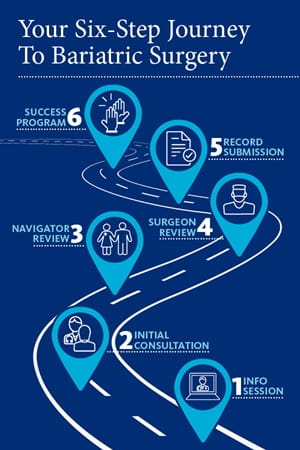 Begin Your Weight Loss Journey with BayCare
If you are ready to begin your weight loss journey with BayCare, sign up now for a free online information session so that you can learn more about your options for weight loss surgery. We are proud to partner with patients throughout Tampa, St. Petersburg, Clearwater, New Port Richey, Lutz, Dunedin, Plant City, Riverview and all of the surrounding areas to help them meet their long-term goals for weight loss and overall wellness. You can also call (855) 314-8350 for a free physician referral.