Synovia's Story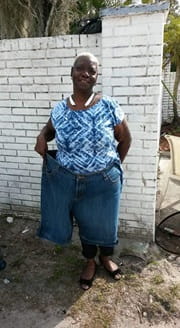 Name: Synovia J.
Surgery date: May 2015
Surgery type: Sleeve gastrectomy
Surgeon and hospital: Dr. C.R. Hall, South Florida Baptist Hospital
Start weight: 310 lbs.
Current weight: 189 lbs.
My name is Synovia and this is my weight loss story. I started to gain weight 18 years ago, after the birth of my second child. I had no control when it came to food. I would try different diets; with some I had success, but I would always go back to my wicked ways. I would lose weight and then gain it back like a yo-yo. Six years ago, I was diagnosed with diabetes and hypertension and was told I needed to change my way of eating and needed to exercise. Last year, I made a life-changing decision to have weight loss surgery. I was sleeved on May 27, 2015. My starting weight was 310 lbs. Now, my current weight is 189 lbs. I no longer need medication for diabetes or hypertension. With God, prayer, hard work and determination, I've lost 121 pounds! My tips for success are to take the stairs instead of the elevator, park far away from the building and take every opportunity you can to add some exercise. Moving and a healthy diet are the keys to my success.
Q&A with Synovia
Q. What led you to choose Dr. Hall as your surgeon? Are you happy you chose him?
A. Other patients of Dr. Hall's spoke well of him, so I did some research. I'm very happy I chose him as my surgeon.
Q. What was your hospital stay like?
A. I spent two days at South Florida Baptist Hospital. The staff was awesome.
Q. What is a typical day of food intake/exercise for you?
A. Four small meals a day with a healthy snack and at least 60 grams of protein, with as much water I can get in. I exercise five to six days a week.
Q. How many clothing sizes are you down?
A. I'm down seven sizes, from size 28 to size 14.
Q. How do you support/motivate peers and friends who have had weight loss surgery?
A. I try to motivate and encourage them by telling them how and why I've been so successful. I'm hopeful they will have the same success.
Q. Who have been your biggest supporters through the presurgical and postsurgical process?
A. I would have to say my husband, Fito, my daughter, Miracle, sister, Loretta and niece, Rosa. These four people have been with me from the beginning. Family support is everything!
Q. What can do you do now after weight loss that you couldn't do before you lost weight?
A. I can walk and jog without getting out of breath. I have more energy than I've had in years.
Q. Do you have any goals for the future?
A. Most of all, I would like to maintain a healthy weight/ lifestyle.