Intelligent Eating Techniques
A healthy diet is a necessary component of any weight loss program, and BayCare's weight loss surgery program is of no exception. Know that weight loss surgery is a tool that must be combined with lifestyle and behavior changes to ensure the most successful outcome.
Before you can advance to the Nutrition Consultation step of our program, you must first complete the Developing Intelligent Eating Techniques presentation and assignment below. The presentation should take no more than 20 minutes for you to review, and it is concluded by a two-part assignment which you must bring to your Nutrition Consultation to review with your dietician.
This presentation is designed to give you:
Tools to start changing your behavior around food
Overview of how your food texture will be advanced after surgery
Tips on how to reach your goals and have a successful outcome
We also encourage our Tampa Bay area patients who have already completed weight loss surgery to revisit this presentation as a reminder on the tips for intelligent eating.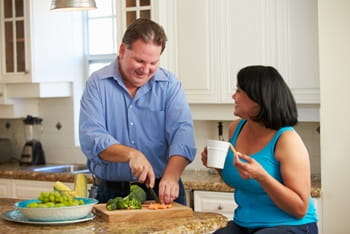 Get Started Today!
If you would like to learn more about your options for weight loss surgery in the Tampa Bay area, BayCare offers a variety of programs and services to help you make an informed decision about how to lose weight. Patients in Tampa, New Port Richey, Clearwater, St. Petersburg, or any of the surrounding areas can register today for a free online information session. You can also call (855) 314-8350 for a free physician referral.