Breastfeeding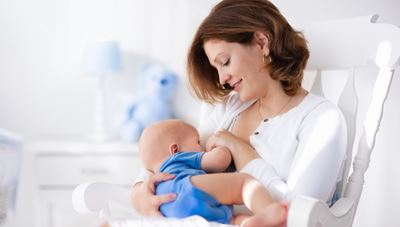 BayCare encourages you to breastfeed your baby. It is the perfect, healthiest food for your newborn, and as a mother, you can enjoy a special bond unlike any other. We offer prenatal classes about breastfeeding to prepare you for the experience. Plus, your maternity nurse will help you get started within the first hour of birth. We continue to support and encourage you during this breastfeeding journey with assistance in the purchase or rental of breast pumps, nursing bra fittings and other specialty pampering. We can even help you overcome any difficulties which may arise with specially trained Lactation Consultants.
More breastfeeding information:
Breast Milk Donor Program
BayCare implemented a Breast Milk Donor Program to nourish fragile babies in BayCare Neonatal Intensive Care Units with natural breast milk. This milk is donated by healthy mothers in our community with excess milk. Learn more about why this is needed, how to become a donor, or to speak to a milk donor coordinator now.
Why donate to support BayCare preemies?
It is easy and convenient and can be done from home
It can be done at no cost to you
You are eligible to receive reimbursement
How does your breast milk donation help?
Helps save babies' lives
Supports mothers with critically ill babies
Provides standardized and guaranteed supply of breast milk to BayCare NICUs
Ready to become a donor?
Do you have extra breast milk?
Want to make a difference?
Learn more about how your donation can help or speak to a Milk Program Coordinator today.
For more information or a physician referral, call (888) 828-9580 or find a doctor near you.
BayCare Breastfeeding Support

La Leche League International - Breastfeeding Support and Information

https://www.llli.org/ - La Leche League International offers support, encouragement, information on breastfeeding, and even the opportunity to contact a leader in your local area.

KellyMom - Parenting & Breastfeeding

KellyMom - The Basics of Breast Massage and Hand Expression (video)

Global Health Media - How to Express Your First Milk (video)

Stanford Medicine - Hand Expression of Breastmilk (video)

Stanford Medicine - Maximizing Milk Production with Hands-On Pumping (video)

Mothers Milk Bank of Florida

Office on Women's Health - Breastfeeding

Prolacta Donor Milk Program

Home - Baycare Milk Bank (prolacta.com)

- Breast Milk Donor Program to provide nourishing human breast milk products to ill, premature babies in BayCare Neonatal Intensive Care Units and NICUs around the country.

Breastfeeding After Reduction (BFAR) Information and Support

Human Milk Banking Association of North America

https://www.hmbana.org

- HMBANA believes in a world where all infants have access to human milk through support of breastfeeding and use of pasteurized donor human milk.

Infant Risk Center at Texas Tech University Health Sciences Center

www.infantrisk.com - Questions about OTC or prescription medications while pregnant or nursing? Call the experts at the Infant Risk Center: Monday – Friday, 8am – 5pm CT (806) 352-2519.