Daniel Esan, DO
Hometown: Randallstown, MD
Undergraduate Education: Bachelor of Science degree in Microbiology, University of Maryland, College Park
Medical School: Liberty University College of Osteopathic Medicine
In His Own Words
"I was excited to find out that I matched at USF. I did not have the opportunity to rotate here, but when I met the residents during the dinner, I instantly clicked with them. I appreciated how open and honest they were about the program. I loved that the program was unopposed with a great mix of community and academic opportunities. I'm grateful for the opportunity and can't wait to get started."
About Dr. Esan
Dr. Esan was born in Germany. He then moved up and down the East coast before settling in Maryland from elementary school onward. He had an interest in science growing up and knew that he wanted to pursue medicine. His decision to pursue family medicine was solidified after his third-year rotation, where he had the opportunity to explore a lot of the variety and aspects that the field encompassed. In the future Dr. Esan plans to pursue a fellowship in sports medicine and split his time between outpatient care and sports teams coverage.
In his free time, he enjoys playing video games, working out, and watching sports especially the Ravens.
Kaitlyn Grayson, MD
Hometown: Sacramento, CA
Undergraduate Education: Bachelor of Science degree in Biology, Brown University
Medical School: University of South Florida Morsani College of Medicine
In Her Own Words
"During my family medicine rotation in my third year, I was amazed at the breadth of patients that were cared for and the relationships that family medicine physicians had with their patients. Being able to work with patients at all steps of their lives is an enormous privilege, and I am so excited to train at an institution that values partnering with patients in their healthcare. It is a dream come true to learn from the staff at USF, an institution where its faculty and residents truly seem to enjoy working with each other and serving the community."
About Dr. Grayson
Dr. Grayson was born and raised in Sacramento, CA, before starting her undergraduate studies at Brown University. She knew from a young age that she had a passion for medicine and public service and was able to work at a crisis hotline as well as take part in breast cancer treatment research while at Brown and after. She attended the University of South Florida Morsani College of Medicine, and for the last two years of her medical school career she moved to Allentown, PA, as part of the USF's SELECT program. Inspired by the incredible care her younger sister received for an asthma attack, Dr. Grayson saw firsthand the impact that a compassionate primary care physician can have by following their patients and their families through such a stressful experience. During her family medicine rotation, she became particularly interested in the intersection between women's health and behavioral medicine and hopes to continue to explore these passions during her residency.
During her free time, she enjoys hiking, swimming, traveling, spending time with friends and family, and is looking forward to spending time at the beautiful beaches in Clearwater.
Kate Huether, MD
Hometown: Fort Myers, FL
Undergraduate Education: Bachelor of Arts, New York University Stern School of Business
Medical School: Johns Hopkins School of Medicine
In Her Own Words
"I chose USF Family Medicine because of the combination of being part of a large academic center as well as a community hospital. I loved how all the residents I met had different interests and tracks within family medicine, such as dive medicine and sports medicine. It really seemed like somewhere that continually supports its residents and encourages exploration of different areas in medicine."
About Dr. Huether
Dr. Huether grew up in Florida as one of six children. She is a first-generation college student and the first doctor in her family. Dr. Huether explored many different avenues before settling on a career in medicine. She studied finance for her undergraduate degree, received a master's degree in Nutrition, and then worked in Management Consulting and started her own company after medical school. She is passionate about lifestyle medicine for the prevention and treatment of chronic diseases. She is an avid runner and believes that movement a cornerstone of health. She hopes to change the way we think about health care by increasing the focus on preventive medicine and incorporating lifestyle changes into mainstream medicine.
Linzi Jiang, MD
Hometown: Oklahoma City, OK
Undergraduate Education: Bachelor of Arts in International Business and Supply Chain Management, University of Oklahoma
Medical School: University of Oklahoma College of Medicine
In Her Own Words
"During my fourth year of medical school, I had the opportunity to do a sub-internship at USF. Not only were the residents and faculty knowledgeable, helpful, and personable, they truly made me feel like an asset on the team and even invited me out to social events. Having witnessed first-hand the ins and outs of this program, I am confident that the faculty can guide me to achieve my career goals and look forward to serving the diverse community in Clearwater."
About Dr. Jiang
Dr. Jiang was born in the Hunan province of southern China. She and her parents immigrated to the United States when she was three years old and have resided in Oklahoma most of her life. As the daughter of a hematologist and small business owner, she was imbued with the values of health and hard work from a very young age. After initially pursuing a career in the corporate world, she decided to return to her alma mater to study medicine instead. In 2020, Dr. Jiang graduated from medical school and moved to Clearwater, FL, to begin residency at USF.
During medical school, Dr. Jiang channeled her widespread passions by involving herself as a mentor for her local American Women's Medical Association, a leader in organizations such as Medical Spanish and Business in Medicine interest groups, and as an ambassador for Students Today, Alumni Tomorrow with outreach to prospective applicants. Her appreciation for the arts and humanities led her to become co-editor-in-chief of the nationally recognized medical humanities journal, Blood and Thunder. One of her poems has been accepted for publication in the upcoming edition. During her clerkship years, Dr. Jiang thoroughly enjoyed her family medicine rotations and is dedicated to being a competent and caring physician. She is interested in sleep medicine, sports medicine, integrative medicine and palliative care.
Dr. Jiang won the title of Miss Asia-Oklahoma in 2006 and is a certified Usui and Karuna Reiki Master. In her free time, she enjoys exploring the world with her partner, Shaan. She endorses a mindful, balanced lifestyle and prioritizes self-care through regularly practicing yoga and tai chi, spending time in nature, and cherishing simple moments with loved ones.
Sasank Peramsetty, MD
Hometown: Tuscaloosa, AL
Undergraduate Education: Bachelor of Science in Biochemistry, University of Alabama at Birmingham; Master's in Biotechnology Enterprise and Entrepreneurship, Johns Hopkins University
Medical School: University of South Alabama School of Medicine, Mobile, AL
In His Own Words
"I am delighted to join the team at USF Family Medicine Residency program. From my interactions with faculty, staff and residents on interview day, I got a very warm, positive vibe of the learning environment and the social culture. More importantly, I felt that I can see myself fitting perfectly as part of a jigsaw primary care puzzle where USF's holistic approach to care is the main focus and where USF's resources, facilities and staff rival any other program."
About Dr. Peramsetty
Dr. Peramsetty is an easy-going, good-natured gentleman who hails from Tuscaloosa, AL. He is a first-generation American who spent the majority of his childhood in India. His continued medical exposure and personal experiences both locally and abroad have motivated him to pursue a career in primary care medicine. He is a huge proponent of wellness, where he aims to address the causes of disease rather than the symptoms of disease through behavior modifications. From health insurance to DNA-driven medicine, American health care is experiencing a revolution. As a physician entrepreneur and a capable clinician, he intends to make his contribution to the field of health care by facilitating ways to bring innovative, consumer-oriented health care to the market efficiently — simplifying medical decisions, reinvigorating primary care, and lowering costs.
During his leisure time, Dr. Peramsetty enjoys listening to podcasts, reading magazines, watching TED videos and researching new tech gadgets.
Chanyang (Andrew) Rho, DO
Hometown: Mokpo, South Korea
Undergraduate Education: Bachelor of Arts in International Business, University of North Carolina, Charlotte, NC
Post baccalaureate: University of Maryland, College Park, MD
Medical School: Michigan State University College of Osteopathic Medicine
In His Own Words
"Being a father of three children, it was not an easy task when choosing a residency program as there were many things to consider. After my USF-MPM Family Medicine interview, I instantly knew that this program was going to be a perfect fit for my family and me. Not only was I going to get a top-notch training with awesome faculties and residents at an unopposed, well-rounded program, but the area also offered many good charter schools and so many things that our family could do outside of work! I am sure you can imagine how excited my daughters were after hearing that Disney World was less than two hours away! I am very excited to become a part of the USF-MPM family!"
About Dr. Rho
Dr. Rho was born in Mokpo, South Korea, and moved to the U.S. with his family at the age of 9. After graduating from University of North Carolina at Charlotte with BA in International Business, his passion grew to serve others, and he enlisted in the U.S. Army with a goal of becoming a physician. He served as a biological research sergeant at Walter Reed Army Institute of Research in Silver Spring, MD, where he was involved in multiple brain trauma research protocols. He was honorably discharged after five years of service. During his time in the Army, he completed taking all of the pre-requisite courses in the evening after work to apply to medical schools at University of Maryland and gained acceptance from Michigan State University College of Osteopathic Medicine. He hopes to serve the underserved population. He would also like to participate in global health upon graduating from the USF Family Residency Program.
Dr. Rho is married to his wonderful wife, Hyeju, and have three beautiful children: Noa, Zio and Roy. In his free time, he enjoys running and cycling with his children.
Joshua Son, DO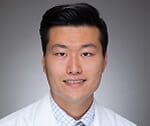 Hometown: Seoul, South Korea
Undergraduate Education: Bachelor of Science Degree in Biology, Stony Brook University 
Medical School: New York Institute of Technology College of Osteopathic Medicine 

In His Own Words
"I chose Family Medicine at USF/BayCare-MPM Hospital due to its well-rounded and unopposed curriculum.  This program offers many opportunities which will help me find my niche in the field of family medicine.  I am confident that when I graduate from this program, I will become the family medicine physician that I have dreamed of. "
   
About Dr. Son
Dr. Son was born and raised in Seoul, South Korea and moved to Long Island, New York during high school.  From a young age, Dr. Son had a strong passion for the sciences, especially in the human body.  As part of his university thesis, he worked on the role of gut microbe in colon cancer and autism.  To continue his passion for medicine, he attended New York Institute of Technology College of Osteopathic Medicine and founded a Culinary Medicine and Nutrition Organization to educate medical students on healthy eating.  Dr. Son chose family medicine specialty due to the diverse scope of practice and the privilege to treat patients from all ages. He has special interest in obesity medicine, lifestyle medicine and sports medicine. During his leisure time, Dr. Son enjoying running, cycling, and cooking. 
Tisha Van Pelt, MD
Hometown: Melbourne, FL
Undergraduate Education: Bachelor of Science in Biology, University of Florida
Medical School: University of Florida
In Her Own Words
"I first was introduced to the USF Family Medicine Residents at the AAFP national conference and immediately felt like we had all known each other for years. At the interview, I was impressed by the flexibility of the program curriculum, which fosters the interest of each of their residents. I appreciated the benefits of being associated with a large academic institution while still being considered unopposed as it is the only residency working in the hospital. Of course, the little things also added up which showed me the hospital really supports the residents. When looking at the program overall, I knew I would find happiness at USF Morton Plant."
About Dr. Van Pelt
A born and raised Floridian, Dr. Van Pelt grew up in Brevard County. She attended Satellite High School followed by pursuing her bachelor's degree in biology for the College of Agricultural and Life Sciences at the University of Florida. Dr. Van Pelt obtained her Medical Doctorate from the University of Florida and is proudly a double gator. When asked why she wanted to become a family medicine physician; "I love every area of medicine and want to practice it all. Whether its children, pregnant mothers, mature adults, or anyone in-between; I want to help everyone I can." Dr. Van Pelt had humble origins as she was raised by her mother who worked tirelessly to care for and support her family. She attributes all her achievements to her mother, as she is the person who taught her the meaning of hard work and sacrifice. Dr. Van Pelts' family also includes three older sisters as well as many nieces and nephews. Her hobbies revolve around animals and music. She enjoys musical theatre, singing a cappella, playing the piano, and well as anything crafty she can do with her hands like pottery. She fosters for her local animal rescue and recently started learning how to ride a horse. On the weekends, she and her dog Chloe participate in dog sports, specifically dog agility among several others. Overall, Dr. Van Pelt is described as a compassionate, energetic, and optimistic individual who loves the Florida sunshine.