2020 Graduates
William Hasson II, MD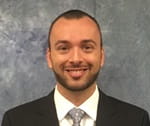 Hometown: Bolivar, OH
Undergraduate Education: University of Miami
Medical School: Florida International University Herbert Wertheim College of Medicine
In His Own Words
"I could not have been happier or prouder to have matched at the USF-MPM Family Medicine Residency Program. I am astounded by the amount of teaching and support I have received from attendings, faculty, and residents alike. A noteworthy aspect of the program is the inclusive environment that has not only accepted me and my advocation for LGBTQ medicine but my husband as well. He and I are enjoying getting to know the area since Tampa-Clearwater was new to us both. As self-described 'bon vivants' and connoisseurs of fine foods, we have yet to go wanting for exciting experiences in the Tampa Bay Area."
About Dr. Hasson
Dr. William Hasson II grew up in a small, underserved town in Ohio and learned the importance of the family medicine physician at a young age. Through many years of attending back-to-school physicals that the one family physician in town offered annually free of charge, he learned the pillars of patient and community advocacy. During medical school, he teamed up with fellow medical students and faculty of the FIU law school to assist uninsured citizens of the Greater Miami area in enrolling in affordable coverage. Many of those citizens fell in the "coverage gap" created by failed Medicaid expansion in the state of Florida and could not find affordable insurance. To advocate for those uninsured citizens, Dr. Hasson listened to their testimonials and presented them to state representatives to highlight the need for reform in Medicaid and insurance law.
This year, Dr. Hasson was able to showcase his passion for social advocacy by serving as Doctor of the Day at the Florida State Capitol in Tallahassee. He met with state senators and representatives to discuss issues pertinent to patients and providers while having the opportunity to medically treat state legislators. He also has developed an interest in LGBTQ and HIV care. In fact, Dr. Hasson and his co-resident, Dr. Lawson, have teamed up to spearhead the development of a novel LGBTQ curriculum within the residency program. Dr. Hasson and Dr. Lawson have developed educational topics and have also directed community outreach initiatives to educate the local LGBTQ community about the role of primary care in their health care and to showcase Turley Family Health Center (the USF Family Medicine residency outpatient clinic) as a welcoming environment for LGBTQ patients. His plans after residency include working in a practice providing full-spectrum primary care with a focus on LGBTQ and HIV medicine. Outside of medicine, Dr. Hasson enjoys his leadership role as resident chair of recruitment and spends time traveling and searching for new culinary experiences with his husband and friends.
Kristin Hertweck, MD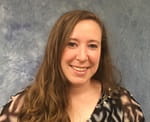 Hometown: Marissa, IL
Undergraduate Education: Bachelor's Degree in Biology and Biochemistry with a minor in Chemistry from Missouri Baptist University in St. Louis, MO
Medical School: Southern Illinois University School of Medicine
In Her Own Words
"USF family medicine residency is one of a kind. I could talk all day about the perks I've received, the wonderful education I'm obtaining, and the flexibility of the program to meet the needs of any spectrum of practice. The most important thing to me personally, however, is that I simply love my residency family. My husband and I moved across the United States to be here. The culture that this program has built is astounding. We take care of each other, whether that means watching a pet or taking a shift last minute to help a friend in need. As an intern I was asked on a weekly basis how I was doing, and whether I was adjusting well to the stresses of residency along with being away from my family. Now I feel as though these people are my family! I love each and every one of my fellow residents and faculty. I am very determined to continue the trend with our future residents that we recruit. I'm very proud to be a USF Family Medicine Resident."
About Dr. Hertweck
Dr. Kristin Hertweck was born in a small town in southern Illinois. She grew up playing every sport her school had to offer, which shaped the self-driven person that she has become. "I was a very competitive kid; always had to be better than I was the month before. I'm still competitive in sports, but I have mellowed quite a bit outside of athletics." Dr. Hertweck enjoys strength training at her local gym "Strength Camp," playing beach volleyball with her husband and friends, softball,and kickball. She is always up to try a new athletic endeavor.
She decided to enter the specialty of Family Medicine after rotating in a rural office near her hometown. "I knew I wanted to do family medicine after my first day in that office. Those patients really trusted and had a close relationship with their family doctor, and I wanted the same exact thing with my career." Dr. Hertweck takes a fun-loving approach to her patients – she has a very relaxed attitude with patients and colleagues.
Like her specialty, Dr. Hertweck also knew USF Family Medicine Residency Program was the perfect fit for her as she walked out of her interview. "I went back to the hotel and told my husband, 'Yep, this will be my #1.' Moving so far away from our families was intimidating at first, but we love our USF family and have no regrets."
Shaan Mehta, MD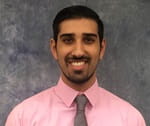 Hometown: Cincinnati, OH
Undergraduate Education: Youngstown State University
Medical School: Northeast Ohio College of Medicine
In His Own Words
"USF Family Medicine really was the program that I felt offered me the ability to tailor my interests and pursue my career goals. After interviewing at family medicine programs nationwide, I found myself drawn back to my experiences with the residents and faculty at USF. Whether your interests lie in inpatient, outpatient or future fellowship, it's safe to say USF offers the opportunities to pursue it all."
About Dr. Mehta
From a young age, Dr. Shaan Mehta worked to put himself on the fast track to a career as a physician. Inspired by his grandparents, both of whom were practicing physicians back in his motherland of India, he was able to see the indelible effects left by physicians on their communities.
Dr. Mehta completed his medical training in the 6-year combined bachelor of science/medical school curriculum at Northeast Ohio College of Medicine in his native state of Ohio. Dr. Mehta is an active member with the Florida Academy of Family Physicians and is the residency's FAFP representative. He has had multiple poster presentations at FAFP including topics on Waldenstrom Macroglobulinemia and Tenosynovitis. He also attends conferences on the national level including AMSSM and AAFP, and will be presenting a case report at this year's FMX conference in Philadelphia. Dr. Mehta has strong passions for sports medicine and community event coverage. He has had the opportunity to work as a physician at major events such as an IRONMAN Triathlon and Disney Marathons. Additionally, he has taken part in the annual physicals for USF collegiate athletics and multiple major league baseball clubs. His plans after residency include the pursuit of a sports medicine fellowship and eventually providing full spectrum primary care with an emphasis on sports medicine.
Outside of medicine, Dr. Mehta is an avid global traveler and can't get enough of eating the local cuisines. He is a diehard Cincinnati sports fan and remains ever faithful that his Bengals will one day bring home a championship.
Brittany Moore, MD
Hometown: Baton Rouge, LA
Undergraduate Education: Xavier University of Louisiana
Medical School: University of Rochester School of Medicine and Dentistry
In Her Own Words
"The USF MPM FM Program has taught me so much about both medicine and myself. And both the inpatient and outpatient learning experiences here have been truly priceless. After interviewing here, I was thoroughly impressed with how much of a voice the residents had and how supported they all were. I also was excited about the opportunity to care for such a diverse patient population. The program and hospital attendings create an environment conducive to learning."
About Dr. Moore
Dr. Brittany Moore is from Baton Rouge, Louisiana. She has always been passionate about science as she was a chemistry major with a double minor in Biology and Spanish. She is the first to both graduate from college and become a physician in her family. She knew very early on in her career that she wanted to enter into primary medicine due to her passion for preventive medicine and continuity of care. After setting her mind on the health care career path, she was utterly determined to get there and never looked back. Her journey took her to New Orleans, Louisiana, for a pre-medical undergraduate degree in Chemistry and double minor in Spanish and Biology. Following, she attended the University of Rochester School of Medicine for medical school training.
In her spare time, she enjoys reading, singing, traveling and being with family and friends. She has an interest in Women's Health. She aspires to in the future work with underserved populations either in Florida or her home state Louisiana. She also desires to someday start a non-profit organization for underprivileged youth with a desire to pursue medicine. Brittany tries daily to live by her favorite quote, "Be the change you wish to see in the world," and hopes that she can, even if just a little, positively impact the health and lives of everyone she has the privilege of caring for.
Paolina Pantcheva, MD
Hometown: Tampa, FL
Undergraduate Education: University of South Florida
Master's Education: Morsani College of Medicine at the University of South Florida
Medical School: Morsani College of Medicine at the University of South Florida
In Her Own Words
"You often hear the unofficial University of South Florida slogan, USF: U Stay Forever, for good reason – the educational experiences and the people you meet along the way are exceptional. Originally from Bulgaria, I have become a Tampa Bay Area native. I have served this community since I was in high school and have continued this trajectory into my career. The Tampa Bay Area is diverse and continues to grow and flourish, offering many opportunities for young medical professionals. The program mirrors this diversity in the educational experience it offers, from patients to individualized curriculum. I have seen myself develop from student to educator and continue to develop with the help of my attending mentors. From celebrating birthday parties and baby showers to offering comfort and support in times of personal tragedy, my co-residents and I have developed a mutual trust and friendship that has provided an important foundation for us to grow as individuals and professionals."
About Dr. Pantcheva
Dr. Pantcheva earned her Bachelor of Science at the University of South Florida. After graduating, Dr. Pantcheva researched neurodegenerative diseases. This was followed by a Master's of Science with a concentration in Aging and Neuroscience at the USF Morsani College of Medicine, where she was able to research the effects of stem cells on stroke, traumatic brain injury and other neurodegenerative diseases. She continued her USF journey and graduated in 2017 as a Doctor of Medicine from USF Morsani College of Medicine. Dr. Pantcheva has a wide range of professional interests, including Dive and Hyperbaric Medicine, Wound Care, Hospital Medicine, and advocating for Women's Health Issues. Dr. Pantcheva is passionate about innovation, medical education and academic medicine and is a resident representative for the Graduate Medical Education Committee, Continuing Medical Education Committee and Electronic Medical Record Committee within the BayCare Health System. She has a love and appreciation for the great outdoors and served as Wilderness Medicine resident representative, an exciting track within the USF-MPM residency that combines medicine and the spirit of adventure.
In her spare time, Dr. Pantcheva enjoys spending time with her friends and family and enjoying all the fine parks, beaches and restaurants that Tampa Bay has to offer, basking in the Florida sunshine with a liberal amount of sunscreen, photography, traveling to new places, and enjoying a lazy afternoon with her two cats, Gwen and Moch.
Cicily Stanton, MD
Hometown: Oklahoma City, OK
Undergraduate Education: Baylor University
Medical School: University of Oklahoma College of Medicine
In Her Own Words
"My husband and I are overjoyed to have couples matched at USF-MPM for our residency training. After our interview day, we immediately knew this was the residency program for us. From the first time we visited the program, we knew that the residents and faculty were ones with whom we meshed very well. The culture here fosters communication, learning and friendship, and the faculty go above and beyond to prepare residents for the future of family medicine. This residency has thus far exceeded my expectations, and I feel that all the skills I have learned over my intern year has sharpened my skills in both inpatient and outpatient medicine. I could not imagine doing my residency program anywhere else!"
About Dr. C. Stanton
Dr. Cicily Stanton has always had a passion for medicine and particularly family medicine. She began shadowing physicians and volunteering more than 2,000 hours at both free clinics and at the VA hospital during her high school and college years. During her third year of medical school, each and every rotation excited her and thus she decided to enter the all-encompassing field of family medicine. She values forming connections with her patients and seeing all different types of patients on a daily basis.
Dr. Stanton also has a passion for leadership and resident and medical student wellness. She currently serves as one of our two Chief Residents and held numerous leadership positions while in medical school as well, including serving as her medical school class president for all four years of medical school. She is also a member of the prestigious Gold Humanism Society.
The most enjoyable part of medicine for Dr. Stanton is the patient/physician relationship that she develops with her patients. She believes that it is important to get to know her patients and is dedicated to listening and staying engaged with them while keeping them informed every step of the way. Treating patients with compassion and respect is of utmost importance to her. Her goal is to create a safe and welcoming environment that fosters great patient care and communication. She has an interest in weight loss medicine, dermatology, women's health care and preventative medicine, and recently underwent weight loss medicine training at Harvard University.
In her free time, Dr. Stanton enjoys spending time with her husband, her kitty Aegis, and with her co-residents exploring all that Florida has to offer.
Jason Stanton, MD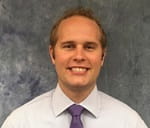 Hometown: Tulsa, OK
Undergraduate Education: Baylor University
Medical School: University of Oklahoma College of Medicine
In His Own Words
"My experience with USF has truly been second to none. The whole program embraces holistic care of not only people within the program but also each and every one of our patients. The hospital and clinical experience within the program has exposed me to such a vast variety of medical problems, and I feel prepared to provide high-level full spectrum medical care. Furthermore, our faculty strives to instill residents with a strong desire to become lifelong learners by teaching us about all topics, procedures, and technology that are essential to being an excellent family physician. I love being able to serve our patients along with such a wonderful staff in our clinic and Morton Plant Hospital, and I look forward to serving my patients, coworkers, and faculty as chief resident this year!"
About Dr. J. Stanton
Dr. Jason Stanton has always had a strong desire to be a physician. His desire to help others in a holistic manner and his interest in medicine were developed by having the opportunity to serve as a volunteer, EMT and nurse tech.
"I am humbled to have the opportunity to be in the position to serve others on a daily basis," Dr. Stanton says. "Meeting people where they are in life is powerful, and I strive to help each person with problems both big in small in a manner that emphasizes compassion and respect."
Dr. Stanton has always had the inclination to pursue Family Medicine, even prior to beginning medical school. He thoroughly enjoys being able to get to sit down and talk with patients and get to know not only about their medical concerns but also about their daily life. He also has a strong interest in preventative medicine, weight loss medicine, wilderness medicine and dive medicine. "I want to be involved in each and every aspect of my patients' care." Dr. Stanton also has a passion for weight loss and has recently underwent training at Harvard for weight loss medicine.
Outside of medicine, he has moved to Florida with his wife, Dr. Cicily Stanton, who is one of his co-residents at USF. He loves outdoor activities, traveling and adventure. He also enjoys sports, playing video games, watching Netflix and spending time with Cicily and his cat Aegis.
Naa Sika Williams, MD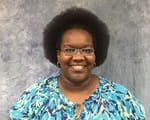 Hometown: Sunrise, FL (Fort Lauderdale area)
Undergraduate Education: University of Florida
Master's Education: University of South Florida
Medical School: University of South Florida
In Her Own Words
"Some say that USF stands for "U Stay Forever," which in my case is almost entirely true. I'm grateful to have the opportunity to continue my legacy here at USF for residency. After rotating at the Turley Clinic and Morton Plant Hospital, it was easy to see the benefits of staying in the Tampa Bay area. This residency program offers a diverse patient population and great inpatient and outpatient experiences. From day one of intern year, I was treated like a doctor, which includes coffee and lunch in the doctor's lounge, parking in the doctor's parking lot and being respected as a doctor by faculty and staff. Who wouldn't want to join a program where you are surrounded by supportive faculty and residents, live in sunny Florida, and enjoy perks like a cell phone and never packing your own lunch?"
About Dr. Williams
Dr. Williams is a true Florida girl with Jamaican roots. She has spent time living in several cities in Florida after growing up in the Fort Lauderdale area. She is a proud University of Florida alumni where she earned her bachelor's degree (Go Gators!). She appreciates the guidance from several influential mentors in her journey to become a doctor. This has provided a passion to continue the legacy of mentoring and guiding the next generation of health care professions. As such, in medical school, she was elected as the liaison for undergraduate and medical students in the Minority Pre-Professional Science Society and Minority Association of Pre-Medical Students. She also taught and mentored rising USF sophomores as part of the Pre-Health Scholars Program, which is a multi-year program geared towards students interested in the health field. This program is near and dear to her heart as she herself was a mentee in the program while in undergrad, and it helped her dreams come to fruition. Dr. Williams believes humor can be the best medicine. She plans to practice outpatient medicine in underserved communities, and provide quality medical care in a lighthearted environment.
In her spare time, Dr. Williams continues to practice her comedy skills in hopes of becoming the next Ken Jeong (just kidding). She also enjoys all things music: "DJ-ing," dancing, playing her djembe drum, beatboxing and making new lyrics to songs. She even planned several karaoke outings for fellow residents during her intern year. She loves to watch TV shows and movies, and just hang out with family and friends in her free time. There's never a dull moment when she's around.