Leadership Curriculum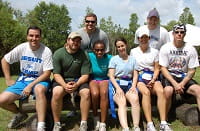 With the changing role of physicians in today's health care environment, residency programs have a responsibility and obligation to teach far beyond the fundamentals of direct patient care. We must teach, role model and encourage a culture of community responsibility and physician leadership.
Consequently we have developed and implemented a curriculum to provide residents with the foundation and tools necessary to become the well-rounded and responsible healthcare professionals of tomorrow.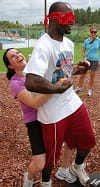 The overarching goal of the Leadership Curriculum is to establish a supportive and fun culture where hard work is rewarded and professionalism developed and celebrated.
Towards these goals several residency activities and events are scheduled throughout the residency experience. These include New Resident Team Building Day, Residency Support Groups, Intern Out Day, Halfway Home Day, and Almost Done Days.
New Resident Team Building Day
A full day of social and physical interaction activities designed to acquaint the new PGY-1 resident class with each other and with faculty. It's a day during a busy orientation process to get outdoors, put things in perspective and to have some fun.
Residency Support Groups
These occur monthly in the first year of residency and less frequently in the PGY-2 and PGY-3 years. These group meetings are designed to allow residents an ongoing forum for team building, problem solving and skills training.
Intern Out Day
This occurs mid year in the PGY-1 year. This scheduled full-day away from all residency responsibilities addresses the question, "Who are we and how do we work best together?" The focus is on team building, cohesion development and stress management. It is also the celebration of completing over half of the most difficult year of postgraduate medical education.
Halfway Home
Addresses the question, "Who am I as a health care professional and how do I balance the various roles in my life?" and occurs in the first half of the PGY-2 year. The focus is on individual growth and development with recognition of the individual attributes that contribute to the collective "whole" of the health care professional. The day also serves to celebrate the individual's completion of half of their postgraduate medical education while simultaneously addressing skills and attitudes relating to how to balance the competing issues of family, finance, physical, spiritual, personal and professional well-being.
Almost Done Days
Planned for the last quarter of the PGY-3 year. This activity addresses the question, "What is my potential and how can I use my gifts and talents to fulfill my potential and contribute to my profession and my community?" This is an exercise in leadership development and is meant to stimulate and motivate soon-to-be graduates to face the future with determination and purpose.