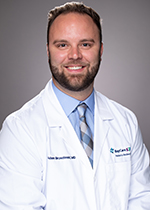 Adam Brzezinski, MD
Dr. Brzezinski was born and raised in Detroit, MI. He moved to Tampa, FL just before high school with his family. He attended Alonso High School in Tampa before graduating from Florida State University with a Bachelor's in Exercise Science. Before medical school he worked as an EMT right here at St. Joseph's Children's Hospital Emergency Room for nearly three years. In his free time, he enjoys watching movies, playing video games, golfing, and dining at local Tampa Bay area spots with his girlfriend, Amanda, and their dog, Tulip.
Medical School: Poznan University of Medical Sciences Center

Why did you choose BayCare: Growing up in Tampa and having worked at St Joseph's prior to medical school, I had the opportunity to care for children of all ages and all pathologies that any resident would jump at to learn from and provide care for. Working in the ER there, I helped care for some very sick children. I learned from them and from the doctors that treated them. There was not a shift that went by where I was not promising myself that I would be back to care for these same patients. Not as an EMT, but as a physician. Right here at the very hospital that helped me fall in love with pediatric medicine, in the very city that my loved ones and I call home. I had the opportunity to arrive full-circle and it is a dream come true!
What's the best advice you've ever been given?During the good times and the bad, my dad would always tell me a quote from the great football coach, Vince Lombardi: "The harder you work, the harder it is to surrender."
What's your theme song?"Jump" by Van Halen! I've loved Van Halen since I was a kid and "Jump" always reminds you that "you got to roll with the punches and get to what's real". Fight for what is worth fighting for and "go ahead and jump" forward!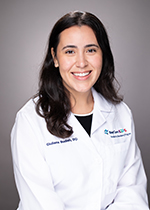 Giuliana Budish, DO
Dr. Budish was born in Boston, Massachusetts. She moved to Boca Raton, FL when she was in the 2nd grade. Her parents are both from Brazil and she speaks Portuguese fluently. Dr. Budish married her high school sweetheart, and together they are "raising" their 14-year-old dachshund, Charlie.
Medical School: Lake Erie College of Osteopathic Medicine, Bradenton Campus

Why did you choose BayCare: I chose BayCare for a variety of reasons, but it ultimately came down to the people I interviewed and rotated with as a student. It was evident that this program was built on thoughtfulness, care, and a passion for medical education. I was confident that I would be happy learning and training here for the next three years.
What's the best advice you've ever been given? Treat others the way you would like to be treated.
What's your theme song? When You Wish Upon a Star; it instantly evokes the magic of Disney and reminds us that our dreams can come true.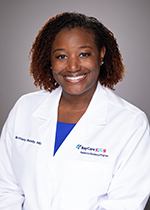 Brittany Bundy, MD
Dr. Bundy is from Memphis, TN but has lived in the Atlanta area since middle school. She went to Georgia Southern University where she received a Bachelor of Science in Nursing and proceeded to work as an RN in the Neonatal ICU for 5 years before pursuing medicine. Dr. Bundy and her husband met in the high school band and have been together for 15 years. They love to spend time with family and their two dogs Carmen and Cersei.
Medical School: Meharry Medical College

Why did you choose BayCare: I let my heart lead the way during interview season and fell in love with the idea of a new program that aims to reimagine residency and improve not only resident training but our preparation for life beyond. For example, offering financial advisors and opportunities to get involved in the community through the Advocacy rotation. The faculty were very welcoming during interview day and expressed genuine interest in my career goals which reflects the individualized curriculum at BayCare. I was also excited to learn about the Level IV NICU and can't wait to train there. I felt at home even virtually and can't imagine a more beautiful place to work!
What's the best advice you've ever been given? "Run your own race". It is easy to compare yourself in medicine but it's good to remember that everyone has their own story and journey through this process.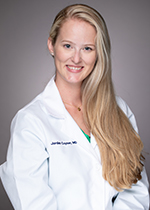 Jordan Coyner, MD
Dr. Coyner grew up in Clearwater, FL until she was 18 years old. She then ventured to High Point, NC where she graduated from High Point University with a degree in biology and a minor in music (vocal performance). Before starting medical school, she was a Chief Scribe at a local hospital for two years. Between second and third year of medical school she and her husband Nick got married. In her free time, she loves to spend time with family, her dog, go to the beach, and travel to Disney!
Medical School: American University of the Caribbean

Why did you choose BayCare: Growing up in the Tampa Bay area, I was very familiar with the prestige the BayCare name held. I was born at a BayCare Hospital in Clearwater and throughout the years, my family have been patients. The care everyone always received was exceptional. I always knew I wanted to come back to my hometown to give and serve the community that has given so much to me growing up. When I interviewed here, I felt at home and so welcomed by how kind everyone was. It was clear that the BayCare Health Program wants every resident to be valued, heard, and successful. There's nowhere else I'd rather be.
What's the best advice you've ever been given? Is to always approach life with kindness and empathy - even in tough situations. You never know what someone is going through until you walk in their shoes.
What's your theme song? "Try Everything" by Shakira from the Disney movie, Zootopia. The song talks about how nobody learns without getting things wrong or having times of failure. What is most important is trying and never giving up.

Hannah Crotty, DO
Dr. Crotty was born and raised in the suburbs of Dallas, Texas. She grew up with four siblings and many cats and dogs which is where her love of animals started. She loves food and she believes she can DIY anything. Dr. Crotty is engaged to her fiancé who is a PM&R resident. They are proud cat parents to Luna and Ziggy.
Medical School: Lincoln Memorial College of Osteopathic Medicine

Why did you choose BayCare: I immediately felt like I connected with the faculty and staff. I could tell from the beginning they were eager to build a strong pediatric residency who values their residents as individuals, and I wanted to be a part of that.
What's the best advice you've ever been given? Love yourself because no one else can do it better than you.
What's your theme song? Wildflowers by Dolly Parton.

Alexandria Cummings, DO
Dr. Cummings was born and raised in Erie, Pennsylvania. After high school, she moved to Buffalo, New York to attend D'Youville College, where she majored in biology with a minor in chemistry. Following college, Dr. Cummings moved back to Erie for medical school. She is an obsessed aunt, and an even more obsessed pet mom to her dog, Baxter and cat, Roxi. You can always find her with her boyfriend and pets, their families, or at Target with her best friend!
Medical School: Lake Erie College of Osteopathic Medicine, Erie Campus

Why did you choose BayCare: I was really drawn to everyone on my interview day. Each person I spoke with was genuinely excited about the start of this program and the chance to make it into something great. I love being a part of new things, especially those that other people are excited to make happen! Also, I wanted a break from shoveling snow all winter.
What's the best advice you've ever been given? You don't have to sacrifice your happiness to achieve your dreams.
What's your theme song? "Imagine" by John Lennon. I grew up listening to the song and just really love the message I've interpreted from it: imagine a world where everyone got along, and life was peaceful.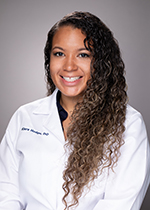 Kiara Hodge, DO
I was born in Clearwater, FL, and have since lived all around the Tampa Bay Area. I'm the second oldest of five daughters and I come from a long line of teachers and firefighters. I am a first-generation physician. Prior to embarking on my journey in medicine, I was a competitive girl's weightlifter and placed first in the state of Florida in 2015 for the 129lb weight class. I recently got married in March 2022 to my husband Elston. I have three stepchildren (ages 7, 6, and 3 1/2), two dogs, and two kittens. When I'm not working, I enjoy spending time at the beach, dining in restaurants, and being around friends and family.
Medical School: Lake Erie College of Osteopathic Medicine, Bradenton Campus

Why did you choose BayCare: I chose BayCare because of all the benefits I saw in a new program! From my first encounter with the program leadership, it was clear how dedicated and passionate they were to build a strong program full of resident involvement and feedback. Throughout my 4th year, I was able to complete multiple rotations that gave me exposure to Peds Surgery, NICU, Newborn Nursery, and Inpatient Pediatric Medicine. These experiences allowed me to work one-on-one with the attending physicians that will now serve as my upper levels for the upcoming years. The attending physicians come from top programs and have been able to bring this knowledge and expertise to a more intimate community hospital setting, where you learn directly from them. I knew from my first rotation in the outpatient clinic that BayCare was exactly where I was supposed to be.
What's the best advice you've ever been given? Comparison is the thief of joy, you don't have to be smarter than everyone in the room, but you should be the most thoughtful, compassionate, and prepared that you can be.
What's your theme song? "Diva" by Beyonce
Taryn Jinnette, DO
Dr. Jinnette grew up in the beautiful mountains of East Tennessee. After graduating from the same high school as the one and only Dolly Parton, Dr. Jinnette attended Carson-Newman, a small liberal arts college in Jefferson City, Tennessee. There she earned an undergraduate degree in biochemistry. After that, she had the amazing opportunity to be a CNA on the trauma floor at UT Medical Center Knoxville. From there she ventured on to medical school at LMU-DCOM. Dr. Jinnette can't wait to start a new adventure in Tampa with her husband and two golden retrievers!
Medical School: Lincoln Memorial College of Osteopathic Medicine

Why did you choose BayCare: I loved the family atmosphere I felt immediately, and I could feel the excitement from all the faculty through the computer!
What's the best advice you've ever been given? The only person you can control is yourself.
What's your theme song? I'll Be There for You by The Rembrandts. Friends is my all-time favorite TV show, plus it's just a great song!