Winter Haven Hospital and Winter Haven Women's Hospital Celebrate 10 Years with BayCare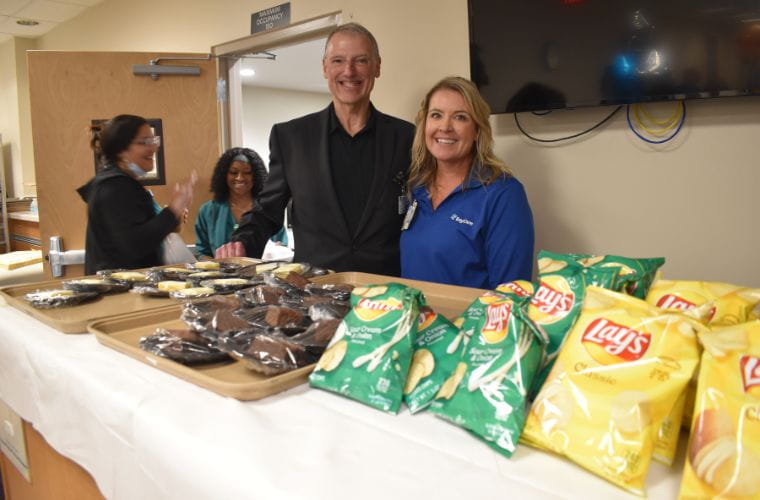 Winter Haven Hospital President Tom Gartwaite and Polk Region Chief Nursing Officer Kristen Smith joined in the festivities on Aug. 30.
Stacie Pluff has seen some things in her 30 years at Winter Haven Women's Hospital.

Pluff, a respiratory therapist, recalled a time in 2018 when a baby had to be transferred quickly to another hospital.

"They landed the helicopter in the parking lot next door at (Winter Haven furniture store) Famous Tate and stopped all the traffic on First Street," Pluff said. "That baby is alive and healthy with no residual problems and that makes me very proud of what I do."
It's that common interest and dedication to patient care that drew Winter Haven Hospital to BayCare Health System as a partner. On Aug. 30, 2013, the Winter Haven hospitals were acquired by BayCare. The relationship has yielded major changes that have translated into extraordinary care for the community. A few highlights:
A sweeping expansion project began in 2018 that added cardiac cath labs, including a hybrid operating room, to the Bostick Heart Center. That meant the hospital had the ability to provide an expanded menu of minimally invasive heart surgeries and procedures. The project also added more ICU rooms on the third floor of the Bostick building. That part of the project was completed in 2021, just as the hospital was responding to the COVID pandemic.
A $50 million ER department expansion, a 45,000 square-foot area that brought the hospital to 51 emergency room beds, an increase from 33 beds. It also added a 12-bed psychiatric emergency department area and a 14-bed medical observation unit. It began in early 2016 and opened the following year.
The Florida State University College of Medicine Family Medicine Residency Program at Winter Haven Hospital launched in 2018, the first such residency program in Polk County. It was created to help address the shortages of family medicine physicians. This year, the program graduated five residents, all of whom are staying in Central Florida to practice. Four will remain in Polk County.
The hospital's bariatrics program started in 2020, with the goal of helping patients navigate causes, prevention and treatment of obesity. This year, the program achieved accreditation as a Comprehensive Center from the Metabolic and Bariatric Surgery Accreditation and Quality Improvement Program (MBSAQIP).
This year, the Center for Behavioral Health, a stalwart of the community for 56 years, expanded its services and opened an annex on First St. S. and saw 400 visitors in just the first few weeks of opening its doors. Access to mental health services has been a consistent need in the area, according to several Community Health Needs Assessments (CHNA).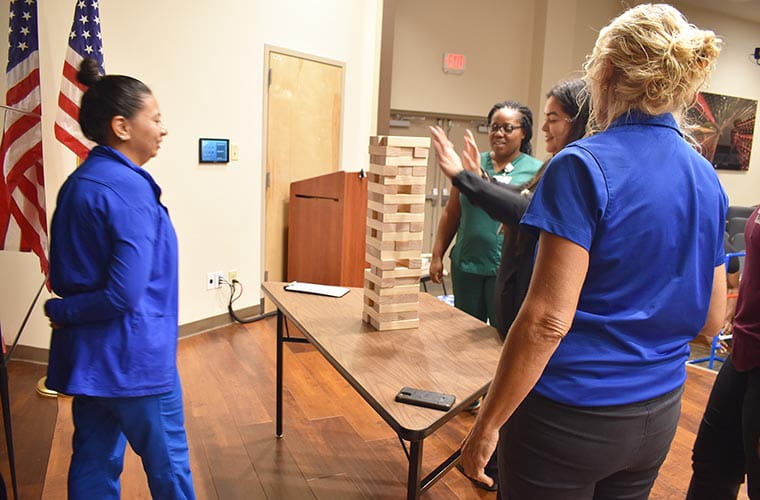 Team members play a game of Jenga during the hospital's celebration.
Winter Haven Hospital was founded in 1926, and Winter Haven Women's Hospital opened in 1987. Both hospitals employ around 1,900 team members.

The hospitals held celebrations on Aug. 30, where team members got a chance to enjoy each other's company and play a few games.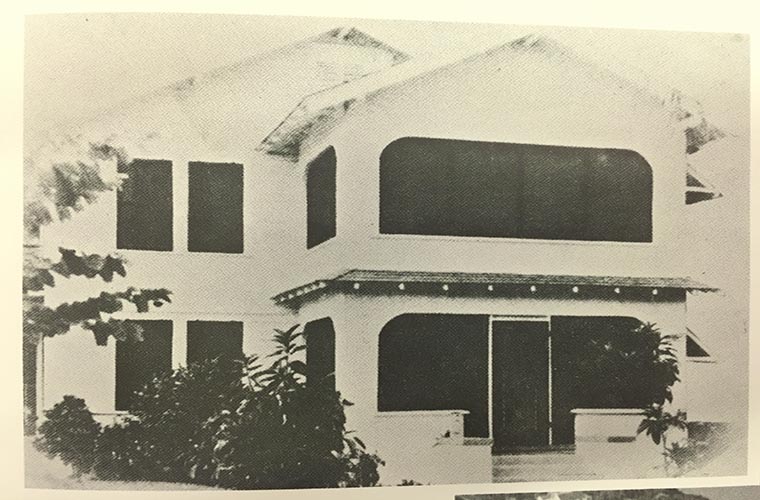 Winter Haven Hospital was founded in 1926.
Tom Garthwaite took the helm earlier this year as president of Winter Haven Hospital and Winter Haven Women's Hospital.

"This is an impressive milestone for both of us," Garthwaite said. "This partnership has helped to improve the health of our community and it's an honor to continue that work. I'm so excited to see what's ahead for the next 10 years. We anticipate unprecedented growth for Polk County in the coming years, and Winter Haven Hospital and Winter Haven Women's Hospital will be ready to provide great care for our community."