BayCare's Inaugural Class of Summer Nurse Apprentices Graduate with Newfound Confidence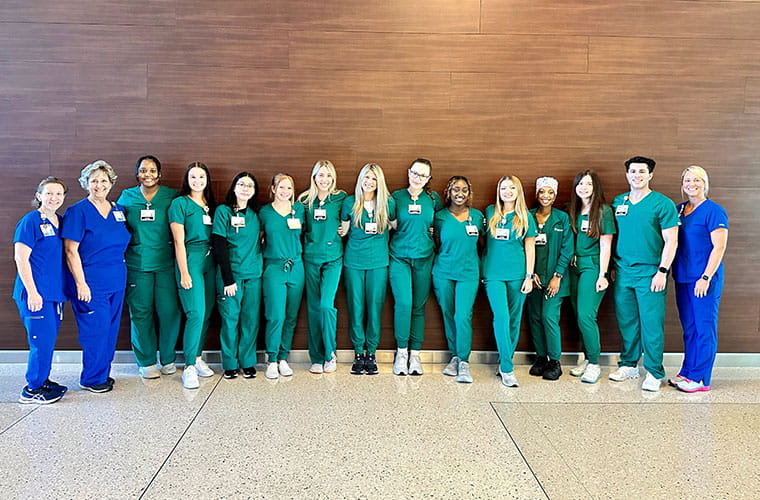 Graduates of BayCare's 2023 Nurse Apprentice Summer Internship Program stand alongside program leads Emily Flowers, Lisa Crumbley and Ashley Key.
Stepping onto a hospital floor as a nurse for the first time can be daunting, and for some first-year nurses, overwhelming. For eight weeks this summer, BayCare provided a critical bridge between nursing school and clinical practice for 13 nursing students from as far away as Washington, D.C.

Students in the inaugural Nurse Apprentice Summer Internship Program (NASIP) gained hands-on experience as they worked 12-hour shifts alongside team members in BayCare hospitals. They often provided a much-needed extra set of hands at Mease Countryside Hospital, Morton Plant Hospital, Morton Plant North Bay Hospital, St. Anthony's Hospital, St. Joseph's Children's Hospital, St. Joseph's Hospital, St. Joseph's Hospital-North, St. Joseph's Hospital South, South Florida Baptist Hospital and Winter Haven Hospital.

"Before this program, the idea of walking into a patient's room gave me anxiety. This program has helped with my confidence," said Catherine Hale, a 2023 BayCare nurse apprentice.

"If you question something, ask! I learned more than I ever could have imagined, and LOVE BayCare," added fellow nurse apprentice Mikayla Ball.

The nurse apprentices participated in shadow shifts in several of BayCare's specialty areas, including the NICU, cath lab, ER, labor and delivery, pediatric day surgery and surgical services. "I learned about teamwork and to go above and beyond even when it isn't expected," added Victoria Murray, a 2023 BayCare nurse apprentice.

The program welcomed nursing students nationwide to apply, and hired students from Michigan State University, Howard University, Florida State University, Polk State College, Pasco-Hernando State College, North Florida College, University of Central Florida, St. Petersburg College and Hillsborough Community College.

Working side by side with BayCare nurse apprentice and patient care tech preceptors, the students shared that they had rewarding experiences, gained confidence and felt valued and supported as they worked with hospital patients for the first time. "It taught me that patient safety is key," added 2023 nurse apprentice Adrian Malave.

"We are pleased to hear that the interns enjoyed their summer internship experience and that they felt welcomed and valued by our BayCare team," said Lisa Crumbley, a BayCare nurse instructor and NASIP program coordinator. "This is a great testament to our BayCare culture, and I am appreciative of all who were involved in this pilot program."

"We started the NASIP this year to offer student nurses hands-on training and exposure to BayCare as a great place to work," said Jacqueline Munro, vice president of Nursing Systems and Resources for BayCare. "The NASIP is just one way we are building our future workforce."

As a result of the work of Crumbley, East region lead Ashley Key and Polk region lead Emily Flowers, many of the nurse apprentices plan to return to BayCare after they graduate.

BayCare's 2024 Nurse Apprentice Summer Internship Program will begin on June 10, and conclude on Aug. 2.