BayCare Hosts First Community Benefit Summit in Tampa
BayCare's extraordinary commitment to the community's health isn't by accident. It's by design.

Since its founding 26 years ago, BayCare's leaders – including hundreds of volunteer board members --have worked hard to maintain the system's mission to improve the health of all it serves. On Thursday, Sept. 7, that commitment drew BayCare's current volunteer leaders to gather to learn a bit more about how West Central Florida's not-for-profit health care provider extends its reach outside its facilities and offices to serve the community.

Taking a deep dive on the topic at the inaugural Community Benefit Summit at St. Joseph's Hospital's Medical Arts Building auditoriums were representatives from BayCare's Board of Trustees, each of BayCare's Hospital Boards, BayCare team members and senior leadership, including BayCare President/CEO Stephanie Conners, MBA, BSN, RN, and members of the CEO Cabinet.

Fueling the efforts has been BayCare's commitment to spending roughly 10% of its resources annually on Community Benefit work. In 2022, BayCare spent $492 million on charity care, uncompensated care and programs aimed at improving the community's health.

"Today we had representation from all of our boards all across the whole system, and that's one of the things that's so important to me – that our whole organization is represented in this effort with our collaborative for Community Benefit," said Yvonne Fry, BayCare's community benefit collaborative chair and a BayCare Board member.

The event included both interactive stations where attendees could learn more about BayCare's Community Benefit initiatives, and small group discussions where they could have meaningful conversations about community needs. Participants were divided into two smaller groups to give everyone an opportunity to experience the event fully.

The six interactive stations included:
Station 1: FindHelp Florida, a website featuring free and reduced cost services to help individuals navigate life including medical care, food, job training and more.
Station 2: "The Number is Right" Game Show
Station 3: Mental Health First Aid, which teaches and prepares individuals on how to help those who may be experiencing a mental health-related crisis or problem.
Station 4: On Our Sleeves, a movement for children's mental health.
Station 5: Food insecurity
Station 6: Community Health Team and Children's Wellness & Safety Team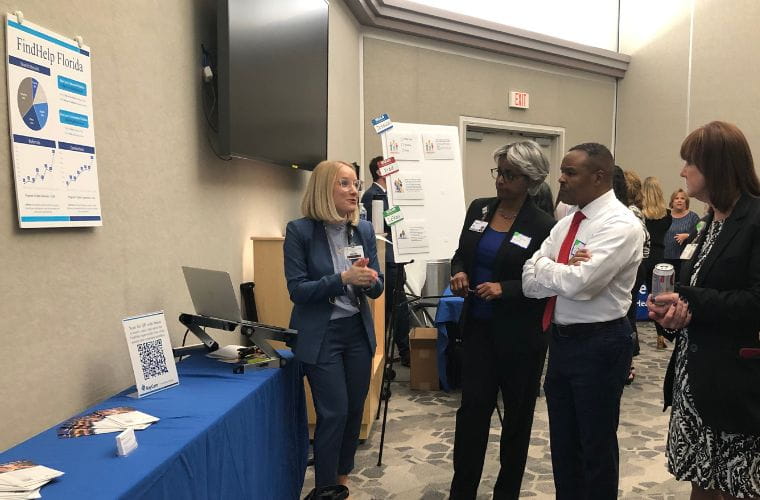 BayCare team member Stephanie Limanowski speaks to Alice Delgado, Hugh Campbell and Karen Kerr about FindHelp Florida at one of the interactive stations at the Community Benefit Summit.
"Community Benefit is the heartbeat of this organization, and BayCare is all about making sure that we serve everybody with equity, and that we anticipate the needs in our community," added Fry.

The small group conversations included topics such as BayCare's Community Health Needs Assessment (CHNA) and the 2023–2025 focus areas, social determinants of health, the FindHelp Florida website's services, Healing Bags and the referral system, and much more.

"We have such a great story to tell and often we need the voices and the advocacy of our Board members and our leadership to really be able to understand the work that we do, and then share that broadly within their sphere of influence, their friends, etc.," said Lisa Bell, BayCare's director of community benefit.

"One of the things that I'm going to take away from this in speaking to Board members is their desire to learn more and to be able to provide that to them in a way that's simple, easy, consistent and they can just take it and run with it," added Bell.

The event also included an appearance by the BayCare Kids Mobile Medical Unit and free screenings from a BayCare mobile unit, both parked outside of St. Joseph's Hospital.

Lunch was provided by Metropolitan Ministries' Inside the Box Catering, where all proceeds from meals purchased go back to "feeding a hungry and hurting Tampa Bay neighbor through Metropolitan Ministries," according to the organization's website.

"Today was a home run and everybody left here very excited and activated," concluded Fry. Participants learned "how they can continue to connect the dots, share the opportunities, and make sure that we are reaching every corner of every community."