St. Anthony's Bariatric Program Adds Advanced Weight Loss Technology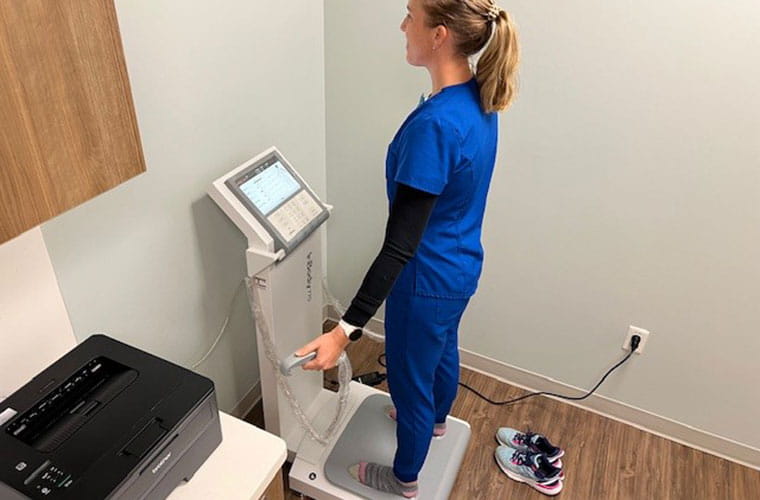 Chelsey Wade, a fitness specialist in St. Anthony's Metabolic and Bariatric Center, demonstrates how patients will use the Inbody scanner. Each person will get a report from the printer on the counter that provides a customized plan of treatment.
St. Anthony's Hospital Metabolic and Bariatric Center is using innovative technology to reinforce its commitment to providing high-quality care for patients who are preparing for and recovering from weight-loss surgery.
The hospital's bariatric program recently received reaccreditation as a Comprehensive Center by the Metabolic and Bariatric Surgery Accreditation and Quality Improvement Program (MBSAQIP), affirming that it meets the highest standards for patient safety and quality of care. The reaccreditation is done every three years.

And the program will soon offer a body scan that tracks the progression of a patient's weight loss journey. St. Anthony's will be the first hospital in BayCare to offer the InBody scanner.

The device is used to evaluate a patient's weight by looking at the core components: body fat, muscle mass and body water while also evaluating muscle imbalances. "We can use this equipment to scan a patient before and after surgery to provide a customized plan of treatment," said Gretchen Miller, the bariatric program manager. "It gives our patients another tool to be successful in their weight loss journey."

Bariatrics is the branch of medicine that deals with the causes, prevention and treatment of obesity. Nutrition, exercise, weight-loss behavioral therapy, drug therapy and weight-loss surgery are all components of the bariatric field.

MBSAQIP is the national accrediting program for bariatric surgery centers. For a program to receive accreditation or reaccreditation, an experienced bariatric surgeon reviews its structure, processes and clinical outcomes data. The review was done virtually.

"What the reaccreditation shows is that our focus on quality allows our program to be recognized as a center of excellence," said Kevin Huguet, MD, a surgeon who acts as medical director for St. Anthony's bariatrics program. "It shows that our program meets all the national standards in the top percentage of programs in the nation. It also lets patients know that we offer a quality program with excellent outcomes."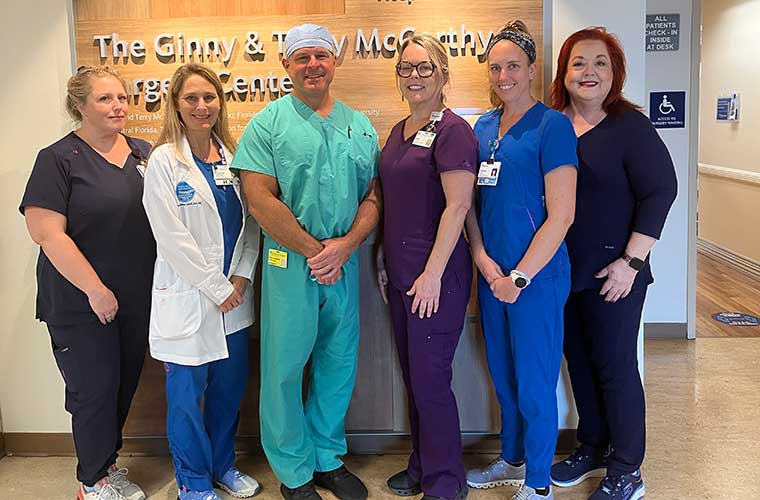 The St. Anthony's Metabolic and Bariatric Center team, led by Kevin Huguet, MD, third from left, a surgeon who acts as medical director for St. Anthony's bariatrics program, recently received reaccreditation from Comprehensive Center by the Metabolic and Bariatric Surgery Accreditation and Quality Improvement Program (MBSAQIP). The team includes, from left, Jaclyn Burns, Gretchen Miller, Dr. Huguet, Linda DeLorey, Chelsey Wade and Cindy Campione.
When the bariatrics program adds the InBody scanner, patients will get a full picture of their weight-loss progression. It won't just show the number going down on the scale, but also will show the changes within their body including measurements of body fat, visceral fat, lean muscle mass and skeletal muscle mass. For example, if a patient has a decrease in their weight, he or she will be able to see if it's fat loss or muscle loss and develop a customized plan based on those results.

The scanner also will look at muscle imbalances among the upper extremities and lower extremities which can indicate increased risk for injury with a greater imbalance. Chelsey Wade, fitness specialist, will be able to work with patients to create an exercise plan to optimize strength training to create muscle balance.

The InBody scanner is scheduled to begin operating at the beginning of November, Miller said. No referral is needed. "We will also be able to offer an evaluation to anyone who would like to see what their body composition is for a minimal fee," she said. "Please call (727) 825-1495 to learn more information."

The St. Anthony's program also has opened an IV clinic for patients. "One of the main reasons that patients come back to the hospital after surgery is dehydration," Miller said. "Having our own IV clinic for our patients has decreased emergency room admission and hospital readmission rates for our patients."

The hospital's bariatric program offers a comprehensive, personalized weight management and weight loss surgery program designed around the unique needs of each patient. The team includes board-certified bariatric surgeons, a program manager to guide patients through each step of the journey, registered dietitians, fitness specialists, psychologists, certified diabetes educators, patient representatives and more.

St. Anthony's is one of seven BayCare hospitals with accredited bariatric programs, and that number should soon expand. Mease Dunedin, South Florida Baptist and St. Joseph's hospitals have accredited programs and all three have been reaccredited.

Mease Countryside, St. Joseph's South and Winter Haven hospitals recently gained initial accreditations.

The Centers for Disease Control and Prevention (CDC) estimates about 100.1 million adults in the United States are affected by obesity. The disease of obesity increases the risks of morbidity and mortality because of the diseases and conditions that are commonly associated with it, such as type II diabetes, hypertension, cardiovascular disease and cancer, among other health risks.

"BayCare is committed to standing out as a leader in health care by expanding our bariatric programs to additional hospitals in order to better serve the needs of our communities,'' said Donna St. Louis, vice president of Business Development for BayCare. "We also want to continue to use advanced equipment and tools to provide the best care to our patients. As the number of individuals affected by obesity continues to grow, BayCare will be there to help them through their weight loss journey."

Learn more information about St. Anthony's bariatric program. Find more about BayCare bariatrics at this link.