104-Year-Old Credits Rehab Team for Retaining Independence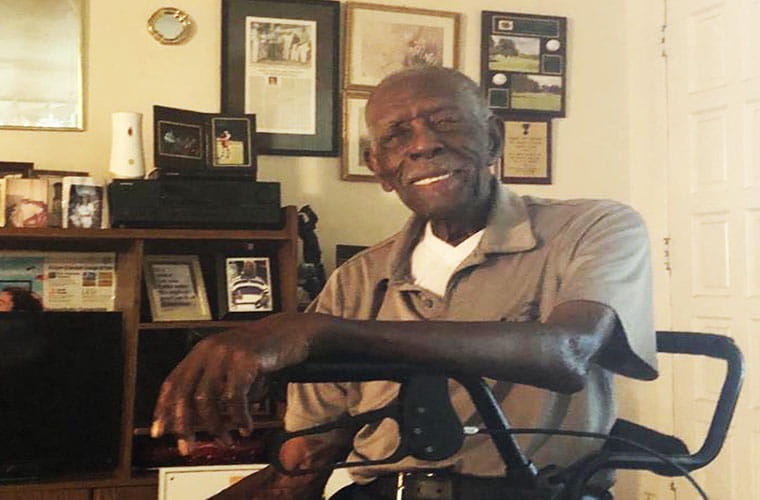 Herbert Dixon is surrounded by mementos of his life.
Herbert Dixon has been called many things over his 104 years: dad, husband, hall-of-fame golfer, community advocate, veteran, role model. But there is one title he has worked to avoid.
"I don't want to be a helpless old man," he laughed.
After a bout with dehydration in 2021, Dixon decided he wanted to maintain his independence and the ability to hang out at the golf course where he learned the game nearly 90 years ago. So, he enlisted the aid of Bartow Regional Medical Center's rehabilitation team. The team provides both inpatient and outpatient services for physical, occupational and speech therapy.
"I wanted to build strength in my arms to help balance and support myself," Dixon said. At the center, he was partnered with Josh Adlam. Josh, a five-year rehab team veteran, has worked with older patients seeking to get stronger and maintain independence.
"Upper body strength is important to help assist in transfers from chairs, beds and walkers in older patients," Adlam noted. "We focused on that, and I found Mr. Dixon to be positive, a hard worker – an ideal patient."
Dixon, who was born in 1919, has done his share of hard work over his life. Some 90 years ago, at about the age of 15, he fell in love with the game of golf and taught himself how to play. But it wasn't an easy sport to pursue for him, a young Black man in the South. For context, it wasn't until 1961 –when Dixon was in his forties, that Black golfers were allowed to join the Professional Golfers Association.
"I wasn't allowed in the clubhouse or the golf course," Dixon recalled. "One of the men I caddied for gave me one golf club. There was a spot about 500 yards from the clubhouse where we would wait until it was time to be a caddy and would practice chipping the ball over there."
Dixon went on to graduate from Union Academy in Bartow, then joined the U.S. Air Force. Over his golfing career, he won 63 titles on the United Golf Association Tour.
"I enjoyed my career, but it wasn't always so easy," he said of navigating racism through the years – on and off the course. "When I was coming up as a young man, there were so many things I saw that weren't right. What could I do? You survive a lot longer when you yield the right-of-way. I was blessed to be able to play well enough to be considered one of the best Black golfers in the world. So I'm a happy old man."
In 2012, he was inducted into the African American Golfers Hall of Fame, and six years after that, honored with a place in the Polk County Sports Hall of Fame.
This past summer, Dixon decided to do more of his rehab work at home, and Adlam was able to suggest some exercises he could do daily to keep him strong. Herbert still uses his weights and foam balls daily to stay strong.
That's important, said Adlam. "If you don't use it, you'll lose it," he said. "It's never too late to work on maintaining your strength when you're older. I've had several patients over the age of 70 and they want to maintain their independence. I always tell them not to worry about what they think they can't do. You focus on what you can do."
Adlam said he regularly suggests his older patients try chair exercises and yoga.
During one of their sessions, Dixon also mentioned to Josh that he would be having a street in Bartow named after him around his birthday, Sept. 16.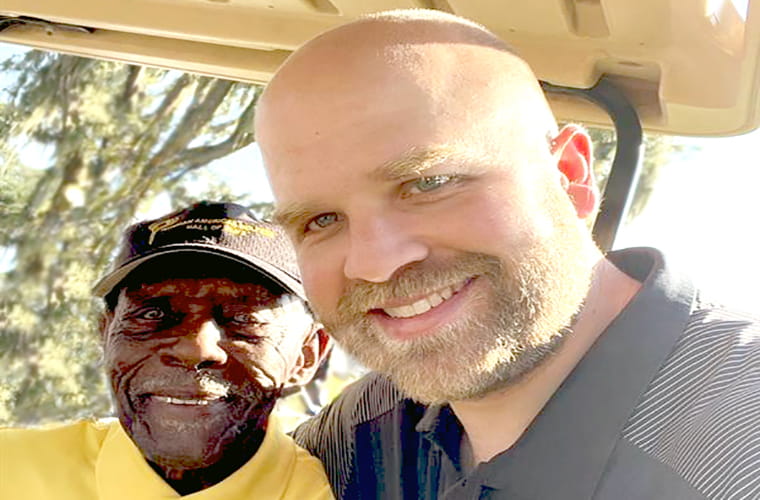 Herbert Dixon, left, takes a photo with BRMC rehab team member Josh Adlam at a ceremony on Dixon's 104th birthday on Sept. 16.
"I was scheduled to work the morning of the ceremony," Adlam said, "but my manager gave me the ability to take some time off that Saturday morning." Adlam was front-and-center at the ceremony on Sept. 16 to celebrate one of his more memorable patients.
Having Adlam at the ceremony meant a lot to Dixon.
"Josh has been so patient with me as we worked together," he said. "And I wasn't surprised to see him at the ceremony because he told me he would be there. Going by my experience in knowing Josh, I knew that when he said he would be there, he would be there. People can yakkety-yak all they want. But you have to back up your yakkety-yak. I knew Josh would be there and it made me feel good to see him there."