From Police Officer to Pharmacy Resident, Siasha Ramirez Pursues Her Passion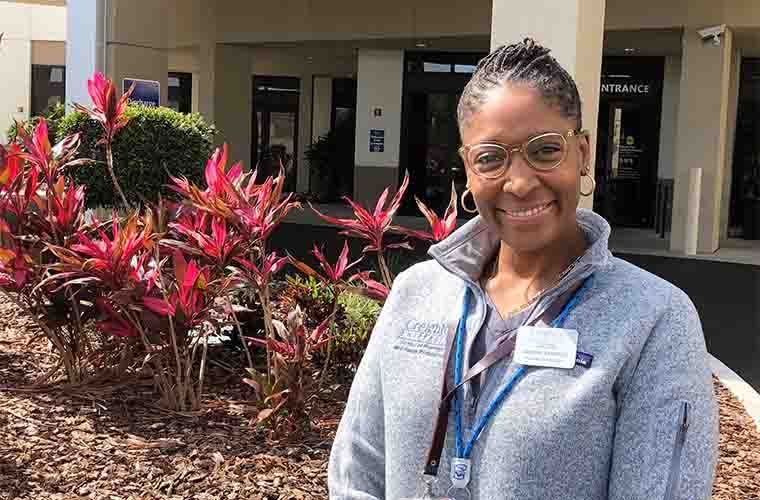 Siasha Ramirez is one of 29 pharmacy residents across BayCare and the first to be based at Morton Plant North Bay Hospital in New Port Richey.
If Siasha Ramirez and her family had stayed in Philadelphia, she may have spent her entire career as a police officer in the city. Instead, a move to Florida sparked a career change that positioned her as Morton Plant North Bay Hospital's first pharmacy resident.
When Ramirez and her husband first moved to Florida, she planned to join the local police department, so she took the state exam. As she waited for department placement, she began thinking about life and the future.

"I asked myself is this what I want to be doing in five years? What else do I like to do? What do I enjoy?" she said. "I had a friend whose dad was a pharmacist, and that intrigued me."

While taking general education courses, Ramirez continued research and enrolled in a pharmacy technician program. As she took classes and shadowed technicians, she discovered she loved her new career choice.

One of her clinical rotations for her technician diploma was at Morton Plant North Bay. "The pharmacy team's comradery and passion for optimum patient care helped me recognize I made the right career transition," Ramirez said.

Upon receiving her diploma, Ramirez worked in the retail environment for a while. When she saw an opening for a technician at Morton Plant North Bay, she applied and got the job.

Pharmacy manager Yuan Lian holds Ramirez in highest regard. He said, "Ramirez has a fighting spirit and is ready to take on any challenge she faces. I know that I can count on her to complete anything that needs to be done and can be confident it will be done correctly."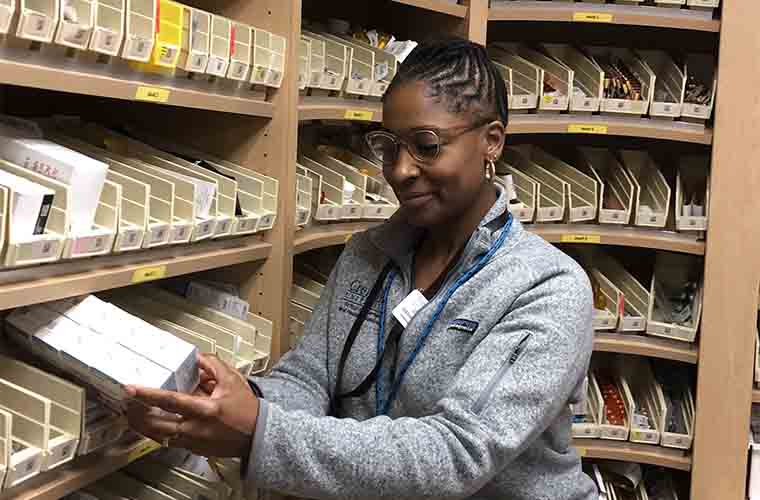 Siasha Ramirez works in the pharmacy at Morton Plant North Bay Hospital.
Ramirez loved her job as a technician but also decided she wanted more. She wanted to be a pharmacist. She enrolled in Creighton University, School of Pharmacy and Health Professions and continued her career journey. The school allowed for most classes to be completed virtually, but each summer she spent a month to 10 weeks on campus in Omaha.

Being a BayCare team member allowed Ramirez to take advantage of BayCare's tuition assistance program. "BayCare paid for all of my pharmacy school prerequisites," Ramirez said. "After registering, I received my syllabus with classes itemized with prices per credit each semester. I would submit the invoice to BayCare tuition assistance, and the payment would normally be dispersed on my following paycheck."

Even with virtual school, Ramirez constantly juggled multiple priorities. She had two children, now 7 and 22, a spouse and her job. After having her youngest child, she made the choice to transfer to St. Joseph's Hospital-North, which was closer to home. She worked full time and eventually transitioned to a weekend role as a pharmacy intern.

Ramirez returned to Morton Plant North Bay to complete her final five-week clinical rotation for pharmacy school and was thrilled to be selected as Morton Plant North Bay's first pharmacy resident. "Morton Plant North Bay Hospital is a great choice for residency based on its culture and endless opportunities for growth," she said.

Lian is equally as excited, "I am impressed with her dedication, determination and drive, as well as her commitment to lifelong learning. She is an inspiration to others, and we are extremely excited to welcome her back as our first PGY1 Pharmacy Resident."
Ramirez is one of 29 pharmacy residents across BayCare. The programs are at St. Joseph's, St. Joseph's Children's, St. Joseph's-North, St. Joseph's-South, South Florida Baptist, Winter Haven, Morton Plant, Mease Countryside and St. Anthony's hospitals, as well as the Morton Plant Hospital-Turley Family Health Center.
Ramirez's journey to residency has not always been easy, but she's so glad she took the first step.

"I am thankful for the move that provided the impetus for me to question what I wanted to do," she said. "I decided this is what I want to do and be and just to go for it."

Morton Plant North Bay Hospital is glad she did.

To learn more about employment at BayCare, visit BayCareJobs.com.