BayCare Opens New Hospital in Wesley Chapel
BayCare Hospital Wesley Chapel is now open at 4501 Bruce B. Downs Blvd. in Wesley Chapel.
BayCare Health System, the leading health care system in West Central Florida, today opened its newest state-of-the-art hospital in Wesley Chapel, located in Pasco County. BayCare Hospital Wesley Chapel, which broke ground in Dec. 2020, is now accepting patients needing emergency services.
"We're thrilled to open our 16th hospital in the heart of Wesley Chapel," said Stephanie Conners, BayCare CEO and president. "This facility will expand access to convenient and high-quality care and address the needs of that growing community."
The 86-bed, 318,000-square-foot hospital will provide comprehensive medical services and health care resources including an emergency department, an intensive care unit with virtual-monitoring beds, diagnostic services such as imaging and lab, and surgical services.
"We can't believe the day has come," said Rebecca Schulkowski, president of BayCare Hospital Wesley Chapel. "We are proud of our team and grateful to everyone who has welcomed us to this community. We are eager to help serve patients and their families and meet their health care needs."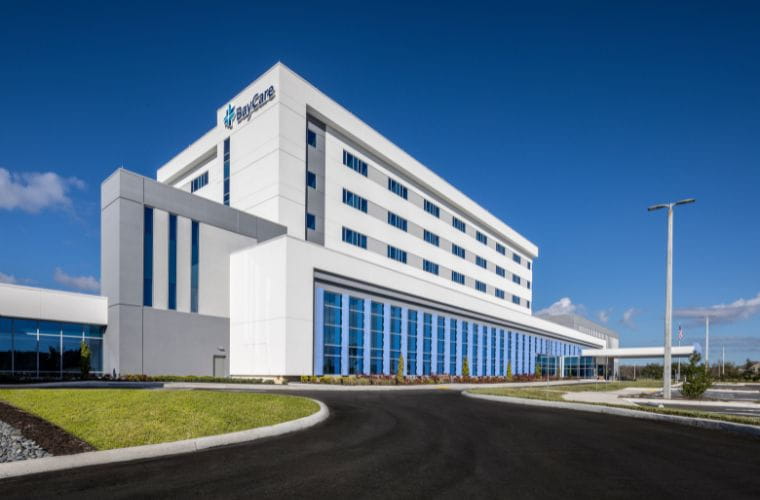 Visitors to BayCare Hospital Wesley Chapel will enter through the main lobby.
BayCare has invested $246 million to provide Pasco County residents with a new choice for health care services in the area. The health system also has hired hundreds of team members to serve the community at this new facility.
BayCare Hospital Wesley Chapel, located at 4501 Bruce B. Downs Blvd. in Wesley Chapel, is BayCare's newest facilities in Pasco County. The new hospital is more convenient for existing patients while also giving residents more options when choosing a provider. BayCare currently serves that community with behavioral health, home health services, physician offices, other ambulatory services and easy access to its other 15 hospitals across the region.
For more information, visit BayCareWesleyChapel.org or watch here for a video preview of the new hospital.