BayCare Announces Community Health Needs Assessment Implementation Plans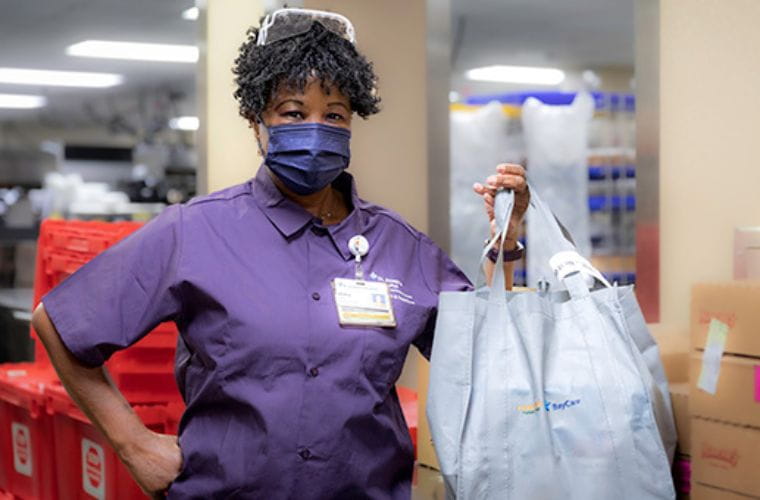 Patients facing food insecurity can leave the hospital with a Healing Bag of food to take home.
BayCare Health System, the leading health care system in West Central Florida, today announced the findings and implementation plans of its Community Health Needs Assessment (CHNA) for Hillsborough, Pasco, Pinellas and Polk Counties. The assessment is conducted every three years to gain a better understanding of the health needs of the communities BayCare serves and address healthcare inequities.
The 2023–2025 focus areas included behavioral health, access to health and social services; and exercise, nutrition and weight. BayCare developed implementation plans for each hospital and community to leverage hospital and current community resources while engaging new community partners. Listed below are examples of BayCare's plans in each focus area.

Behavioral Health
Launch a public awareness and resource campaign to break child mental health stigmas and educate families and advocates.
Implement strategies to educate on tobacco use and vaping dangers.
Explore community partnerships to expand behavioral health services and increase access to care for underserved residents in each community.
Health and Social Services
Expand access to affordable medications through support of the Medication Assistance Program.
Improve access to healthcare through support of increased transportation services.
Expand medical and dental services and resources through support of local free and low-cost clinics.
Exercise, Nutrition and Weight
Maintain or expand the "Healing Bags" program as standard of care by screening every hospital patient for food insecurity and providing nonperishable food upon discharge.
Continue to provide access to food and other services for students and their families through a partnership with Feeding Tampa Bay and determine areas for additional services like health screenings and education.
Improve health outcomes for community members with prediabetes or Type 2 diabetes by partnering with local free clinics to increase diabetes education and support.
"Each time that this assessment is performed, BayCare gains a better understanding of each community's health, along with opportunities for improvement, so we can continue to meet the needs of all we serve," said Lisa Bell, director of community benefit for BayCare.
To provide as complete an overview as possible of the health behaviors and perceptions of each county's residents, a 59-question community survey was developed and administered. The questions were obtained from state and national needs assessments, passed a rigorous literacy review and were available in English, Spanish and Creole. A health equity expert also validated the verbiage of survey questions and responses to ensure equity for all respondents.
In each county, BayCare identified priorities, developed a strategic implementation plan, assessed behavioral health needs, and addressed barriers to health care and social services. The survey addressed health and lifestyle behaviors, quality of life and access to care.
To access the CHNA Implementation Plans for all four counties, visit:
https://baycare.org/about-us/community-benefit-and-community-health-needs