Four-Legged Caregiver Newest Team Member at St. Joseph's Children's Hospital
St. Joseph's Children's Hospital recently welcomed its first-ever facility dog, Revere, a 2-year-old Labrador Golden Retriever mix. Revere is no ordinary dog; he's a specially trained canine who underwent two years of training and knows more than 40 tasks that allow him to interact with patients and team members.

St. Joseph's Children's Hospital received Revere at no cost from Canine Companions, an organization that trains and places service dogs with professionals in clinical, educational or court settings, in addition to individuals who have special needs. The Adcock family in Tampa is also generously supporting the hospital's new facility dog program.

Facility dogs differ from pet therapy dogs in that they provide more than comfort. They can pull a toy wagon, retrieve items, open and close drawers, and follow commands that allow them to engage with patients in specific ways.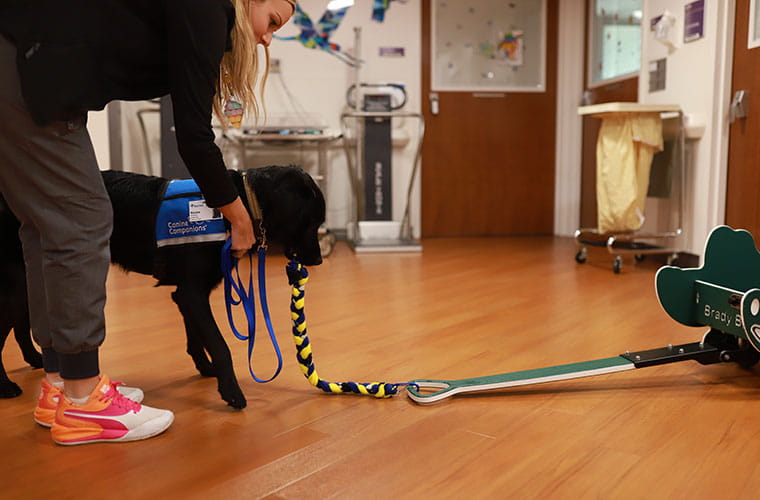 Child Life Specialist Hannah Murray prepares the hospital's new facility dog, Revere, for the command to pull a patient wagon.
Revere is a member of the hospital's Child Life team, and lives with Child Life Specialist Hannah Murray, who jumped at the chance to become his handler.

"As a child life specialist in the pediatric oncology unit, my job is to help children cope with their illnesses and translate diagnoses and procedures into a language kids can understand. I'm a familiar face and a hand to hold through scary procedures and difficult news," said Hannah. "I add calmness to a world of chaos, and I love finding ways to give children who have had to grow up way too fast an opportunity to just be a kid."

During a two-week intensive training course in May, Hannah was matched with Revere, whose social and loving nature is a great fit for a hospital facility dog. Monday through Friday, he works alongside Hannah as she visits her patients.
"We've only been working together for a few weeks, but I can already see the positive impact he's having on my patients," Hannah said. "He spends his days snuggling up with patients who aren't feeling well, helping kids cope during IV starts and port access, and going for walks with patients to help increase their mobility."
Comfort, motivation and joy come in many forms, including a wagging tail and a furry cuddle!