From College to Cancer Survivor: A Young Man's Journey to Recovery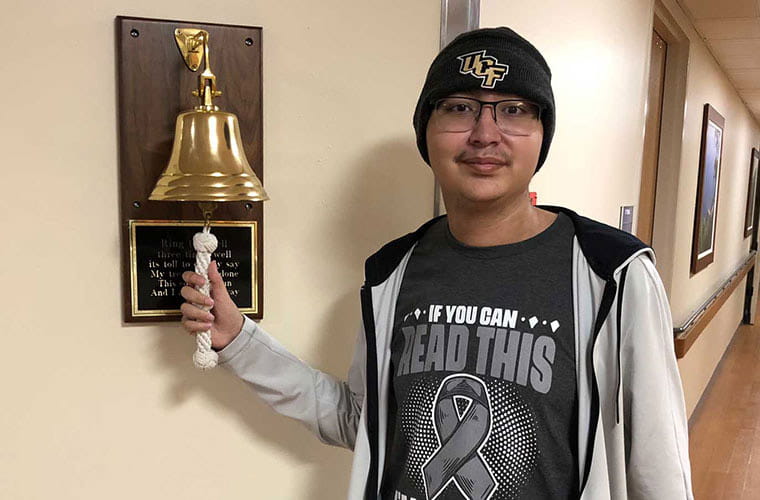 Aiya rings the bell signifying his cancer-free status.
Like most college freshmen, Aiya Aceti enjoys spending time with friends and having new experiences. He would wake up, go to class and grab some lunch afterwards. Aiya, a film student at The University of Central Florida (UCF), was eager to start down a path to become a filmmaker, hopefully to create movies and bring joy to others.

Early one morning toward the end of his freshman year, Aiya woke to a massive headache. "The headaches felt like a tight hat was squeezing my head," said Aiya. What concerned him even more was that he began to vomit as well. He immediately called his father, Michael Aceti.

"Many thoughts immediately come to mind at this point, and I am now up and fully awake as we play 20 questions back and forth via text," said Michael. "As we talk, I am researching potential causes of these symptoms and it appears to be a migraine headache."

With most of his classes online, Aiya finished his freshman year at his home in Trinity. The move back home was an easy decision because Aiya was struggling with sleep, concentration and was easily fatigued.

One day while at the mall with his family, Aiya's headaches became unbearable. They decided to go to a nearby BayCare Urgent Care where Aiya underwent a routine neurological exam. Nothing seemed alarming, but the physician wanted him to schedule a CT exam.

A few days later, hours after his CT scan, Aiya received a call from the imaging center instructing him to immediately go to an emergency room. Shocked, Aiya and his family arrived at a nearby stand-alone ER.

"I was scared but optimistic," Aiya recalled. "I had no clue what they were going to say next and so many thoughts went through my head from worse-case to best-case scenarios."

The images showed a mass in his brain. A detailed MRI was scheduled as Aiya was transferred to an adjacent hospital. "It was at this point I felt fear like never before and without knowing what was happening exactly and still little to no data to process, my mind started to go down some very dark paths," Michael said.

Later that evening, Aiya awakened to a physician explaining his MRI results. Aiya had two tumors: the larger was the size of a tennis ball while the other was about the size of a tangerine. "My face was completely pale, I couldn't move," Aiya said. "All I could do was try to grasp the reality that I had brain tumors."
When his parents arrived at his bedside, they found him speechless. "They asked me if I was ok and I was unsure if I was," Aiya recalls. The physician explained the diagnosis to his parents and their options moving forward. Aiya and his family decided to go to University of Florida Health Shands Hospital in Gainesville for Aiya's initial treatments.

"As a parent, nothing is more traumatizing than hearing that your young son has two large brain tumors and that something will need to be done," said Michael.

In addition to his brain tumors, Aiya was also diagnosed with testicular cancer, adding nuance to an already complicated issue. Surgery was required to remove the cancerous testicle. In total, Aiya underwent 17 surgeries.

According to the National Brain Tumor Society, there are more than 100 distinct types of primary brain tumors, each with its own spectrum of presentations, treatments, and outcomes. There are an estimated 700,000 Americans living with a primary brain tumor.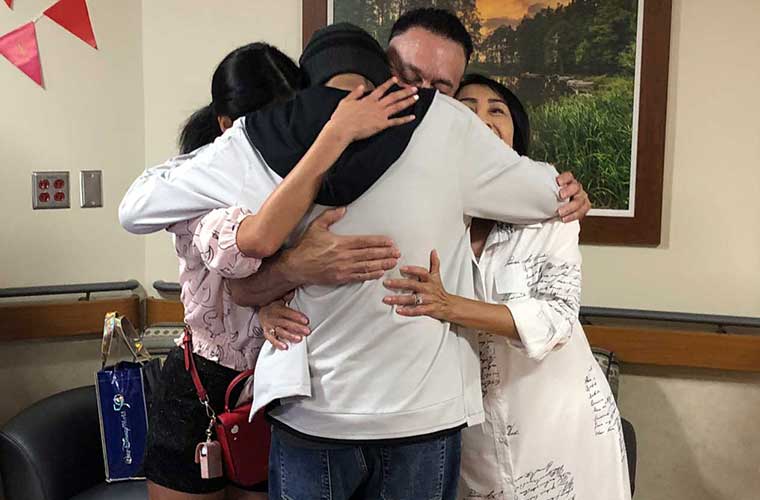 Aiya and his family share a moment of gratitude.
Aiya emerged from his surgeries ready to continue his healing. The next step in his journey was to complete chemotherapy. At 20 years old, Aiya was in between pediatric and adult care. This left Aiya and his family to speak with multiple physicians until Pediatric Neuro-Oncologist Trisha P. Larkin, MD and the Pediatric Hematology-Oncology team at St. Joseph's Children's Hospital answered the call.

Aiya's journey to recovery did not come without its own set of challenges. During chemotherapy, an additional tumor in his brain grew and required surgery to remove it. "The surgery lasted almost as long as the first, but the good thing was that they removed every bit of the tumor this time around," said Michael. After the last surgery, Aiya began to thrive in the Pediatric Hematology-Oncology unit at St. Joseph's Children's Hospital.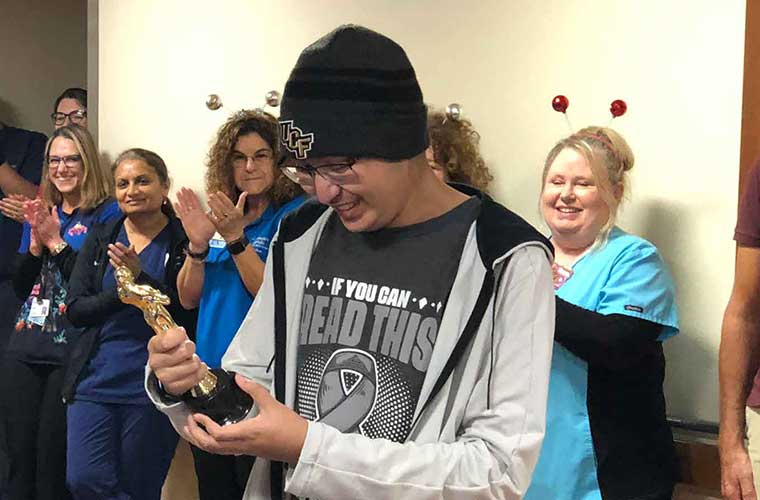 Aiya receives an Oscar trophy replica from his SJCH clinical care team.
Finally, the day arrived for Aiya's turn to ring the bell signifying his cancer-free status. Many people attended including family, friends and members of his care team from start to finish.
"I'm definitely not the same man I was before this all happened," Aiya said. "I feel more enlightened and feel that I have had my eyes opened."

Aiya plans to return to UCF to finish his degree in filmmaking and is excited for the future. His journey and successful fight against cancer is his first act. His second act can start as he returns to the life that was changed forever. June is Cancer Survivor Month and Aiya is proud to share his journey of perseverance and hope.
Aiya feels optimistic, excited to regain his independence and return to life as a new, changed man. "I see now what's important in life," he said. "These events have definitely toughened me up."

For more information about pediatric cancer services at St. Joseph's Children's Hospital, click here.