BayCare Partners with Colleges in Polk County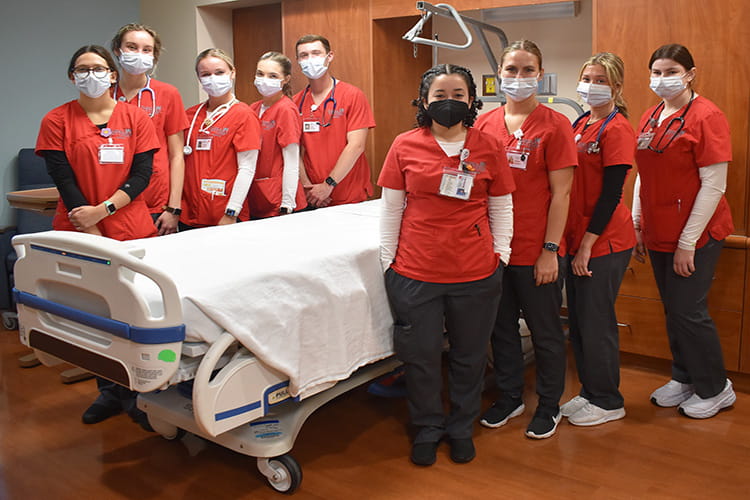 Students from Florida Southern College learn about nursing and patient care twice a week at Bartow Regional Medical Center, where they shadow hospital staff and assist patients under the guidance of program instructors.
Nursing shortages are at an all-time high across the country. In Polk County, a region that has seen some of the fastest growth in Florida, BayCare hospitals – Bartow Regional Medical Center, Winter Haven Hospital and Winter Haven Women's Hospital – have strengthened their partnerships with local institutions of higher learning.
"It's been exciting to meet these aspiring health care professionals and give them the opportunity to learn about providing excellent patient care from our extraordinary team," said Kristen Smith, the chief nursing officer of BayCare hospitals in Polk County.

Students from many local colleges have been able to obtain hands-on training at BayCare hospitals in continuing longtime partnerships. In addition, two new programs have been launched: an externship at Polk State College and a fellows program at Florida Southern College.

The Polk State College Faculty Externship is a program developed specifically for the college's nursing faculty. In this program, the extern can become immersed in BayCare's system and expand their professional competencies. The externs can experience challenges that nurses face daily and then better prepare their students for the nursing world.

"This is something that textbooks cannot always capture and demonstrate," Smith said.

A unique schedule is developed for each participant, based on their learning objectives. Each person can design the length of the shift worked and complete up to 80 hours of clinical activities.
Corie Cross, center, is a faculty member at Florida Southern College and works with students on the Bartow Regional Medical Center campus twice a week.
The funding for the externship comes from Winter Haven Hospital and the Department of Education's Linking Industry to Nursing Education (LINE) Funding Grant.

The Florida Southern College (FSC) Fellows Program awards up to six FSC recipients a $30,000 scholarship for their senior year of nursing school. Each fellow is provided employment at Winter Haven Hospital as a nurse apprentice, a role exclusively for student nurses that offers flexible schedules to accommodate class and clinical dates as well as time to do homework and study for exams. Each fellow is hired to work on the patient care unit where they will ultimately work as a nurse, upon graduation and licensure. The employment provides paid hours in the clinical environment, enabling them to practice and perfect basic skills they have learned in school, such as taking vital signs and assisting with patient care. These clinical hours also provide added opportunities for students to learn how to effectively interact with patients, families, coworkers and providers.

Funding for the scholarships associated with the fellows program comes from Winter Haven Hospital's Foundation, as well as the LINE grant.

Since the program was announced last month, three fellows from FSC have started with BayCare, Smith said.

BayCare partners with multiple academic programs and many of their students obtain hands-on training at its hospitals. Student clinical experiences range from "shadowing" (observing) hospital staff to performing patient care and nursing skills such as taking vitals, assisting with activities of daily living and administering medications under the guidance of program instructors and/or hospital nurses. All students are encouraged to practice and build effective communication skills during their many patient interactions.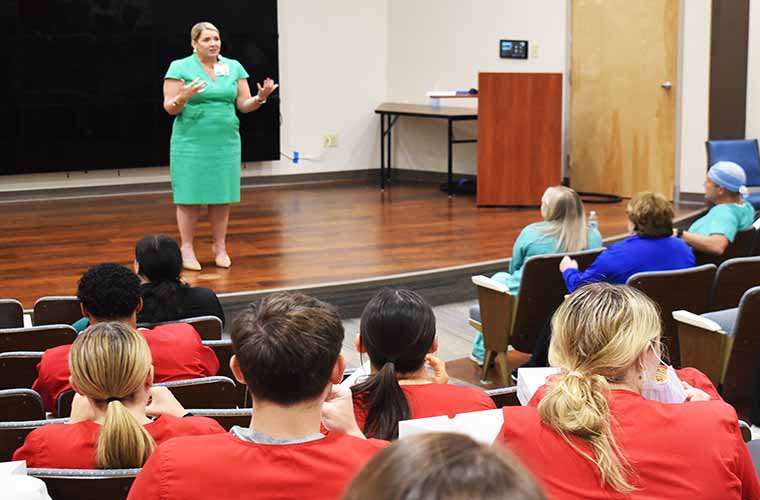 Kristen Smith, the chief nursing officer of BayCare hospitals in Polk County, addresses nursing students at Winter Haven Hospital during a recent Lunch and Learn event.
Corie Cross is a faculty member at Florida Southern College and precepts two groups of nursing students at Bartow Regional Medical Center twice a week.
"These students have already shown a passion for the nursing profession, and this is how they get that hands-on experience to understand what they're going into," said Cross. "BayCare has been an incredible partner and the students are getting a unique perspective working in a hospital with a varied patient population and medical diagnoses."
The state Department of Education's LINE grant also helps support six $15,000 scholarships for senior FSC students. Those who are awarded the scholarship will be eligible to work at any Polk County hospital, including the three BayCare facilities.
BayCare is also continuing its collaboration with Polk State College's College of Nursing through Partnership for Success, Version 2 (Pv2). This program, which relaunched in 2019, reserves up to 16 nursing slots per year in the school's program for BayCare team members who want to pursue a career in nursing in Polk County. Any team member can apply who meets the admission requirements in accordance with Polk State College and BayCare. May and August application periods are open for this program.
In 2022, 974 nursing students across all levels gained clinical experience at BayCare's Polk hospitals. In that time, they gained 42,471 hours of experience towards their future careers.
Polk State College is also a beneficiary of the LINE Funding Grant. Both Winter Haven Hospital and Bartow Regional Medical Center Hospital are providing match dollars to support the purchase of equipment for the PSC Center for Human Simulation, a program that allows students exposure to real-life clinical scenarios. Winter Haven Hospital has committed $10,000 and Bartow Regional Medical Center has pledged $5,000 to PSC.
In addition, students at Keiser University, Southeastern University and Traviss Technical College have obtained clinical hours towards their degrees, and a similar partnership for Licensed Practical Nurse students with Traviss and Ridge technical colleges is in the works.
Read more about BayCare's efforts to train more nurses:
1 Million in Federal Funds to Help Train More Nurses
.