BayCare Offers Innovative Alternative to Traditional BPH Surgery for Men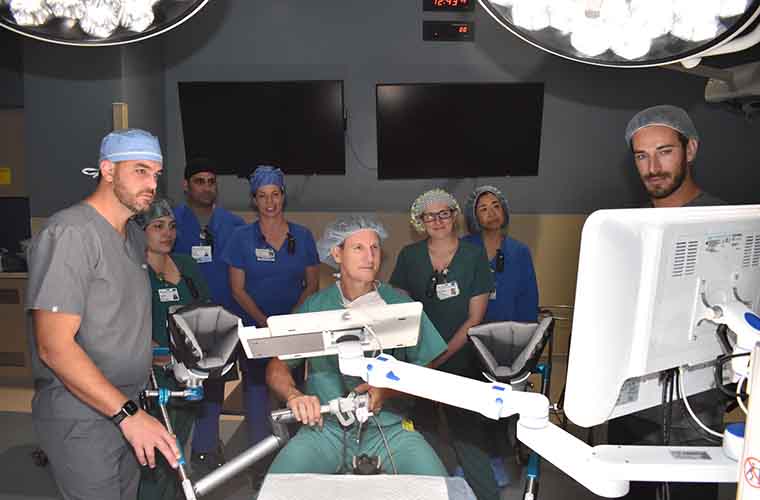 A BPH Aquablation surgery is simulated with Dr. Weber seated at the console with the surgical table in front of him.
Benign Prostatic Hyperplasia (BPH), or an enlarged prostate, is a common health issue in men over the age of 50 that can significantly impact a man's health and quality of life. The cause of BPH is unknown and BPH is not prostate cancer. BPH can impact men in ways that include:
Ability to hold urine, causing men to search for bathrooms throughout the day or waking up several times a night. This can lead to incontinence.
Difficulty in emptying your bladder, causing you to push or strain when urinating or having a weak stream that starts and stops
Can cause urinary tract infections, problems with kidney function or stones in the bladder
Issues with sexual functions of erections and ejaculations
"BPH is the number one reason men visit urologists," said Dr. Timothy Weber, a board-certified urologist affiliated with St. Joseph's Hospital-North in Lutz. "Approximately 50 percent of men are going to have complaints with this and 99% percent of men with BPH say the symptoms affect their quality of life."

Choosing a treatment option can be overwhelming as it often forces men to compromise in some way, including not responding well to medication, medication side effects, irreversible surgical complications, getting limited relief or having issues with sexual function.

BayCare hospitals offer a different type of treatment for BPH than the traditional transurethral resection of the prostate (TURP), a surgery that involves cutting away a section of the prostate. BayCare is using Aquablation® therapy by Procept Robotics, a resective procedure, meaning that the prostate tissue causing symptoms is removed without an incision. Aquablation is an advanced, minimally invasive treatment that uses the power of water delivered with robotic precision to provide long-lasting BPH relief with low rates of irreversible surgical complications. It can be performed on prostates of any size and shape.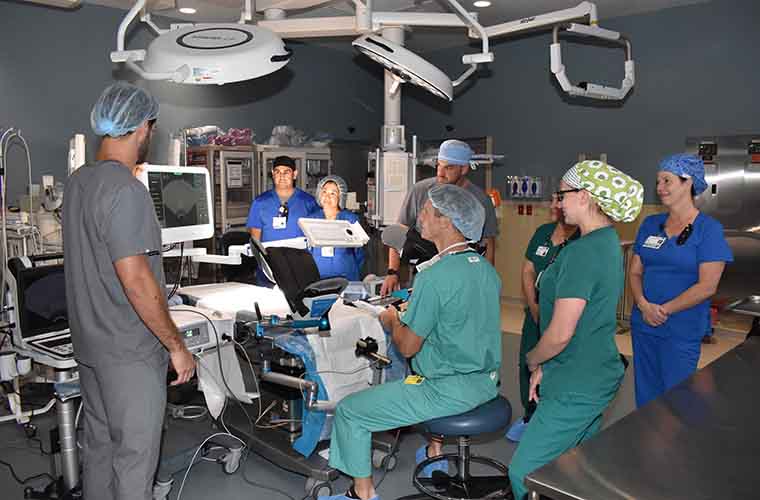 In this simulation, Dr. Weber guides the robotic Aquablation system using imaging on a monitor.
"We're using a water vapor therapy to ablate or destroy prostate tissue that's blocking the urethral portion of the prostate," said Dr. Weber, who performs Aquablation at St. Joseph's Hospital-North. "This is a high-pressure water therapy. It almost works like a windshield wiper, it wipes back and forth across the prostate."

Aquablation has been shown to improve urine flow, preserve continence and preserve erections and ejaculation. Aquablation uses a heat-free waterjet controlled by robotic technology that combines camera and ultrasound imaging to create a real-time detailed map avoiding sensitive areas.

"Aquablation is minimally invasive," Dr. Weber said. "I don't have to make any cuts or incisions and the goal is to avoid some of the onerous side effects of the TURP procedure such as bleeding, transfusions, etc."

In addition to St. Joseph's Hospital-North, other BayCare hospitals using the Aquablation therapy include St. Anthony's Hospital in St. Petersburg, Mease Countryside Hospital in Safety Harbor and Morton Plant Hospital in Clearwater.
Morton Plant Hospital and Winter Haven Hospital also use the GreenLight™ laser therapy in BPH treatment. GreenLight laser treatment is a therapy that evaporates prostatic tissue blocking the outlet of the bladder.