Winter Haven Residency Program Celebrates 100th Baby Delivery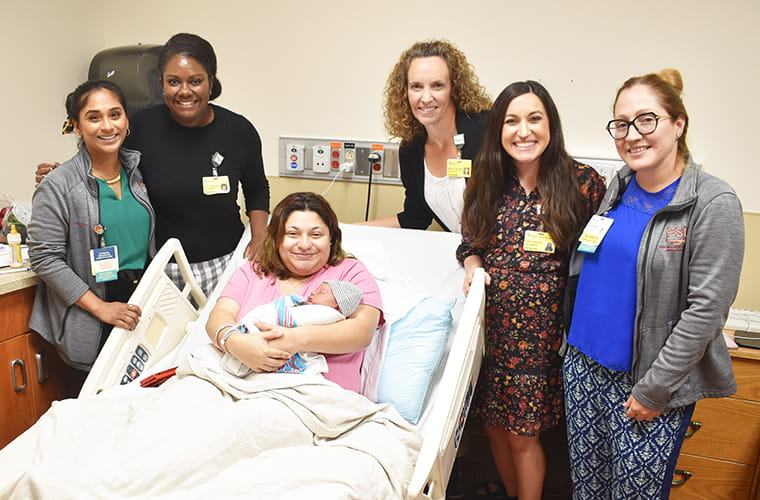 Arlene Cancel gave birth to her son, Leonardo, aided by the Florida State University College of Medicine Family Medicine Residency at BayCare Health System (Winter Haven) residents and faculty for the program's 100th delivery. From left: Dr. Akhila Reddy, Dr. Rosa Joseph, Dr. Ashley Falk, Dr. Leah Shell and Dr. Naxdaris Gonzalez.
Eleuterio Cancel knows the physicians who deliver babies at Winter Haven Women's Hospital (WHWH) pretty well. He's been a security guard at the hospital for three years. On Dec. 5, though, he was particularly interested as Dr. Naxdaris Gonzalez and Dr. Akhila Reddy checked in.
That's because they were there to help Eleuterio's daughter, Arlene, deliver her second child and Eleuterio's newest grandchild.

The birth was a landmark for Drs. Reddy and Gonzalez as well as the rest of the Florida State University College of Medicine Family Medicine Residency at BayCare Health System (Winter Haven). The delivery is the 100th since the residency program began delivering babies at WHWH in January 2021. Altogether, the program had delivered 104 babies so far, due to multiple birth deliveries.
"This is an exciting milestone for our program," said Dr. Ashley Falk, who is one of the faculty and an associate professor at the program. She consults with the resident physicians and rounds with them when they visit patients. "And to be able to deliver the grandson of our valued team member who we know so well makes it more special for our team."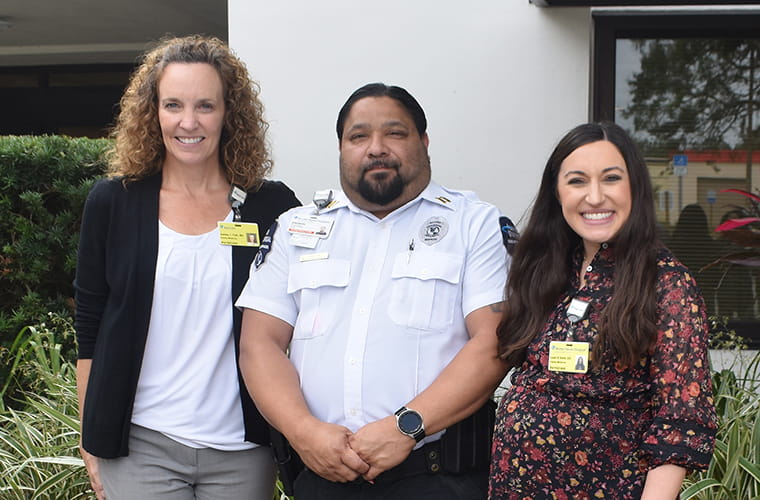 Dr. Ashley Falk, Eleuterio Cancel (Arlene's father and Leonardo's grandfather), and Dr. Leah Shell celebrate the arrival of baby Leonardo.
As with most new moms, Eleuterio's daughter was counting down those last days by the time her son, Leonardo, decided to make his entrance.
"It was long and painful," she laughed, adding that she was in labor for about 10 hours. "But it was nice knowing these doctors were here to help and support me and my family."
Arlene, 20, is also well-known to the team – this was her second delivery at the hospital under the care of the residency program. Her firstborn, a daughter named Solmary, is 18 months old, also delivered by Dr. Reddy and team in 2021.
And the whole family will be continuing its relationship with the residency program, across the street from the hospital at the residency program clinic, which serves patients of all ages.
Eleuterio caught up with his daughter's care team at the security station the day after her delivery.
"Thank you all so much for taking care of my family," he told them.