Morton Plant Hospital First in Florida to Participate in Trial to Expand TAVR to Aortic Regurgitation Patients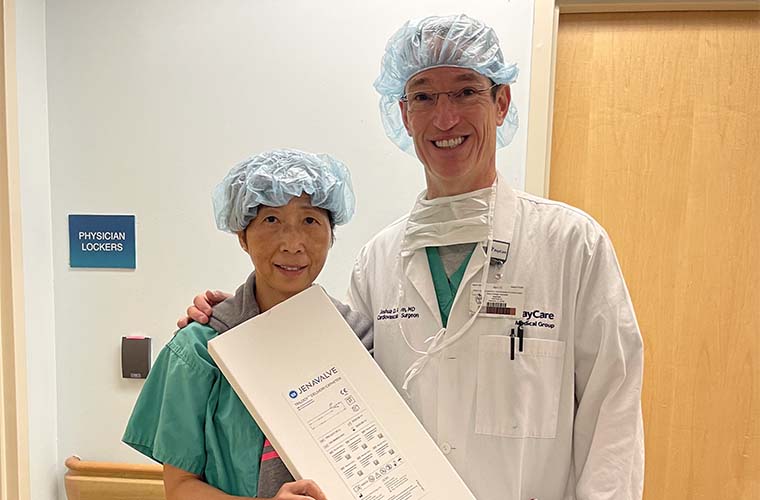 Interventional cardiologist Lang Lin, MD, and cardiovascular surgeon Joshua Rovin, MD, FACS, led the team that was the first in Florida to use TAVR to treat aortic regurgitation.
The team at the Center for Advanced Valve and Structural Heart Care at Morton Plant Hospital achieved another first when they used the minimally invasive Transcatheter Aortic Valve Replacement (TAVR) procedure to treat a patient suffering from aortic regurgitation.
The team led by Joshua Rovin, MD, FACS, cardiovascular surgeon and medical director of the center, and interventional cardiologist Lang Lin, MD, performed the procedure as part of the JenaValve Align Trial using the Trilogy heart valve system.
The team has been using the minimally invasive TAVR procedure to treat patients with aortic stenosis since 2012, when Morton Plant became the first hospital in the Tampa Bay area to offer TAVR. The Align trial is the first use of a TAVR valve designed to treat primary aortic regurgitation in a native valve by the Morton Plant team.
Aortic stenosis is the narrowing of the aortic valve, which restricts blood flow to the heart. In patients with aortic regurgitation or aortic insufficiency, blood pumped from the left ventricle leaks back into the heart because the aortic valve doesn't close properly. The heart must work harder and harder to pump the blood out. If left untreated, both conditions may cause fatigue, chest pain and shortness of breath, and could lead to heart failure.
TAVR has given thousands of patients suffering from aortic stenosis a better quality of life and a longer life. Instead of opening the chest, the minimally invasive TAVR procedure allows doctors to enter the femoral artery through the groin using a catheter to guide an artificial valve to the heart. The artificial valves used to treat aortic stenosis work by anchoring to calcium or scar tissue. Those valves do not work well for patients with aortic regurgitation that frequently lack calcium to anchor the valves. Their only option has been open heart surgery, which may not be an option for many patients.
This Align trial seeks to change that. The design of the JenaValve allows physicians to place a new valve inside the leaky one by clipping it onto the leaky valve's original leaflets without using any sutures.
"For more than a decade our multidisciplinary team has continued to explore new offerings so we can help more and more patients who are suffering from valve disease but are not candidates for invasive surgeries," said Dr. Rovin. "The opportunity to participate in the JenaValve Align trial allows us to treat an entirely new group of patients who previously had no hope for treatment with a valve that is specifically designed to treat aortic regurgitation."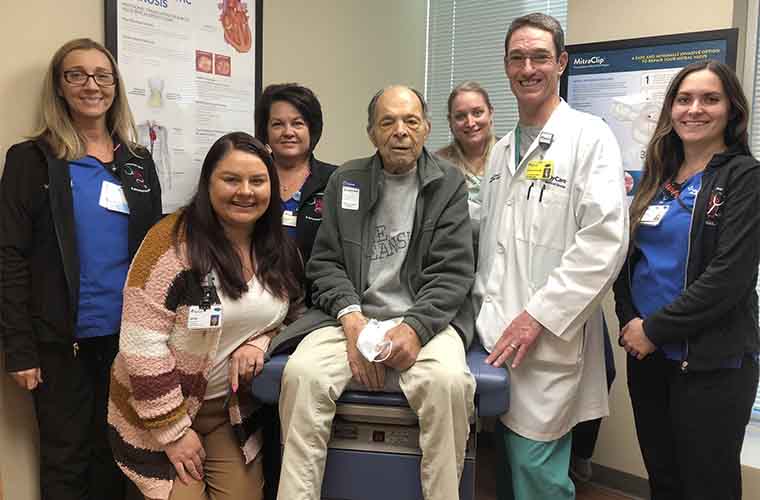 The JenaValve has been approved for commercial use in Europe but is not yet approved in the United States and is currently being used as part of a clinical trial.

BayCare also has structural heart programs at St. Joseph's Hospital's Heart and Vascular Institute in Tampa and Winter Haven Hospital's Bostick Heart Center in Winter Haven.
For more information on the Center for Advanced Valve and Heart Care at Morton Plant Hospital, click here.