BayCare Earns National Recognition for Excellent Patient Experience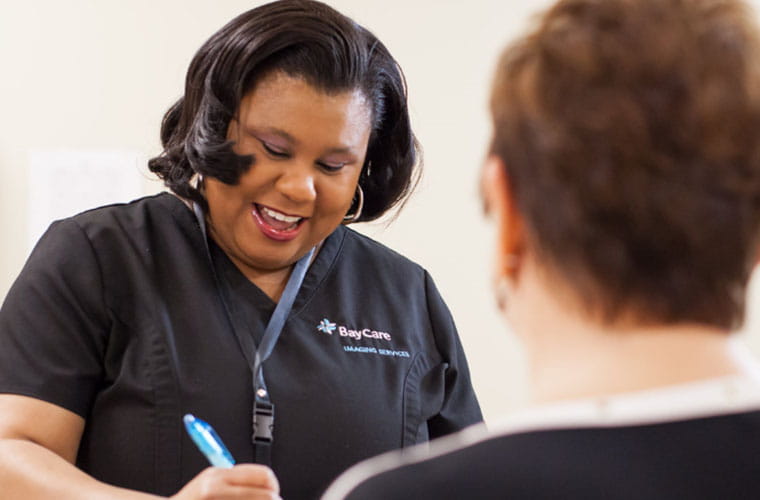 Nita Burney welcomes a patient to BayCare Outpatient Imaging Hampton Lakes, which earned the "Pinnacle of Excellence - Patient Experience" award for sustained excellence for three years in a row.
BayCare Health System is the proud recipient of seven 2022 Press Ganey Human Experience awards. These awards are part of Press Ganey's annual ranking of the top hospitals and health systems in the country, according to performance in patient experience.
Press Ganey annually surveys patients of over 41,000 health care facilities throughout the U.S., asking them questions about overall safety, quality, and experience of care. As a winner, BayCare is in the top 5% of healthcare providers in delivering patient experience in the last year.
BayCare's ambulatory division won six of the seven awards. Winning the "Guardian of Excellence - Patient Experience" awards, given to locations that have reached the 95th percentile for patient experience, were South Tampa Lab Patient Service Centers, Carillon Imaging, Hampton Lakes Imaging, St. Anthony's Medical Arts Lab Patient Service Centers, and Mease Dunedin Lab Patient Service Centers.
Additionally, BayCare's Hampton Lakes Imaging location was recognized for sustained excellence for three years in a row, claiming the "Pinnacle of Excellence - Patient Experience" award.
Mease Countryside Hospital's Neonatal Intensive Care Unit (NICU) also won a Guardian of Excellence award for patient experience.
"This prestigious recognition demonstrates BayCare's commitment to our mission: providing high quality, compassionate care to all we serve," said Stephanie Conners, president and CEO of BayCare. "I'm immensely proud of how dedicated our teams are in ensuring that our patients feel welcome, safe, and supported when they need us most."
"By putting their patients and workforce first each and every day, BayCare is demonstrating its unwavering commitment to their employees and to the communities they serve," said Patrick T. Ryan, chairman and chief executive officer, Press Ganey. "The caregivers at BayCare have inspired us with the compassion, empathy and human connection they bring to the clinical healthcare setting. We are honored to partner with them as we celebrate their achievement."
About Press Ganey
Press Ganey, the leading Human Experience (HX) healthcare performance improvement company, offers an integrated suite of solutions that address safety, clinical excellence, patient experience and workforce engagement. The company works with more than 41,000 healthcare facilities in its mission to reduce patient suffering and enhance caregiver resilience to improve the overall safety, quality and experience of care. Press Ganey is a PG Forsta company.