BayCare Expands Commitment to Behavioral Health with the Acquisition of Northside Behavioral Health Center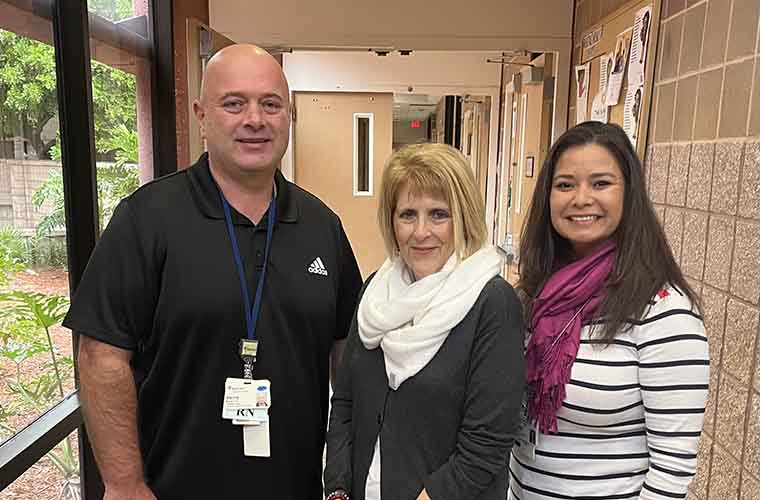 BayCare Northside Behavioral Health Center leadership includes Nurse Manager Danny Croft, BayCare Vice President of Behavioral Health Gail Ryder, and Operations Director Kristy Hust.
CLEARWATER, Fla. Jan. 3, 2023 – After seven years managing Northside Behavioral Health Center in Tampa, BayCare Health System today announced it now owns the not-for-profit community mental health center, effective Jan. 1, 2023.
"Behavioral health care is essential for the total health of all patients," said BayCare President/CEO Stephanie Conners, MBA, BSN, RN. "We are stronger together, leveraging BayCare's resources to support Northside's commitment to meeting patients where they are."
Now re-named BayCare Northside Behavioral Health Center, the center provides individuals and families the highest quality of comprehensive, innovative, and affordable behavioral health care services, which creates a path for those in need toward a productive recovery and an enriched quality of life.
Susan Hoerbelt, president of Northside's Board of Directors, said team members who work at Northside are its "special sauce" and "the very heart and soul" of Northside. All were given the opportunity to continue their jobs as part of BayCare. Director of Operations Kristy Hust will continue overseeing services in locations throughout Hillsborough County including counseling, residential programs, crisis stabilization and the Florida Assertive Community (FACT) Team.
"We are thrilled to add more than 100 former Northside employees to our BayCare family," said Gail Ryder, BayCare's vice president of behavioral health. "We know this team and they know our patients. We're all focused on the same goal and have shared the same leadership team for years, so I expect a seamless transition as we continue providing extraordinary care for all we serve."
BayCare is West Central Florida's largest provider of Behavioral Health and is rooted in more than 50 years of community service. In 2021 the health system publicly launched efforts to improve its capacity and commitment to patients in light of increasing community need.