St. Joseph's Congenital Heart Program Helps Mom of Five Not Miss a Beat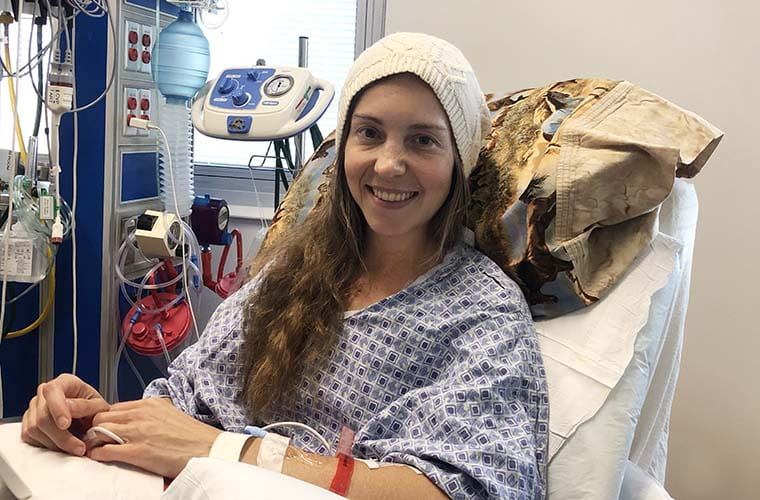 Alyssa Fisher, who was born with the heart condition Ventricular Septal Defect, rests in her hospital room four days after undergoing open-heart surgery at St. Joseph's Hospital to replace her tricuspid valve.
As a busy mom of five, 36-year-old Alyssa Fisher didn't spend much time thinking about her own health. She felt fine. She led an active life, working as a nurse, homeschooling her children, swing dancing with her husband on an occasional date and spending time with friends at church.

While having a casual conversation with one of those friends, Fisher mentioned she was born with the heart condition Ventricular Septal Defect (VSD), commonly known as a hole in her heart. That friend, Jennifer Brown, just happens to be a team member in St. Joseph's Children's Hospital's pediatric cardiac intensive care unit. She told Fisher about St. Joseph's Adult Congenital Heart Program and the care the center provides for adults who were born with heart defects.

Multidisciplinary Team Provides Care to Adults

Individuals born with a congenital heart defect (CHD) are living longer now than ever. Currently, there are 1.4 million adults in the United States living with one of many different types of CHDs, ranging among simple, moderate and complex.

The Tampa Bay Adult Congenital Heart Center at St. Joseph's Hospital, one of only two in Florida and only 47 across the United States, is accredited by the Adult Congenital Heart Association (ACHA).

The accredited program provides access to a host of medical experts who can support patients with CHDs throughout their lives. The team is comprised of board-certified pediatric cardiologists, adult congenital cardiologists, advanced cardiac imaging specialists, cardiac electrophysiologists, interventional cardiologists, and congenital heart surgeons, plus advanced heart failure, cardiac intensive care, cardiac anesthesia, and reproductive experts including maternal fetal medicine.

"Every patient who comes to our Adult Congenital Heart Center has access to all the specialties they need to manage their condition," said Board Certified Adult Congenital Cardiologist Suying Lam Barriga, M.D., medical director of the center.

Dr. Lam and the other professionals associated with the clinic recognize that every patient is different and has different heart issues. She said, "We review each patient's medical history in extreme detail and tailor our care to their specific needs."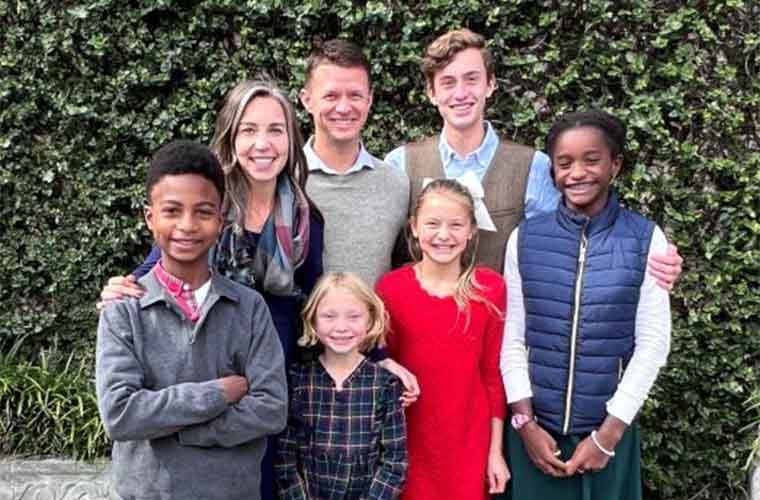 Alyssa Fisher, her husband Carl and their five children pose for their Christmas card photo in late 2022.
Fisher's Journey Leads Her to the Center

Fisher had her first heart surgery at just 9 months old to surgically close her defect. When she was 3 years old, she needed a pacemaker. When her tricuspid valve began to fail at age 13, she underwent a third cardiac procedure to have it replaced. After that, she remained active and healthy. However, her conversation with Brown convinced her to make an appointment at the Tampa Bay Adult Congenital Heart Center.

That appointment allowed the medical experts at the center to learn about Fisher's medical history and establish a regular cadence for follow-up visits. The routine visits continued for a few years as Fisher remained healthy.

A few months ago things changed.

Fisher started gaining weight, specifically in her abdomen where she was retaining several pounds of fluid.

"People thought I was pregnant again," she said. "It began to interfere with my life. I had to tell my husband I couldn't swing dance. It made me nauseous to have that fluid jiggling around."

Fisher's replacement tricuspid valve was failing, which was preventing her heart from functioning properly. She met with a cardiothoracic surgeon and the surgery to replace her valve was scheduled.

"Our center offered the services Alyssa (Fisher) needed," Dr. Lam said. "We worked closely with the electrophysiology team to properly manage her pacemaker and with a surgeon who specializes in congenital heart disease to replace the valve."
Adults Living with Congenital Heart Disease Need Continued Care

While medical advances have made it possible for more patients with CHDs to survive into adulthood, it can be difficult for these individuals to find an adult cardiologist with the expertise to treat what was once considered only a childhood disease. Many, like Fisher was a few years ago, aren't aware or don't understand the importance of being followed by an adult congenital cardiologist who focuses on managing CHDs as well as treating any complications that may be related or unrelated to that.

"We strive to educate our patients with CHD during their teenage years about their specific condition, interventions performed on their heart, and the importance of lifelong follow-up with a specialist," Dr. Lam explained.

For adults living with CHD that are not being followed by a cardiologist who is certified in adult congenital heart disease, Dr. Lam urges them to connect with an adult CHD program and receive the support they need to thrive.

"Congenital heart disease requires an in-depth understanding of the development of the human heart and the complexity of each specific defect. In addition, adults with congenital defects may develop acquired heart diseases like any of us, and we work closely in collaboration with our colleagues in adult general cardiology and many other adult specialties to provide the comprehensive care that is needed," Dr. Lam said.

Fisher Appreciates Expert Care

Fisher is thankful she found St. Joseph's Adult Congenital Heart Program. "I was confident in the surgeon and the way the adult congenital heart team worked together. They don't just try to get patients in and out, but everyone is significant to them," she said.

Fisher and her family will be moving out of state in July, but she plans to return to St. Joseph's annually to follow up with her adult congenital cardiologist.

For more information on the Tampa Bay Adult Congenital Heart Center at St. Joseph's Hospital, click here.