BayCare Hospitals Expand Catheterization Lab Services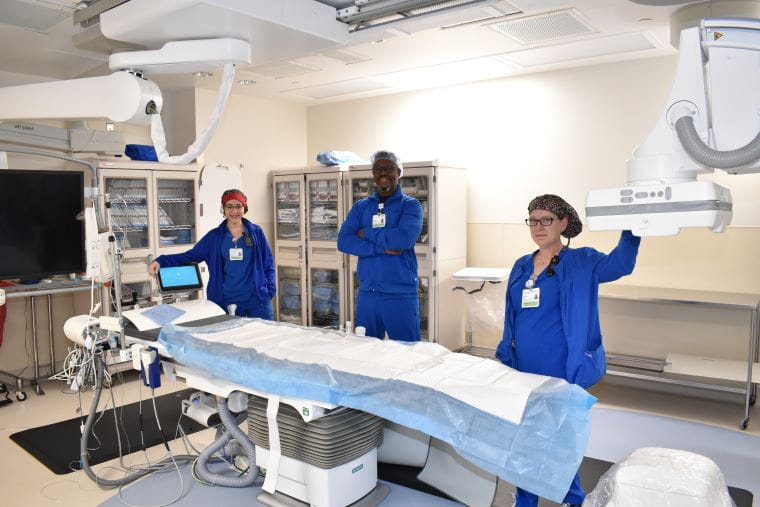 From left, St. Joseph's Hospital-South team members in the hospital's newest cardiac catheterization lab, Glorianne Ruiz Ojeda, Brian Frazier and Kristy Bellamy.
February is American Heart Month, and two BayCare hospitals have worked to expand cardiac services to keep up with the needs of our community.
Recently, St. Joseph's Hospital-South, in Riverview, opened its fourth cardiac catheterization laboratory. And in Winter Haven, Winter Haven Hospital's Bostick Heart Center held a ribbon cutting to christen its sixth cath lab.
The cardiac cath lab is a surgical suite where procedures such as angioplasties and stents are performed. Angioplasties and stents open up blood vessels in heart patients. The cath lab is also where pacemakers and defibrillators are surgically implanted in patients.
"The cardiac cath lab is where we can treat everything in your circulatory system and blood vessels," said Brian Frazier, St. Joseph's Hospital-South's interventional services manager who oversees the hospital's cath labs. "We treat anything going wrong in a patient's extremities, your heart and all things that connect those pieces. The cardiac cath lab is a place where we can open up plaque and clear pathways using balloons and stents."
Approximately 3,400 procedures are done annually in St. Joseph's Hospital-South's cath labs. Frazier said the hospital originally had two cath labs. A third was added in 2018. He said the growth of the area and the Riverview hospital necessitated the expansion to four cath labs. St. Joseph's Hospital-South has more than doubled in capacity to its current size of 223 beds since opening in 2015.
"We've added more doctors with hospital privileges bringing us more patients, and we've had to accommodate them," Frazier said. "We're meeting the needs brought on by the population growth in the community."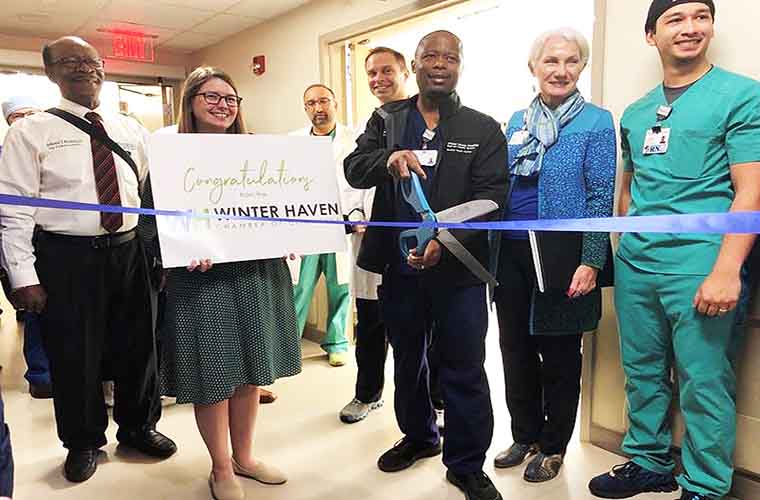 Team members at Winter Haven Hospital celebrate the opening of a new catheterization lab along with members of the Chamber of Commerce.
At Winter Haven Hospital, cath lab cases have been steadily increasing to more than 4,200 a year as of 2022. Before the Bostick expansion project was announced in 2018, there were three cath labs. The expansion moved the cardiac cath labs to the 2nd floor of the Bostick building directly above the Emergency Room. The new space allowed room for six cath labs, though only five were built-out. The sixth lab was built as a shell space until case numbers necessitated its full outfit as a cath lab. The shell space had all foundational elements for easy installation of needed equipment.
The decision to build-out the sixth cath lab came in 2021. Fast forward to Feb. 9, when community leaders, hospital administration, physicians and team members gathered to mark the official opening of that sixth lab.
"The expansion of our sixth procedure room will help accommodate our growing population who require complex coronary intervention and electrophysiology procedures," said Casey Ford, the director of Winter Haven Hospitals cardiovascular services. "What was once a shelled space has now materialized into our largest and most technologically enhanced procedure room within our Bostick Heart Center."
Ford noted that in addition to its size, the new lab is equipped with an advanced ceiling mounted X-ray system, which is versatile in acquiring vascular images – from the patient's head to their toes.
"I think we also have the best physicians and the best team in the state, and we're doing things here, such as
brachytherapy
, that isn't happening anywhere else in Florida," he said.
Cath Labs at Other BayCare Hospitals
BayCare has 26 cath labs across its hospitals in Hillsborough, Pasco, Pinellas and Polk counties. In addition to the new cath labs at St. Joseph's Hospital-South and Winter Haven Hospital, several other BayCare hospitals, including Mease Countryside in Safety Harbor, Morton Plant in Clearwater, St. Anthony's in St. Petersburg and St. Joseph's in Tampa, have added or renovated cath labs in the last four years. More additions and renovation are planned for 2023.
Several hospitals also have hybrid cath labs that allow for catheterization and more advanced surgical procedures to be done in one suite. The investments in new and renovated cath labs with technologically advanced equipment allow BayCare's expert teams to better meet the needs of the communities they serve.
The bottom line, noted Frazier of St. Joseph's Hospital-South, is that the hospitals are better equipped to treat the various issues affecting our cardiac patients.
"The notion of a work family is what I believe separates us and BayCare in general," he said. "We do not treat patients as numbers, BayCare doesn't do this, team members know this and I believe the community knows this when they come here for treatment. We take care of our patients like we would take care of our family members. We're here for something bigger than ourselves, we're a team and work family. To me that's the most important thing."