Wellness Toolkits: Building Your Healthiest Self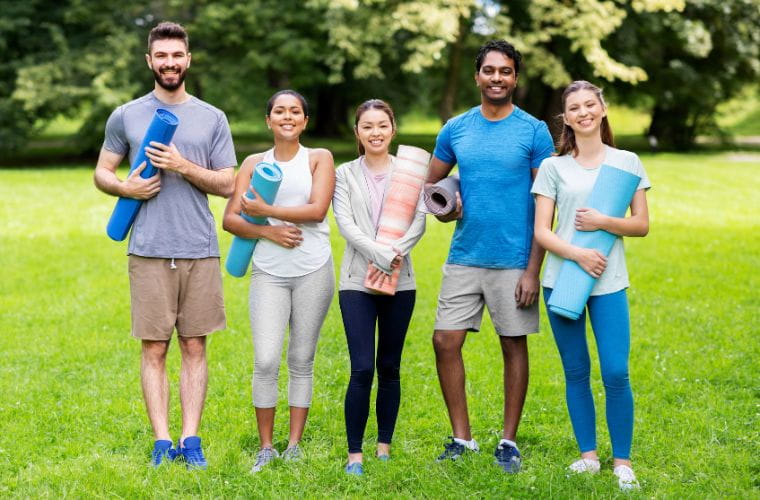 The National Institutes of Health (NIH), a component of the U.S. Department of Health and Human Services, has created wellness toolkits to highlight tips for living well and improving your health. Focusing on five areas, including your surroundings, feelings, body, relationships and disease defense, it offers practical ways to be your "healthiest self."
Surroundings and environmental wellness
Create a healthier home and reduce health hazards. Be mindful of chemicals in household products that may contain potentially harmful substances. Also identify irritants like lead exposure, mold or radon using a test kit.
Manage your allergies. A change in seasons can increase airborne substances that irritate your nose, so take steps to reduce your exposure to allergens. Both indoor and outdoor environmental exposures, toxins and allergy-inducing substances can impact your health and well-being. Read more on how to manage allergies in every season.
Safeguard yourself in extreme temperatures. Whether it's the summer heat or the frosty air of winter, extreme weather can have a major impact on your overall health. Take steps to guard yourself against illnesses such as overheating or hypothermia by recognizing signs that your body temperature is spiking or dropping too low.
Feelings and emotional wellness
Reduce stress and cope with life's ups and downs, including loss, in a healthy way. Draw from resources at your disposal at work or in your community, or join a support group, to build resilience and safeguard your mental health.
Get quality sleep. Learn how to create a healthy sleep routine to think more clearly, have quicker reflexes and focus better.
Strengthen social connections. Whether with romantic partners, family, friends, neighbors or others, social connections can influence our biology and have powerful effects on our health.
Be mindful and embrace an attitude of gratitude. Live in the moment and be aware of what's happening in the present.
Body and physical wellness
Get active. Find a physical activity that you enjoy (e.g., walking, playing pickleball, swimming, etc.) and engage in at least 30 minutes of exercise a day. Doing so will help you lower your risk of heart disease, diabetes or cancer.
Eat a healthy diet. A healthy eating plan not only limits unhealthy foods, but also includes a variety of healthy foods such as fruits and vegetables. Learn how to optimize your immune system by using a whole body approach.
Build healthy habits for a lifetime of optimal health. Whether you want to quit smoking, reduce stress or get more exercise, small steps can lead to big changes over the years of your life.
Relationships and social health
Make connections. Look for ways to get involved in your community, join a book club or start a side hustle, as it might help protect your health and lengthen your life. "Connecting to others is part of what makes us human and keeps us mentally healthy," said BayCare's VP/Chief Quality Officer Dr. Laura Arline, MD, FACP, FAAP. "Be sure to carve out time to get together, in-person, with family, friends and even co-workers."
Build healthy relationships. It takes communication, understanding and often forgiveness to build and maintain the relationships in our lives. Seek out individuals who possess the qualities you want in a friend, partner or coworker. Cope with stressful situations in a healthy way, recognizing that these situations are often temporary, and steer clear of drama.
Take care of yourself first. You can't drink from an empty cup, and if you're a parent or in a caregiver position, it's easy to put others first and neglect yourself. It's OK to ask for help, take breaks and take time for yourself to do something you enjoy and not feel guilty about it.
Prevention wellness and disease defense
Get screened. Visit your primary care physician for your annual checkup and stay on top of preventative screenings such as mammograms, prostate exams, and colorectal cancer tests. Use the FIND A DOCTOR tab on baycare.org to find a physician in your area.
Protect yourself and others by staying up to date on vaccines and immunizations. From annual flu shots to COVID boosters, and vaccines for older individuals for pneumonia or shingles, refer to the Centers for Disease Control and Prevention's (CDC) website for the latest immunization schedules.
"This list may seem daunting, but you don't have to check it all off at once," added Dr. Arline. "Start with one item or area that is either the easiest or that you find to be the most important. Then keep adding to your wellness toolkit over time, adjusting the contents as your needs change."

Each person's "healthiest self" is different depending on their body, mind, living situation and people influencing their lives, and building a personal wellness toolkit can improve your overall well-being. Once you start gathering the necessary environmental, emotional, physical, social and preventative tools to create a healthy lifestyle, you will reap the rewards now and in the future.