BayCare's Diane Rauch Camp Nurse Jr. Inspires Young Students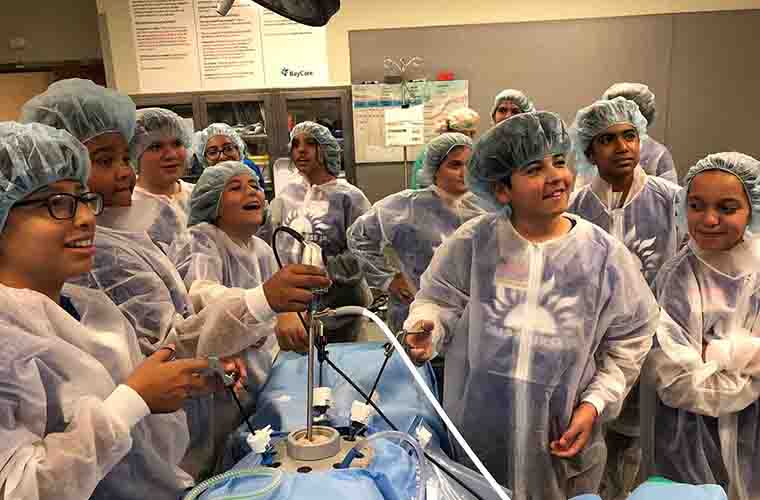 If Diane Rauch Camp Nurse Jr. provided a glimpse into the future of health care, then the future is bright.
The annual three-day camp at BayCare's Mease Dunedin Hospital offers local students entering the 7th and 8th grade opportunities to explore nursing and other health care careers.
"These students are bright, they're brilliant,'' said program director Megan Tartaglia. "They know a lot of things I wouldn't think they would know in middle school. This is a great group. The future is going to be okay.''
Through the years, Camp Nurse Jr. has evolved from a camp focusing on the nursing profession to one that allows students to explore a wide range of fields related to health care. Given the present nationwide shortage of health care workers, that makes sense.
"We're just really trying to pique their interest and expose them to as many disciplines of nursing and disciplines of health care as we can,'' Tartaglia said.

This year's class of 20 students was one of the largest in years. Students were immersed in plenty of hands-on experiences that made learning fun. To name a few:

In the lab session, students learned how to palpate veins for a blood test – one student said it felt like macaroni – and then how to properly label their vials.
Child Life Specialist Leslie Dempsey explained that her role is to help reduce kids' anxiety in the hospital and make the environment fun. She uses play, pictures and toys as tools to help kids understand what they'll be going through. She taught students how to insert an "IV" into a stuffed animal's arm and had the students paint with syringes.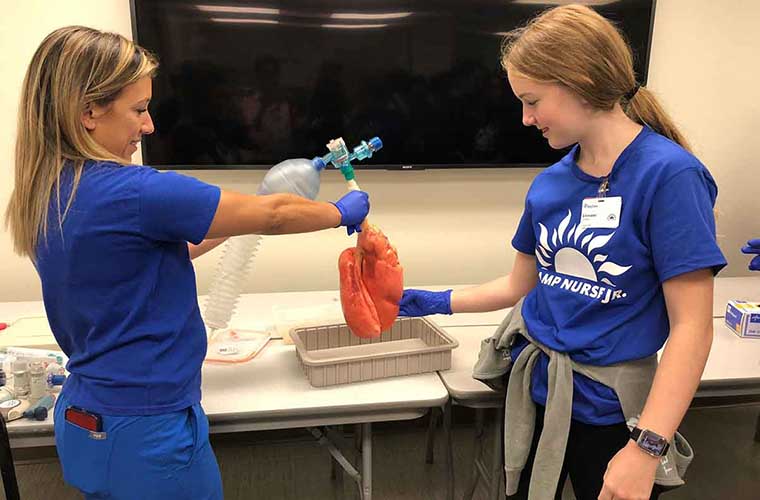 During the respiratory therapy session, campers got to see pigs' lungs, and if they were brave, touch them. They also were introduced to vest therapy, which helps patients who have difficulty clearing airway mucus. Those who wanted to were able to wear the vest and feel the increasing vibrations and pressure, controlled by the therapist to dislodge the mucus.
In the OR presentation, the campers were brought to an actual operating room at Mease Dunedin, complete with monitors and a table full of surgical instruments. Everyone gowned up and each could take a turn during a mock laparoscopic procedure using graspers to remove pieces of candy from the "patient's'' abdomen.
Each session brought new experiences, piqued curiosity, and engaged the campers in an interesting way.
Once, in between sessions, the students were asked what they wanted to be one day, and they weren't shy about sharing their dreams. There was a wide range of replies, including: general surgeon, paramedic, nurse, pediatrician, pharmacist and psychiatrist.
On the final day, BayCare's Chief Nurse Executive Lisa Johnson spent some time with the group and talked about her love of nursing, which was her childhood dream.
Tartaglia, in her first year as program director, couldn't have been happier with the three days. "It's really encouraging to see young people like this group that are so bright and eager to learn and interested in sharing their learning with each other.''

The camp is named in honor of benefactor Diane Rauch, a longtime nurse in the community who had a great love for children. Morton Plant Mease Health Care Foundation has been a generous supporter, too.