BayCare Honors Rep. Berfield for Support of Health Care Workers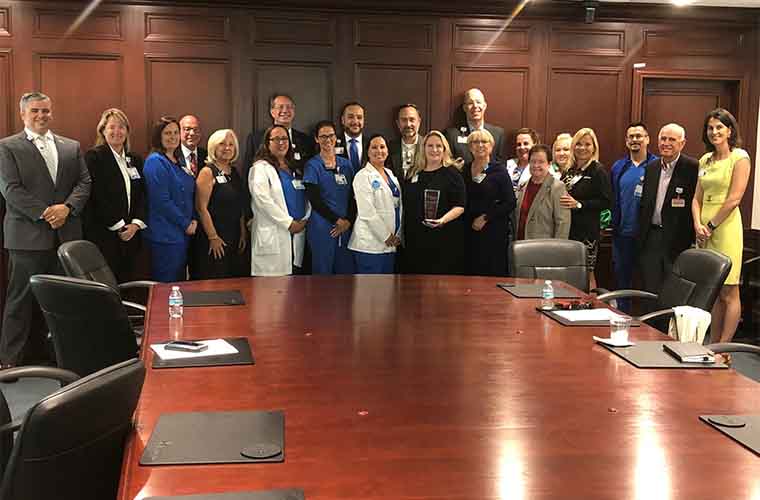 A group of BayCare team members, leaders and two members of the Board of Trustees stand with St. Rep. Kim Berfield after she received the Health Care Hero Award.
A local state lawmaker pivotal to the passage of new protections for hospital workers from workplace violence is BayCare's 2023 Health Care Hero.

Florida State Rep. Kim Berfield, R-Clearwater, received the award earlier this week at a gathering at BayCare's Morton Plant Hospital in Clearwater, where she heard anew all the reasons Florida law needed to be updated.

"I want to support health care workers and make them feel valued," Rep. Berfield told the small group of nurses, managers, executives and board members. "I appreciate you for bringing this to my attention and making me aware of the need for this legislation. My job is to be your voice."

Berfield's successful sponsorship of House Bill 825 during the 2023 legislative session came after years of advocacy by BayCare and other health care systems and hospitals to change the law. The change increases penalties for individuals who assault any hospital personnel. Previously, enhanced penalties, which also apply to assaults on other front-line workers such as police and fire, had only applied to personnel in hospital emergency rooms. The new law is effective Oct. 1, 2023.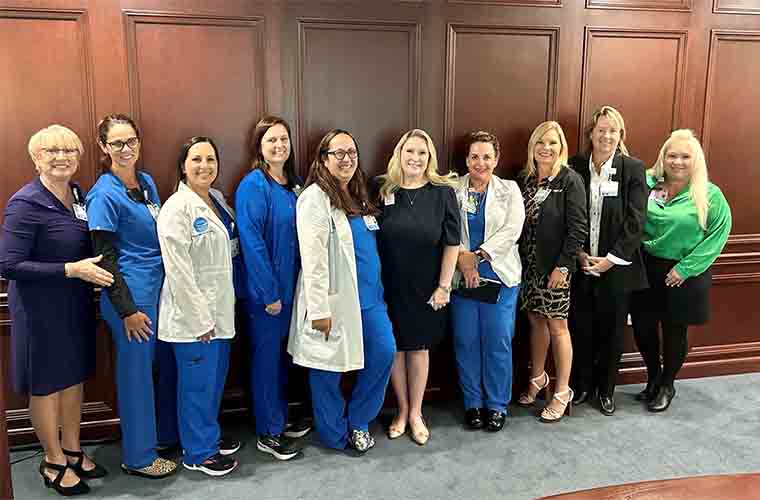 State Rep. Kim Berfield stands with nurses, nurse managers and nursing leadership after Rep. Berfield received the Health Care Hero Award.
During this week's gathering, several BayCare nurses, leaders and board members attended and personally thanked Rep. Berfield for her support and affirmed how much the legislation is needed. They shared personal stories of being punched or kicked, simply for trying to do their job – providing care for a patient.

"I am a nurse. This is my job. This is my home. That person wasn't going to take this from me," said Katie Garino, clinical nurse III at Morton Plant, after recounting how a patient rendered her unconscious as she was attempting to give him medication. "It took me three months to get back, but I had to return for my team and for my daughters."

Melanie Stalbird, cardiovascular intensive care unit nurse manager, shared with Rep. Berfield: "I ask patients who act inappropriately toward my team if they would do this to a server at a restaurant or an associate at a retail store. Then, why treat a healthcare worker that way?"

BayCare's Chief Nurse Executive Lisa Johnson is among the BayCare leaders and team members who have worked for years to pass the new law. She told Rep. Berfield: "It pays to be persistent and after five legislative sessions, we are grateful to you, Rep. Berfield, for championing our fight to protect all health care workers."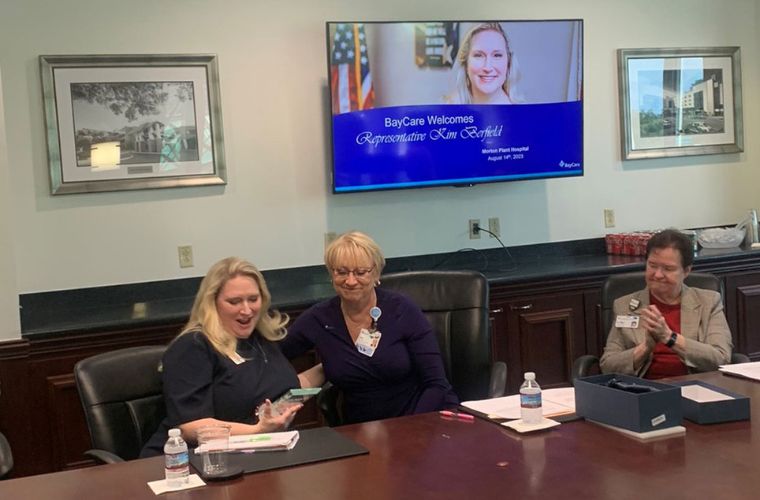 Florida State Rep. Kim Berfield (left), seated next to BayCare's Chief Nurse Executive Lisa Johnson, admires her BayCare 2023 Health Care Hero award while Sister Mary applauds.