BayCare Orthopedic Robotic Surgery Offers Superior Precision, Accuracy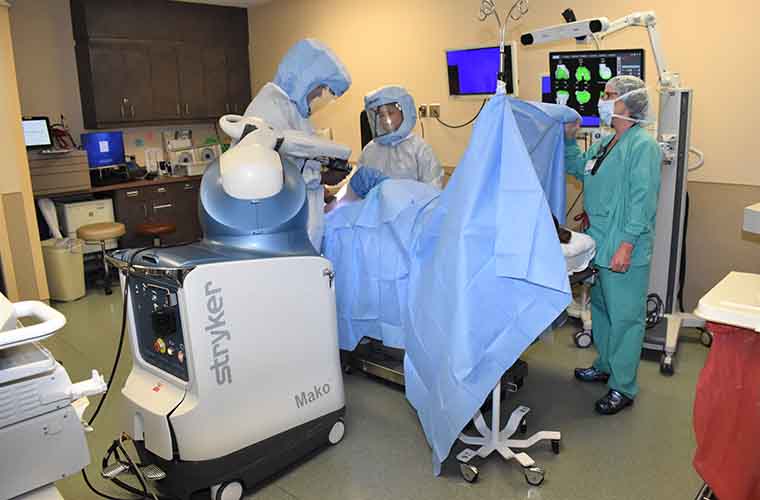 Dr. Grayson (far left) guides the robotic arm in this simulation of a robotic surgery knee replacement.
Dr. Christopher Grayson, BayCare's orthopedic medical director, performs robotic surgeries for knee and hip replacements. He understands when a patient might express skepticism when they learn a surgical robot is involved.

"The common misconception is that I'm in the lounge drinking coffee," he said. "But with the current robotic systems that we utilize for joint replacements, the surgeon is actively involved in every step of the case. I'm still physically doing everything. The robotic machine does not move without me moving it."

Dr. Grayson explains that the surgeon guides and controls the robot's arm which holds the surgical saw. He said the robot allows the surgeon more precision.

"The robot allows us to make adjustments to how we put in the joint that we couldn't previously because of the lack of precision in older instruments," he said.

Orthopedic robotic surgery for knee and hip replacements is performed at five BayCare hospitals. Robots are at Mease Dunedin Hospital, Clearwater's Morton Plant Hospital, New Port Richey's Morton Plant North Bay, Plant City's South Florida Baptist Hospital and Tampa's St. Joseph's Hospital.

BayCare hospitals performed 1,630 robotic orthopedic joint replacements in 2022. Nearly 85 percent of those were performed at Mease Dunedin Hospital (711) and Morton Plant Hospital (665) in Pinellas County. In Hillsborough, St. Joseph's Hospital in Tampa did 134 orthopedic robotic surgeries while South Florida Baptist Hospital in Plant City did 121. Morton Plant North Bay Hospital in Pasco County recently purchased its surgical robot.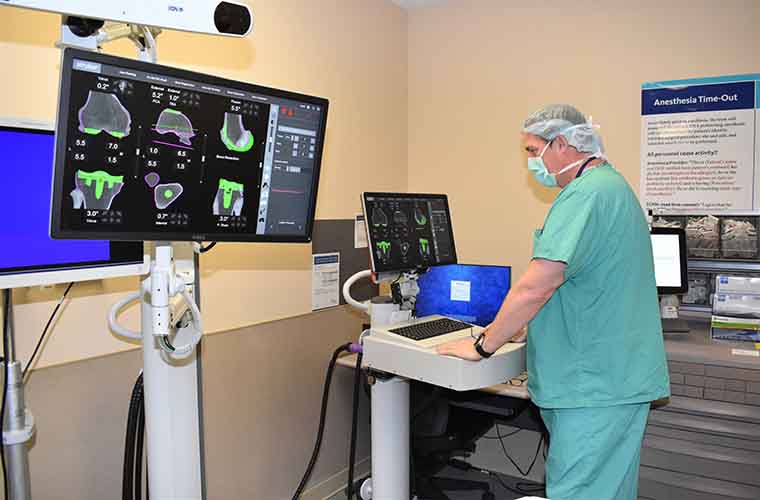 In a simulation, Dr. Grayson pre-plans the knee replacement surgery in 3-D. The robot can help the surgeon make minor adjustments during surgery for accurate placement and alignment of the implant.
Mease Dunedin and Morton Plant hospitals ranked #1 and #2 respectively in Florida in 2022 for the number of robotic surgeries on the MAKO® joint replacement system. MAKO is a robot manufacturer.

For a patient, surgical precision with the robot can mean less trauma to the joint area and soft tissue, less inflammation, and longer lasting implants that fit better. It can also lead to a faster discharge from the hospital.

Dr. Grayson notes that 30% of BayCare knee and hip replacement surgical patients are discharged the same day of their surgery.

One patient who did not need convincing about robotic surgery was retired Army nurse Dianna Bushaw. Dianna, who lives in Palm Harbor, had a knee replacement performed by Dr. Grayson on January 25, 2023 at Mease Dunedin Hospital.

Dianna retired from the U.S. Army in 2010 and experienced knee problems off and on since then. She did not want the problems to affect her ability to go boating, walk, hike and do yoga. She also didn't want knee problems to hinder her business of being a dog walker. She considered physical therapy and injections. Dr. Grayson recommended robotic surgery knee replacement. Dianna researched robotic surgery.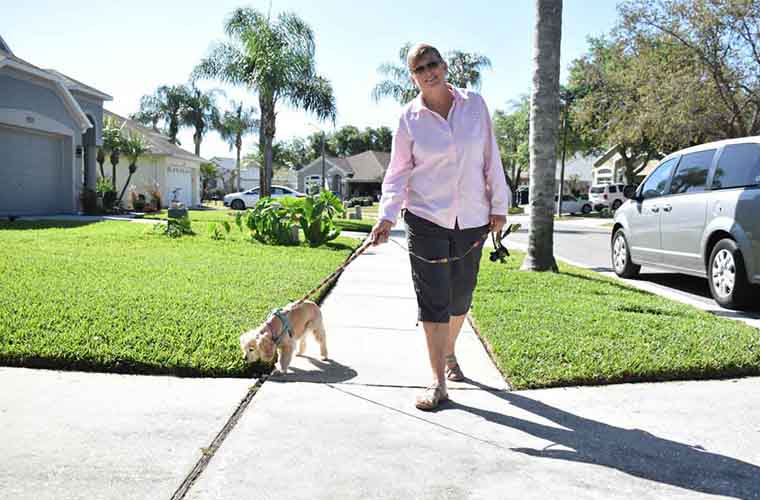 Dianna, who had robotic knee replacement surgery in January 2023, walks Ginger, her 11-year-old American cocker spaniel.
"I was all for it (the robotic surgery)," Dianna said. "The research showed that by doing the surgery by hand the precision was just not there. With the robot, you know you're going to get a precise cut. I also learned the risk of having legs of uneven sizes from surgery was minimal to none."

At the time of this interview, less than two months after surgery, Dianna said things are going well.

"I'm pleased," she said of the surgery. "The swelling has gone down. The scar has healed. I'm working on range of motion. I'm still healing but everything will come in good time."

She added she's back to her dog walking business. She noted she had three dogs to walk that afternoon.

"I sleep better at night knowing that I can take care of my patients more precisely through robotic surgery," Dr. Grayson said. "And it is incredible to see the positive difference we make on our patients' life outlook when they eliminate a source of pain and restore range of motion."