Bariatric Program at BayCare Hospital Receives Prestigious Reaccreditation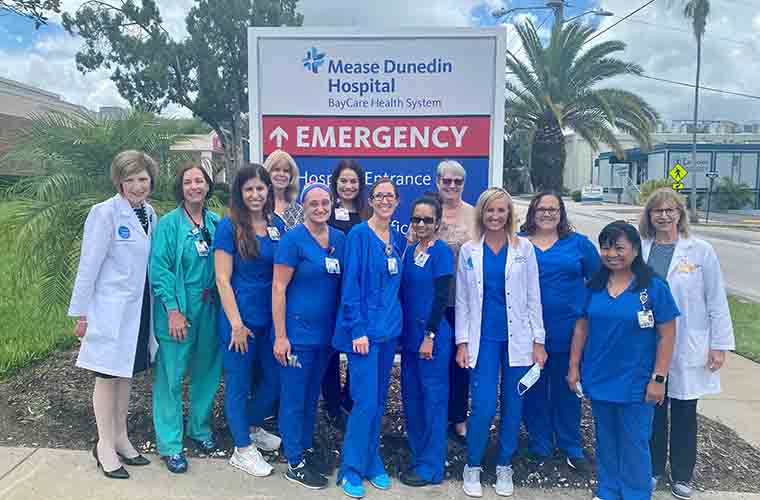 BayCare's Mease Dunedin Hospital has proven once again that it's a high-quality choice for patients in need of weight-loss surgery.
The hospital's bariatric program recently received reaccreditation as a Comprehensive Center by the Metabolic and Bariatric Surgery Accreditation and Quality Improvement Program (MBSAQIP), affirming that it meets the highest standards for patient safety and quality of care.
Bariatrics is the branch of medicine that deals with the causes, prevention and treatment of obesity. Nutrition, exercise, weight-loss behavioral therapy, drug therapy and weight-loss surgery are all components of the bariatric field.
MBSAQIP is the national accrediting program for bariatric surgery centers.
"It was a rigorous review, and we passed with flying colors,'' said Gina Jackson, bariatric manager. "I'm so proud of my team and their accomplishments.''
In 2015, Mease Dunedin's program became the first in the BayCare to be nationally accredited by the MBSAQIP. Now it is the first to go through a virtual site visit for bariatrics.
In years past, the surveys were done on site, but the change was made to a virtual review in response to the coronavirus pandemic. Accreditation used to be every three years, but hospitals were granted a one-year extension because of COVID-19.
To receive accreditation or reaccreditation, an experienced bariatric surgeon reviews the program's structure, processes and clinical outcomes data. Instead of leading the surgeon on an on-site visit, Jackson, with the help of office manager Tammy Huckins, provided a PowerPoint tour with pictures from every department that touches bariatric patients, along with a complete list of inventory and specs. The entire multi-disciplinary team, including surgeons Theodore Small, MD, and Richard Gordon, MD, participated in a Microsoft Teams session and answered all the surveyor's questions.
"The surveyor went through a review of 10 patients' charts as well as complications charts, and we provided evidence of compliance with over 90 pages of MBSAQIP standards and guidelines,'' Jackson said. "We discussed pathways and protocols for every possible scenario. It was extremely thorough.''
Mease Dunedin is one of four BayCare hospitals with accredited bariatric programs, and that number should soon expand.
South Florida Baptist Hospital, St. Joseph's Hospital and St. Anthony's Hospital have accredited programs and will have their virtual site visit for reaccreditation next year.
Winter Haven Hospital applied for its initial accreditation and awaits results from its virtual site survey.
Mease Countryside Hospital plans to apply for its initial accreditation by the end of this year, and St. Joseph's Hospital-South plans to apply next year.
"As the number of individuals affected by obesity continues to grow, BayCare is committed to standing out as a leader in health care by expanding our bariatric programs to additional hospitals in order to better serve the needs of our communities,'' said Donna St. Louis, vice president of Business Development for BayCare.
The Centers for Disease Control and Prevention (CDC) estimates about 93 million adults in the United States are affected by obesity. The disease of obesity increases the risks of morbidity and mortality because of the diseases and conditions that are commonly associated with it, such as type II diabetes, hypertension, cardiovascular disease and cancer, among other health risks.
For more information on Mease Dunedin's bariatric program, click here.